At Chiba Grand Prix, Turkish fighter snatches victory from the jaws of defeat in last two seconds
CHIBA, Japan (15 September 2019) - It looked set to be one of the dullest finals in recent months. But in taekwondo, matters can change in an instant.
It was Day 1 of the Chiba Grand Prix, and in the last match of the Womens -57kg category, Hatice Kubra Ilgun of Turkey stalked onto the mats to do battle with Nada Laraaj of Morocco for the gold.
Round 1 saw both fighters feeling each other out in a slow-paced start. Despite brief flurries of action, neither connected and the first ended 0-0.
As the second got underway, the Turk looked more dangerous - nearly scoring with a long, head kick fired from long range. But Laraaj, leaning well back, kept out of danger. Round 2 also ended on an empty scoreboard. The crowd was not making much noise. Only in the third would this match finally pick up. Laaraj landed a body kick for two-points, then the Turk was penalized for a low kick. The Moroccan was now 3-0 ahead. Kubra Ilgun had to fight forward.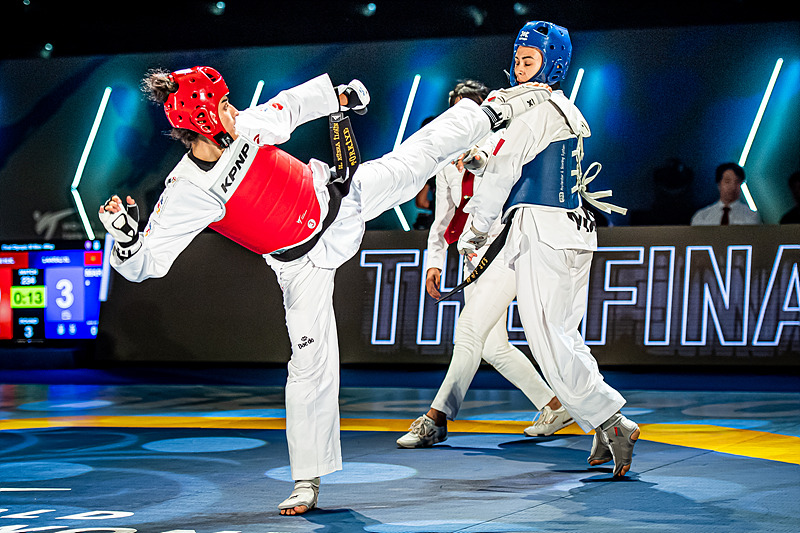 She sought to launch a big shot but Laraaj controlled the distance with a front leg jab and, when the Turk passed her guard, went to the clinch, stymying the Turkish athlete and eating time. It was a sound tactical game, and Kubra Ilgun was clearly getting frustrated. She picked up one point, but the clock was ticking.
With just two seconds remaining, a video replay was called with just two seconds. The judges perused their screens, stood and crossed their arms. No score. The board stood at 3-2 to Laaraj. Surely, Laaraj had won it?
But in sport nothing is certain. Action resumed.
With no time to maneuver or close the distance, the Turk unleashed a long, high round kick to the Moroccan's head. Boom. Connection!
End of match.
Taekwondo is a sport in which the game is not over until it is over. That last-second reversal of fortune gave Kubra Ilgun a 4-3 victory, a gold medal - and a superb end to what had been a mediocre bout.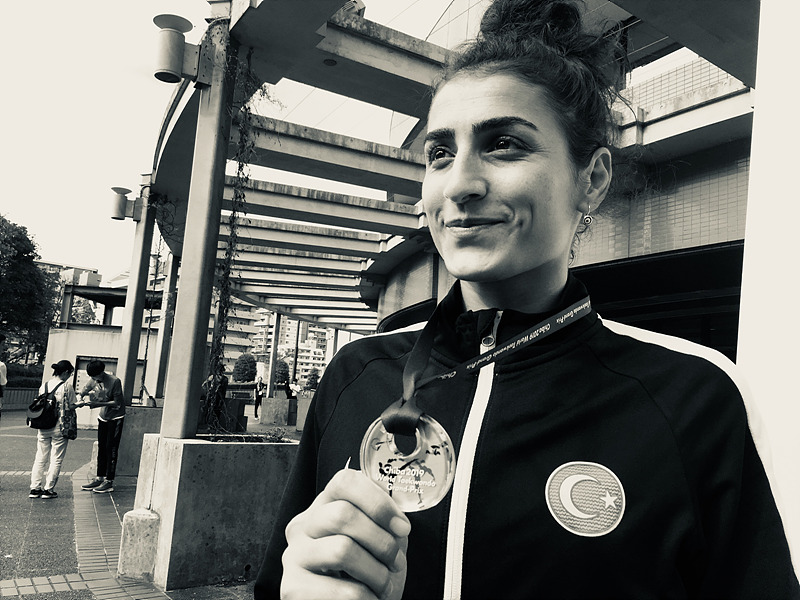 Last-Second Victory
"One second!" Kubra Ilgun recalled in an interview the following day. "I can't believe it, but at that moment I was hearing the signal and – I was so happy!"
Still the end result had not been a given. It had not been an easy fight.
"It was the first time I had had a match with her," the Turk said of Laaraj."She was tough."
On the mats, things had not gone according to plan, Kubra Ilgun admitted: She and Laaraj were cancelling each other's techniques out. So how did she know what to do in that last critical moment?
"My coach, Technical Director Ali Sahin, told me her body side was closed and she was defending the body, so I had to bring the knee up and kick to the head," she recalled of the last-second guidance. "I believe in myself – I can't explain my emotions! - it was like it was impossible. But I got it!"
For Kubran Ilgun, it was a career milestone: Her first Grand Prix gold.
Engineered for Taekwondo
Now 26, she started taekwondo 14 years ago though a family contact. A member of the world-beating Turkish Women's squad, she has, in addition to her gold from Chiba, a 2017 World Championship silver from Muju, a 2018 Universaide gold from Taipei and a 2018 European Championships silver from Kazan under her second dan black belt.
As a fighter she focuses on the head game."You have to be ready before matches: After that, comes technique and skill," she said. "I always make myself calm down as I am always thinking – I want too much! – so I want to be cool."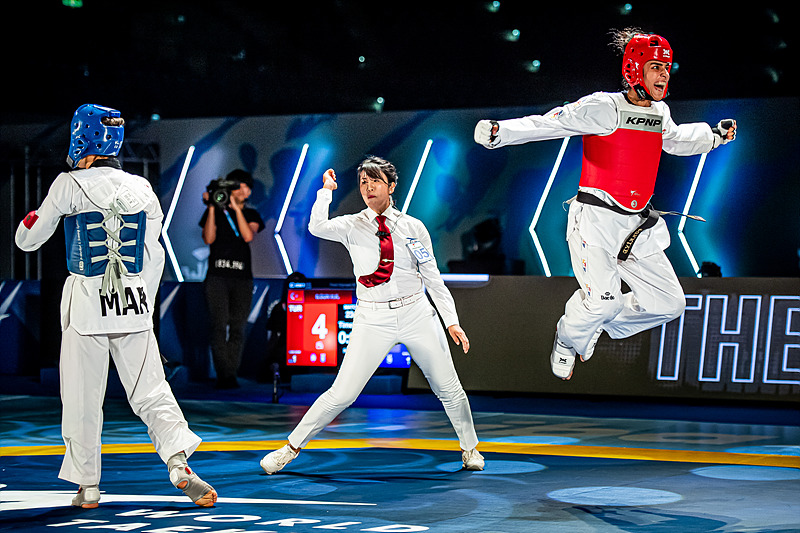 She also has the perfect physical attributes for the game.
"My advantages are that my legs are very long, and I am strong and slim," she said in a self–assessment. Moreover, she has a capacity for serious training. "I work hard! And I know that everying is possible if you want it, you can do it. I believe that."
As a tall leggy fighter she does not like the clinch game, preferring to settle matters in open play. Her favorited weapons are the crowd-pleasing round kick and back kick: Classic old-school techniques.
Fighting Under the Flag
Naturally her eyes are currently focused on Tokyo. "Now I am 6th ranked, but after this gold medal I will go to third rank," she said. Even so, she plans to maker certain of her berth be fighting in both Sofia and Moscow – the two last Grand Prix events before next year's 2020 Olympic Games. "I am really hard working," she said. "And I really want to be there."
A medal at Tokyo would be a life changer. Ankara awards successful European, World or Olympic medal-winning athletes with monetary compensation and post-career coaching positions. "That is good for building my future," she said.
"Taekwondo is not that famous, and that makes me a little sad for the taekwondo family – we are as hard working as any football player," she said - but added: "I will fight under the Turkish national flag! That is more important to me than money."
Hatice Kubra Ilgun: At a Glance
Hobby? "Turkish traditional dancing!"
Favorite song? "'Beautiful Sunny Days' by Edip Akbayram."
Favorite movie? "Dangal' - an Indian movie about a family of wrestlers."
Favorite food? "Beef"
Why do you do taekwondo? "When I was a kid, when I played with the male kids, I used to beat them up, and I have liked fighting since. This is my sport!."
Motto: "Pray before you fight."