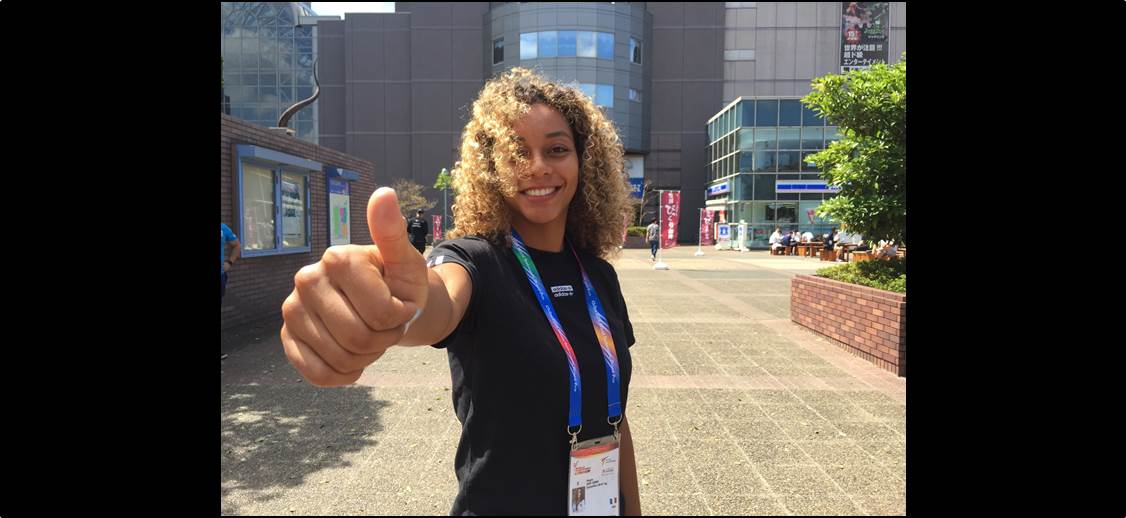 CHIBA, Japan (15 September 2019) – It was evening on Day 2 of Chiba Grand Prix, and the final of the Women's -67kg Croatia's Matea Jelic of Croatia against France's Magda Wiet Henin.
From ringside, it was clear that the Croatian had a significant height advantage - and from the opening buzzer, Jelic dominated the centre of the field of play. But not only was the French fighter not intimidated, she opened the scoring with a torso kick, while her fast, never-stand-in-one-place footwork was a lot livelier than the Croatian's. Jelic threatened with her head kick but Wiet Henin's distancing kept her out of trouble. The round ended 2-0 to the French athlete.
The pace slowed in the second as both probed each others' defences. Jelic advanced, forcing the French fighter to dance around the perimeter of the mats, and the score board rose. As the round neared its end, Jelic landed a spin back kick to the torso. Round 2 ended 4-4; meaning Round 3 would decide everything.
Jelic attacked. Wiet Henin danced out of danger – and deployed a thwacking punch that put her ahead by one point. With ten seconds left and just one point behind, the Croatian charged into all-out attack, but Wiet Henin kept cool and stuck to her game. Despite a last-second head kick attempt by by Jelic, the board remained at 5-4 - giving Wiet Henin her first-ever Grand Prix gold.
So – unusually in taekwondo – it as a punch that won it. And punching is Wiet Henin's DNA.
Born to fight
Both her parents wield skilled fists: Her mother was a boxer, her father a boxer and mixed martial arts fighter.
Their daughter, however, never pulled on the gloves.
"My parents were both world champions, though they are retired now," Wiet Henin said. "They never wanted me to do boxing – too rough! Taekwondo is more about strategy and spinning kicks; it is not as rough as boxing."
Even so, something must have been passed down, as her knuckles have become game-winning instruments. "At the end, I won it with the punch," she said. "It was my second time to win with the punch!"
Now 24, Wiet Henin started taekwondo at age six. Her skill was apparent, and she joined the French Junior National Team at 15, winning a gold at the Junior World Championships in Sharm El Sheikh in 2012. By age 18, she was on the French National Team, relocating from her home in Nancy to Paris to train full time.
Now she is peaking: Her gold in Chiba follows a bronze at the Worlds in Manchester earlier this year. The Grand Prix win was particularly sweet for France: the team had not won a gold in the series since 2015.
In a sport where the financial rewards are few and where the fame is fleeting, the moment of victory in Chiba was worth everything.
"The reward is to feel like someone special," Wiet Henin said. "That feeling is priceless."
Taking on Monsters
The win was a particular delight for Wiet Henin's mother. "My mom is really happy, she was crying," Wiet Hennin said. "She is normally at the Grand Prix; she knows the level of the fights; and she knows that my opponents are all taller and bigger than me."
Though Wiet Hennin likes to practice taekwondo's trademark spectacular moves – back kicks and spinning kicks – they are low-frequency weapons.
"The fighters I have to fight are taller, so I have to control the fight with the front leg, and I have developed an explosive cut kick and follow up," she said.
Her modest height for her category requires her to play a conservative game – and against Jelic, there was a clear plan. "My coach said that, because she is bigger, I have to do no-risk actions, control the match and engage only when I are 100 percent sure," she said.
She has some advice for anyone taking on bigger opponents.
"Don't be scared! Their size does not mean they will win, it means you have to use other weapons," she said. "Their weapon is size - we have a lot of different weapons."
One of those, of course, is the punch - a close-range weapon that favors smaller players.
In terms of her own strengths, Wiet Henin mentions speed, precision and conditioning. "I can go three rounds and keep going, going and going," she said – but when asked to reveal her endurance routine, she countered with, "That's a secret!"
As she showed against Jelic, she is not someone who is intimidated. That is a result of mental conditioning.
"We prepare for every match, so when I come, I know how to get ready in my head," she said. Wiet Henin uses mental focus and breathing exercises to suppress the pre-fight jitters. "I am not stressed - I know how to manage it," she said "I know what I have to do in my matches."
Loving the Game
Live every athlete, she knows the time window will only be open for a limited time. "This is my passion," she said. "I know this will not be my job in the future."
She is currently pursuing a masters degree in human resource management in Paris, though, given her preparations for Tokyo 2020, will not finish the degree this year.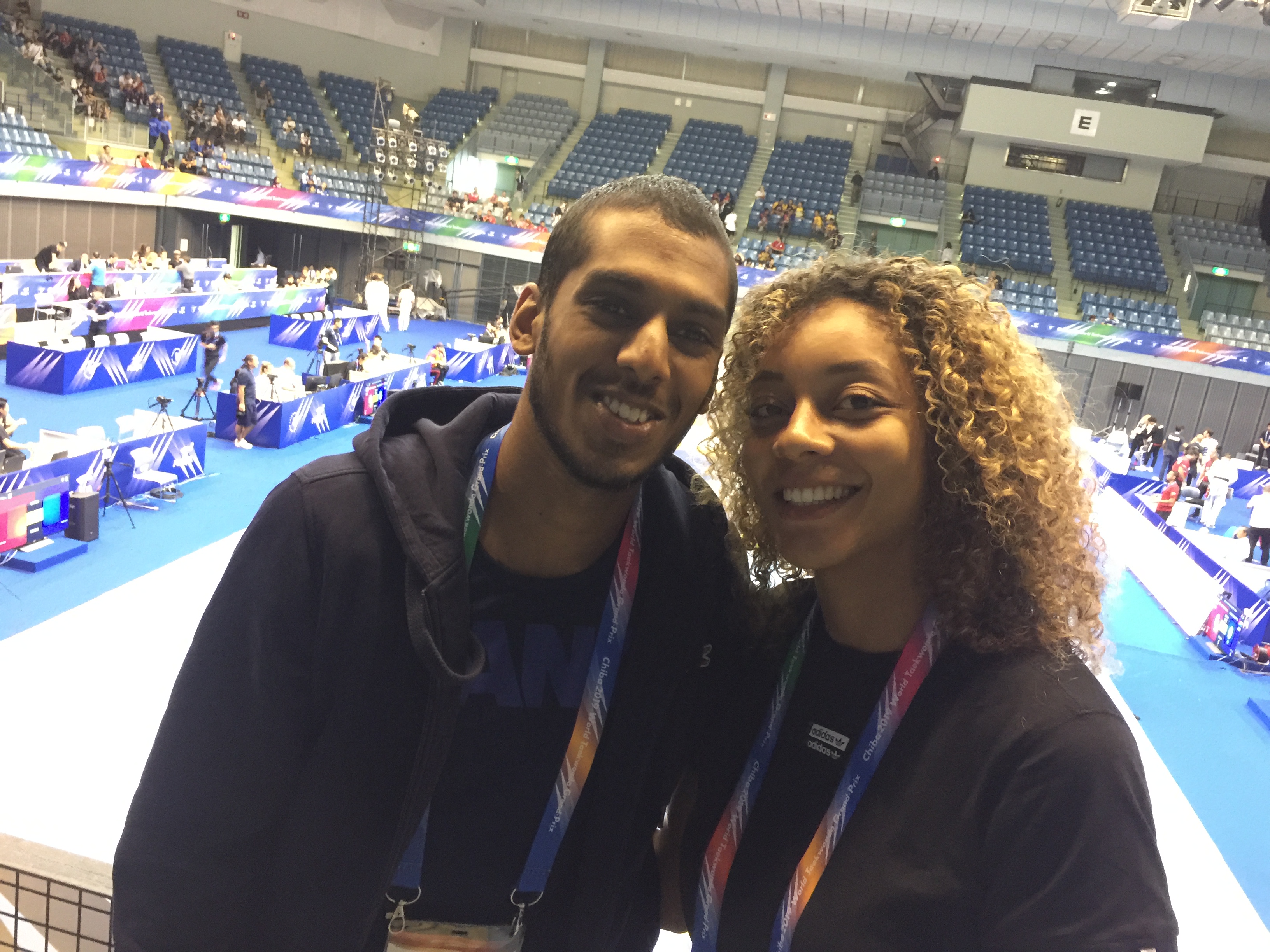 For now, she is loving the game. And not only is fighting in her blood, her boyfriend Dylan Chellamootoo is also on Team France, fighting at -68kg.
"It's a lot of fun," she said. 'I go everywhere with the team, my boyfriend with me, and we go to China, the US and Japan."
Obviously, she is hoping to return to Japan next year for the "Greatest Show on Earth." "I have dreamed about the Olympics since I was six," she said.
And it is not just her own dream: Her mother never got the chance to box in the Olympics but now may see her daughter kick her way to glory. "
"It was my mother's dream," Wiet Henin said." Now, it is my dream."
Magda Wiet Henin: At a Glance:
Hobby? "Dancing and shopping with my boyfriend and spending time with my family."
Favorite song? "American rap – especially '21 Savages.'"
Favorite movie? "Murder" (Netflix)
Favorite food? "Thai."
Why do you do taekwondo? "Because I want to win."
Motto: "Nothing springs to mind."