TASHKENT, Uzbekistan (August 8, 2019) - Another breath-taking day of taekwondo at the Tashkent 2019 World Taekwondo Cadet Championships saw Ukraine, Thailand, Russia and Iran all win gold.
The day began with the men's -33kg finals. Maksym Manenkov (UKR) faced Minkyu Park (KOR) in a fight which showcased the very best of attacking taekwondo as Manenkov emerged victorious with an impressive score of 48-27. Sharing the bronze medals after strong individual performances were Mukhammadamin Aliev (UZB) and Danila Goncharov (RUS).
In an exhilarating final in the men's -37kg, the scores were slightly closer, but it was Ittiporn Sinsang (THA) who had the edge over Damir Akhmetov (RUS) and won gold with a score of 21-14. The bronze medals were shared between Pooyan Jafarsalehi (IRI) and Aliaksandr Kazlou (BLR).
The Russian team continued the strong form they showed on day one of the Championships and came away with another gold medal, courtesy of Ramazan Ramazanov's (RUS) 34-14 win over Denis Dimitrov (BUL) in the men's -53kg. Nizami Hajiyev (AZE) and Amirhossein Mataji Nimvar (IRI) won the bronze medals on offer.
In the women's competition, the high scoring matches continued much to the delight of the passionate crowd in the Universal Sports Palace. Zahra Zarin Naal Sheikhani (IRI) overcame Pacharaporn Sukhamon (THA) 39-28 in an enthralling -41kg final to win gold. Zeynep Nur Saricicek (TUR) and Tiarnagh Sweeney (AUS) secured bronze.
The last event of the day brought another gold medal for Iran in the women's -47 kg. Mobina Bakhshi (IRI) narrowly defeated Natalia Andrea Mendivelso (COL) with a score of 15-14 in a dramatic match that was too close to call. Beth Christy (GBR) and Chih Yun Chiang (TPE) won bronze.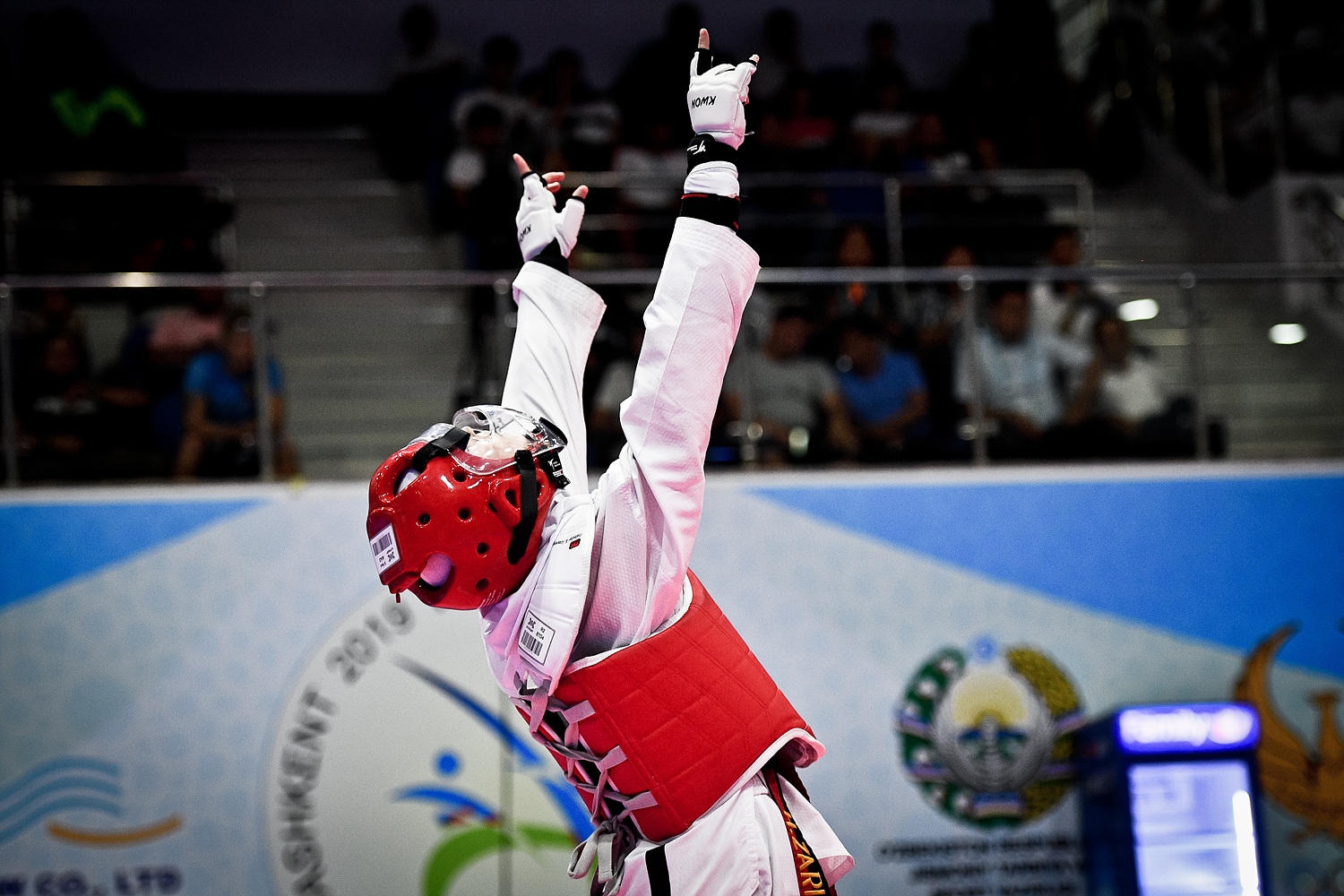 In the morning, World Taekwondo President Chungwon Choue met with the Uzbekistan National Olympic Committee (NOC) President, Rustam Shaaburakhmanov at the NOC headquarters in Uzbekistan. During the meeting, they discussed the developmental opportunities of taekwondo in the host country and ways of engaging new recruits to the sport in Uzbekistan. The meeting drew to a close with the presentation of an Appreciation plaque from the President Choue, to the NOC President for successfully hosting the Cadet Championships in Tashkent.
A "Taekwondo for All" event was also held in the square of 'Fraternity of Peoples' with the aim of expanding the popularity of taekwondo in Uzbekistan. More than 2000 taekwondo youth practitioners including disabled students who loves taekwondo took to the square to welcome the World Taekwondo President Chungwon Choue in a flash mob. Also in attendance, were leading taekwondo figures from the host nation: Minister of Physical Culture and Sports Dilmurad Nabiev; President of the Uzbekistan National Olympic Committee Rustam Shaabdurakhmanov; President of the Uzbekistan Taekwondo Association Sherzod Tashmatov.