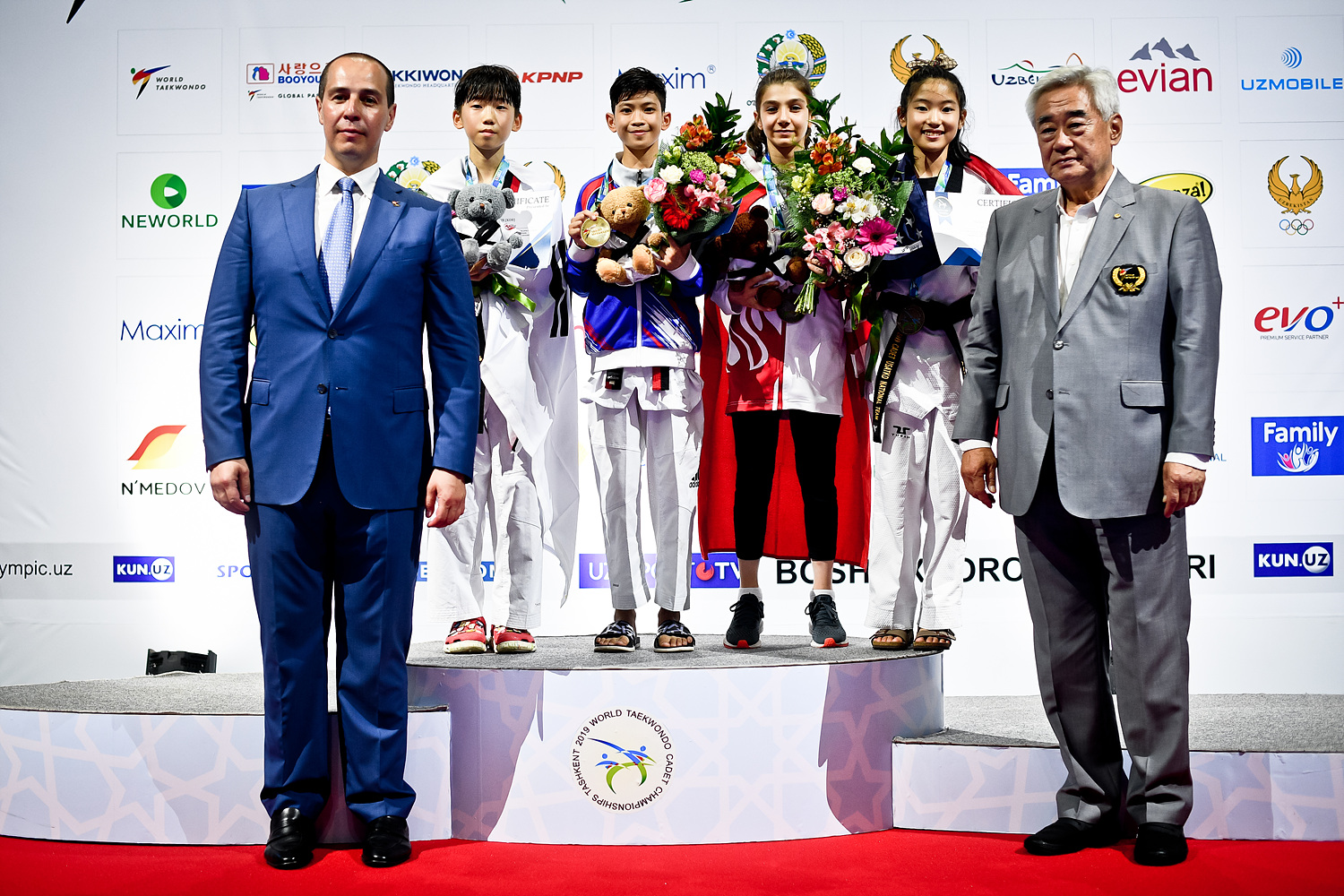 TASHKENT, Uzbekistan (August 7, 2019) - The Tashkent 2019 World Taekwondo Cadet Championships got underway in Uzbekistan's capital today, with the world's best athletes aged 12-14 year's old competing for gold across five weight categories.
Russia, Mexico, Thailand and Iran won the gold medals on offer on an opening day which reinforced the global strength of taekwondo and the bright future the sport has with these talented young athletes. Some 550 athletes from 64 countries plus one refugee team will compete in the Championships over four action-packed days.
Before the finals began, a moving Opening Ceremony took place which drew senior officials including World Taekwondo President Chungwon Choue, World Taekwondo Council Member Ali Sagirkaya, Deputy Prime Minister of the Republic of Uzbekistan Abdukhakimov Aziz, Minister of Physical Culture and Sports Dilmurad Nabiev, President of the Uzbekistan National Olympic Committee Rustam Shaabdurakhmanov, President of the Uzbekistan Taekwondo Association Sherzod Tashmatov. The Ceremony began with a parade of the national flags and was followed by a WT Demonstration performance and a traditional Uzbek musical show.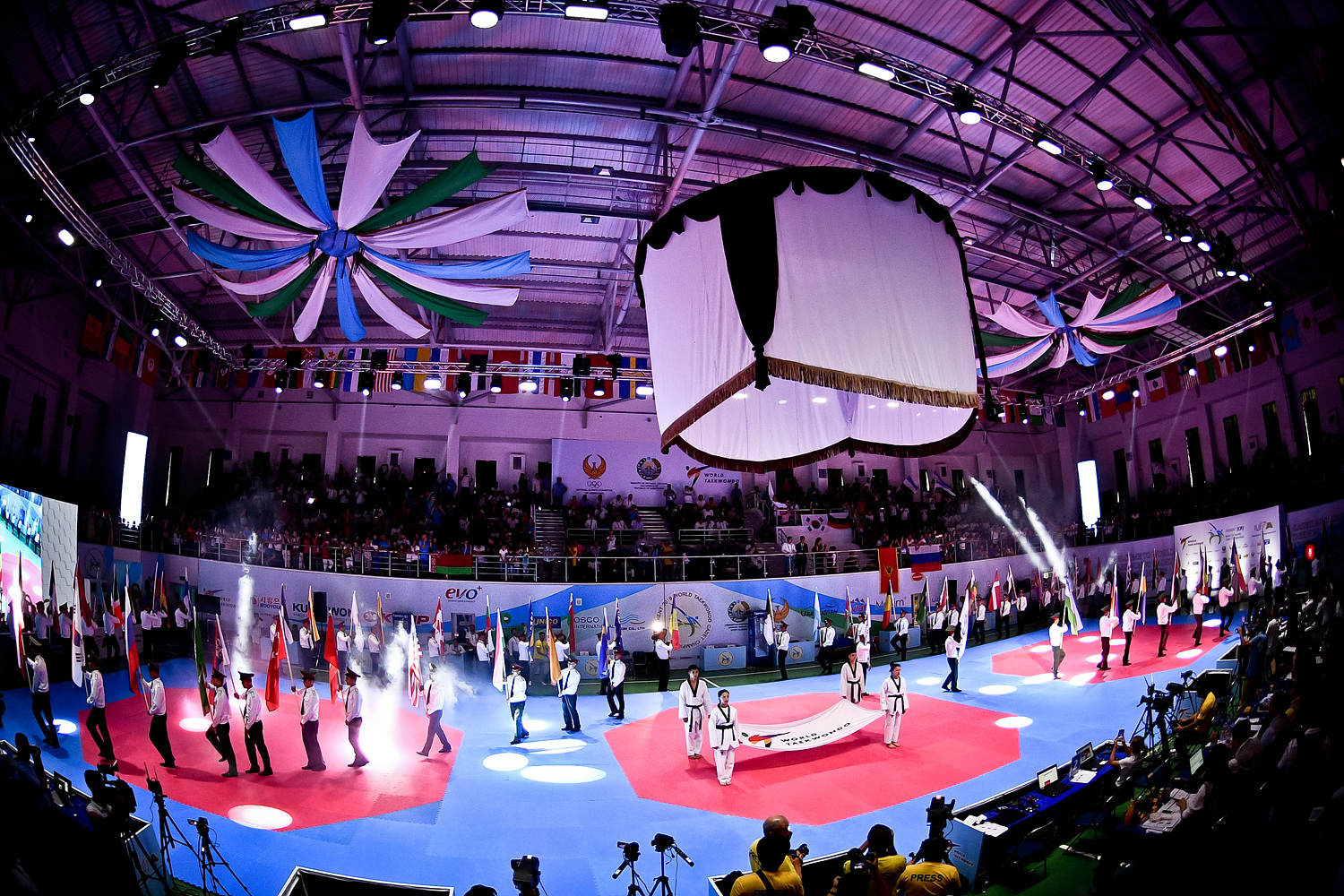 Speaking at the Opening Ceremony, President Choue said:
"Thank you to Uzbekistan, thank you to Tashkent and thank you to the Organising Committee for your friendship and support. For most of the athletes here today, this will be your first taste of a world level taekwondo competition. I am confident that many of you will enjoy this experience and go on to become the next generation of taekwondo stars.
But these Championships are not just a chance to gain experience for future World Champions or Olympians. There is also a chance to foster new friendships and open your eyes and minds to new cultures. You will become the citizens of the world. Your experiences here will be a vital part of your life education."
Deputy Prime Minister of the Republic of Uzbekistan Abdukhakimov Aziz added:
"Good evening, we are very happy to see you in our Tashkent. It is a great pleasure that Uzbekistan hosts international competitions. Today more than twenty thousand people in Uzbekistan practice taekwondo, which means they love taekwondo. I hope that they can be winners in the future and also be World Taekwondo Champions. I want all athletes to enjoy this event and good luck to all participants!"
The day's finals began with the men's 65kg which saw Andrei Zagorulko from Russia who won gold as he overcame Chinese Taipei's Jui-En Chang 17-11 in an enthralling final. The bronze medals were shared between Korea's Chanyoung Kim and Ariihei Lehartel from French Polynesia.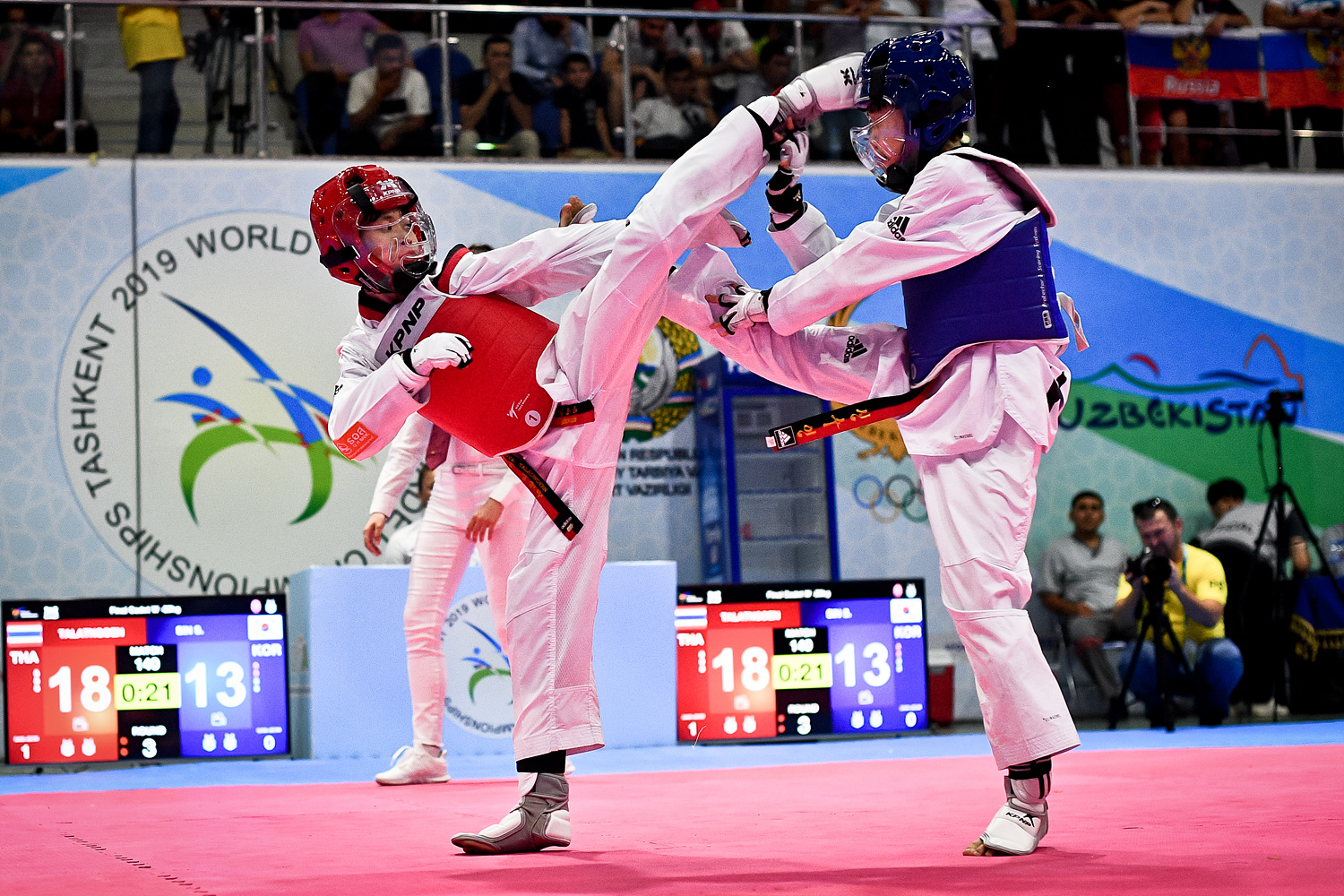 The women's -29kg saw Thailand win their first gold of the night, courtesy of a dominant performance from Waranya Talatngoen in the final against Korea's Su-In Sin as the Thai won 29-13. Ashley Choi of the USA and Hayrunnisa Gurbuz of Turkey won bronze.
Juan Carlos Martinez Ayala from Mexico won gold in the men's +65kg overcoming Russia's Ivan Skudrit in the final. Martinez Ayala won 21-11 to deny Russia a second gold. Mohamed Hassan Ali Mohamed from Egypt and Mohammad Mahdi Taherkhani from Iran won the bronze medals.
In the women's -33kg it was once again Thailand that came out on top as Natkamon Wassana beat Viktoriya Eremina 27-9 in the final. The Philippines' Tachiana Kezhia Mangin and Kazakhstan's Aidana Sundetbay took home bronze.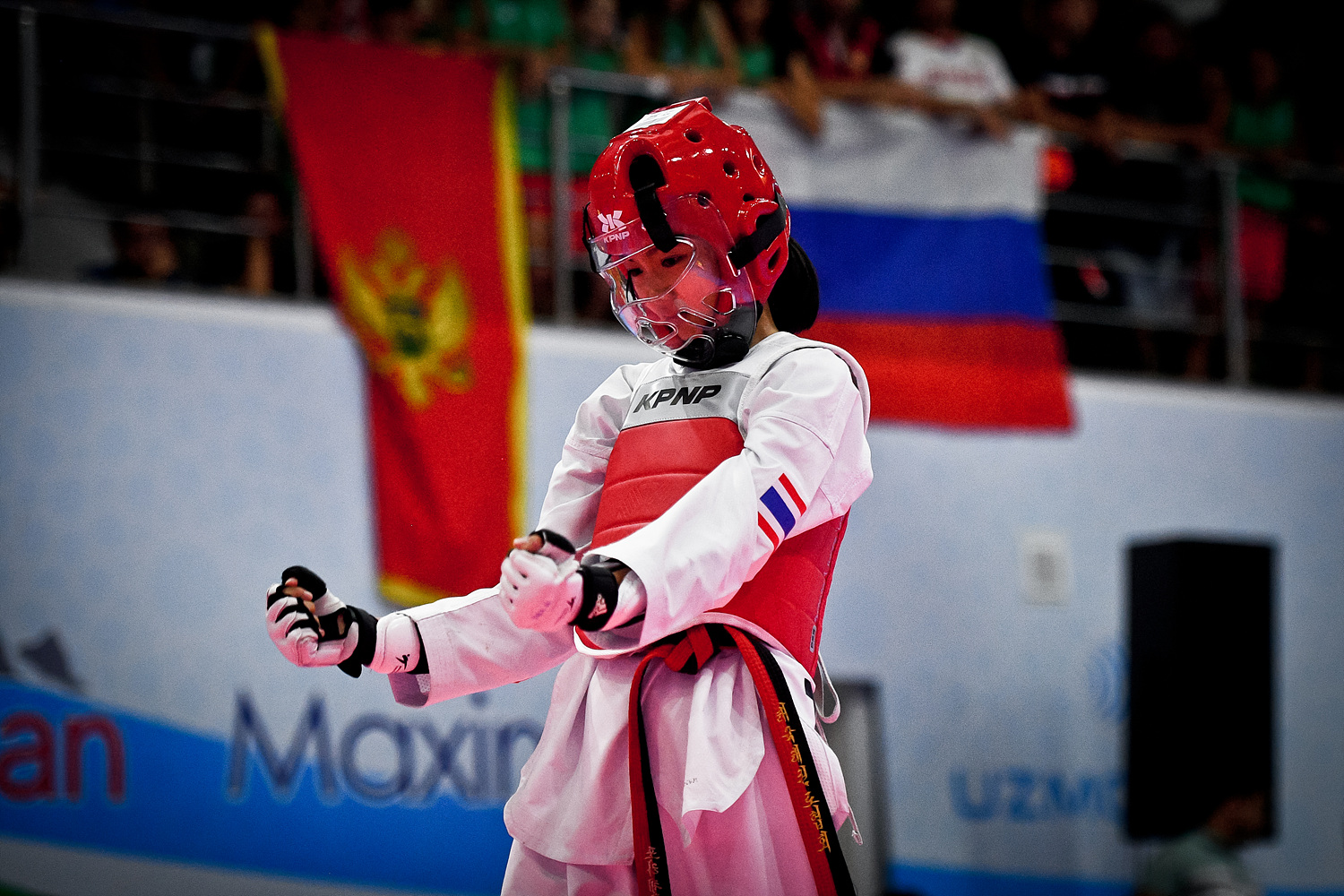 The last final of the day drew Iran's Mobina Nematzadeh against Korea's Gahyeon Kim in the women's -51kg. Nematzadeh was too strong and won gold with a convincing 24-4 victory in the final. Ezoe Alberola from Andorra and Nutsa Gelashvili from Russia won bronze.
In the morning, President Choue delivered a special lecture on Taekwondo History and Development to students and professors at the National University of Uzbekistan named after Mirzo Ulugbek. The students in attendance were those studying the Taekwondo and Sports Action major which was a course established in November 2018. Minister Nabiev, Rector of the University of Uzbekistan Avazjon Rakhimov, and Dean of Taekwondo faculty Vladimir Rakhimov were all in attendance.