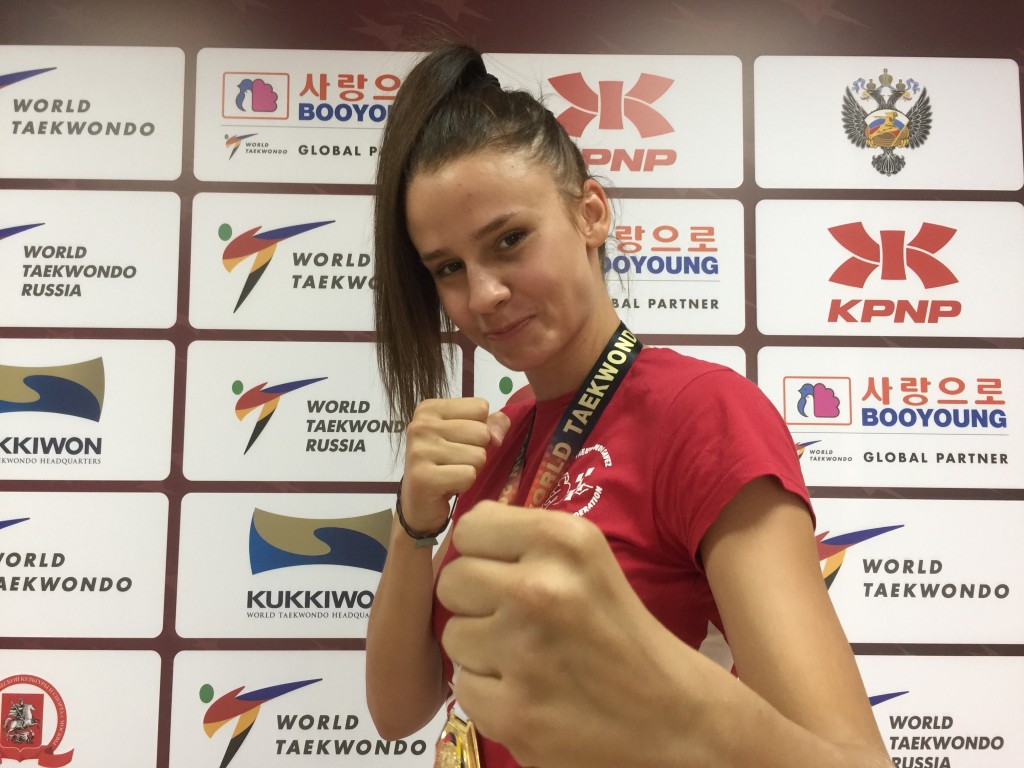 MOSCOW, Russia (Aug 12, 2018) In taekwondo, some fighters are machine guns, unleashing bursts of rapid-fire kicks. Others are snipers, firing aimed, specific shots.
The final of the women's -67kg category in at the 2018 World Taekwondo Grand Prix in Moscow pitted automatic weapon - Team Great Britain's Lauren Williams – against precision weapon – Team Croatia's Matea Jelic.
Battle Royale
It was bang-crash action from the opening buzzer. Jelic scored first to the body but Williams, perhaps the most aggressive player in the category, equalized almost immediately. A stumble by Jelic put Williams ahead, 3-2, then the Brit lifted her score further, taking the first round, 5-2. In the second, the Croat scored almost immediately - but Williams connected to the head, going up 8-4. In back-and-forth action, the Croat drew ahead and even reversed the forceful Williams – an all-out attack specialist with just one gear, which is fast forward - off the mats. The second ended 13-11 with the Croatian ahead.
In the third and final round, a risky high spinning kick saw William visit the mats, then Jelic scored again, taking her points to 17, then 18. Things got physical. Williams counter-attacked, forcing Jelic out, then landed, bringing her points up to 15 and – highly unusually in taekwondo – flooring Jelic with a punch. In the last seconds, William did what she did best: blitzing forward with an all-out assault of punches and spinning kicks. But Jelic's cool head won out over Williams' fierce heart. The battle ended 20-17 with a hard-fought victory and gold medal for Jelic.
And it had been no easy path to the final. To reach Williams, Jelic had faced one of the most experienced players in the sport - Team Korea's Olympic gold medalist Hye-ri Oh - in the semis. In that fight, too. Jelic's target radar had been perfectly calibrated, as she connected with both punches and stealthy face kicks for a 9-3 win against the formidable Oh.
The day after, the magnitude of Jelic's achievement was still sinking in. "It was amazing - it was a dream!" the Croatian said. "It filled my heart."
Prior to that, her top wins were third place in the European Championships and third place in last year's London Grand Prix. "I can't describe how I felt," she said of the moment when she realized that she was a Grand Prix champion. "There are no words for it!"
So: What was the battle plan for Williams? "The plan was just to fight ! Because with her, you need to fight from beginning to end," Jelic said. "It was fun! I enjoy fighting - and I hope she enjoyed it too."
Her parents – who had got her involved in the sport as a child – were over the moon. "They are so happy, maybe more than me!" Jelic said. "They feel every fight with me."
Being The Best
Clearly, accuracy is Jelic's specialty. Her other asset is flexibility and the fact that she loves to fight. "I always train to give my best performance - it is all planned out," she said. "I do the hard work in training; I come to have fun and enjoy the fights!"
Analyzing her weight category, she said: "I think in this category there are so many good players, so many really good fighters." As a result, there is never a definite winner. "You never know what will happen," she said. "It makes it interesting."
In terms of inspiration, she names – like so many other fighters in the game – Team Korea's Dae-hoon Lee, the only player to win WT's "Best Male Athlete of the Year" award three times. "He is such a good fighter - he has everything," she said. "I like to watch him and copy him: He is smart, he has stamina, he has footwork, he has timing."
In the female division she cites Serbia's World Champion and London Olympic gold medalist Milica Mandic. "Her spirit and everything – she is an amazing person, and such a good athlete!" Jelic said. "I have known her many years, she is a role model."
While some fighters and coaches struggle to keep up with the pace of taekwondo's transformation, Jelic embraces the rule changes.
"It is good for me, we adapt to it, we practice the new stuff," she said. "Taekwondo is always changing - there is no other choice." Why so? Because while taekwondo has a massive practitioner base, it is still a minority activity as a spectator sport. Hence, the new rules – largely designed to upgrade spectacle – are essential to raise taekwondo's profile. "I think it is good for the crowds, it is good for taekwondo to have more people watching," Jelic said. "I want this sport to be famous. I want people to see more. I know there is more to it."
"I don't have any exact plans," she said. "I just want to improve in every competition, to go to another level and to be the best version of myself – like I think every athlete does. That is the key to happiness."
Matea Jelic: At a Glance
Hobby: "I like to spend time with my family and ride bicycles. I like nature."
Favorite song; "Hall of Fame" by Script
Favorite movie: I don't watch a lot of movies.
Favorite food: Pizza
Why taekwondo?" I do it every day. If I didn't like it, I would not enjoy it - it would not fill my heart"