MOSCOW, Russia (13 Aug, 2018) - Talk about a winning streak. Team Russia's Maksim Khramtcov is currently European champion, World Champion, Grand Slam champion, and this year, is a double Grand Prix champion. That last victory was particularly sweet: It was on home turf in Moscow.
In the final of the Mens' -80kg category on Sunday, Khramtcov, marched into the arena to his personal fight music – Deep Purple's classic "Smoke on the Water" – to be joined by his opponent, Jordanian Saleh Elsharabaty.
It was Elsharabaty who scored first – but he was almost immediately countered by a yelling punch from the Russian. Khramtcov landed a head kick in the clinch, but was run across the mats and dropped by the Jordanian as the two big fighters went all-out in a display of controlled ferocity. The rounded ended 8-6 to Khramtcov - and loud applause. In the second, Khramtcov unleashed a blitzkrieg of kicks, ringing up the scoreboard - but Elsharabaty, unintimidated, was not yielding an inch. The Russian delighted the local crowd as he soared across the mats with a flying ax kick – an awesome technique. Having benefitted from a by in the semifinal, his energy, combined with a spectacular technical arsenal, was putting him ahead, 19-6. Another Khramtcov punch echoed around the stadium. The rounded ended 22-6, with the Russian buoyed by the roaring crowd. In the third, Elsharabaty tried to come under the Russia guard, then uncorked a spinning heel kick as he tried desperately to equalize. A cut kick from Khramtcov could he heard around the arena, then he lunged across the mats with a punch. He tried more aerials while the Jordanian forced him off the mats – where the bell rang. It was a convincing – and entertaining - 29-11 victory for Khramtcov.
"After I won the Grand Prix for the second time, I had different emotions," he said after the match. "This time was better because the Grand Prix took place at home/"
With this remarkable run of victories – could there be a good luck charm at work?
When he struck gold in the men's -80kg category at the inaugural World Taekwondo Grand Slam tourney in Wuxi, China, last year, Khramtcov brandished a t-shirt emblazoned with his name and weight category. That t-shirt represents his country's most famous sports team: The formidable Russian ice hockey squad famed globally as "The Red Machine."
It was an inspired piece of showmanship. Athletes had been briefed to prepare something special for the Grand Slam medal celebrations and Khramtcov's coach, Alexander Lashpanov, had spotted the t-shirt in a Moscow arena gift shop. He had been looking for a good luck charm, as his student had lost his last major event, the Grand Prix. The t-shirt fit the bill.
"This was a clean slate, we needed to start a new chapter," Lashpanov said. "We plan to take it to Tokyo."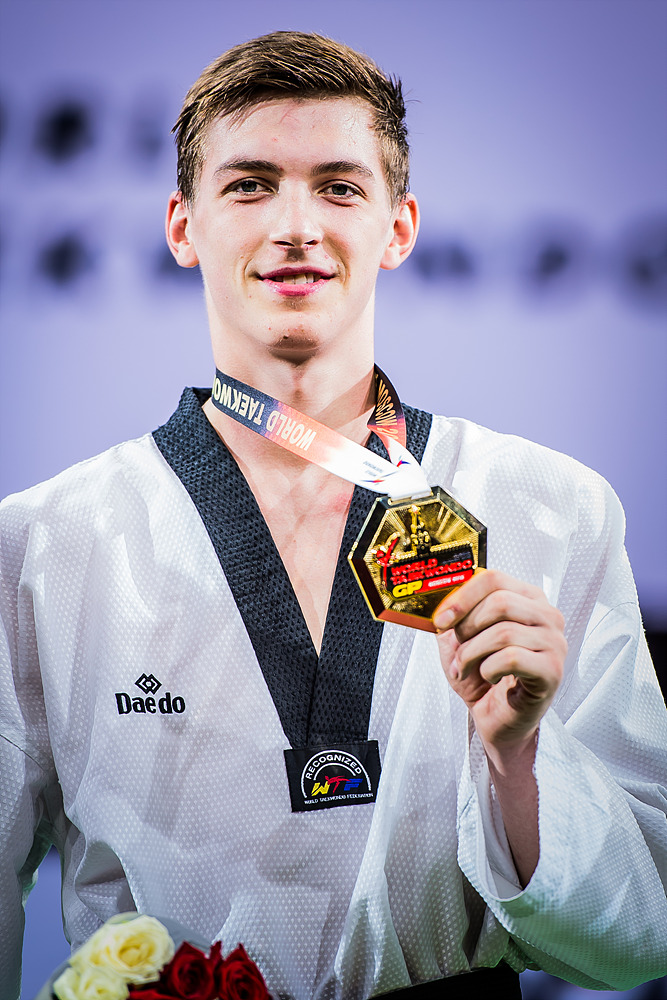 Good luck and gold medals
The charm appears to be working. Khramtcov is now one of the biggest names in the sport, and at just 20, he is just gearing up.
He got his start in a different combat sport. "When I was 10, I did karate, but when a taekwondo coach came to my hometown, I thought taekwondo was very beautiful," he said. "And it is an Olympic sport."
In terms of physique, Khramtcov is custom-engineered for the game: Tall, leggy, athletic. But he downplays his physique. "I win because of technique and mentality - the way I think and how I present myself," he said. "That is my competitive advantage."
He can fight near and far. "I am good at controlling distance, and at working in the clinch," he said. "With the new rules, it is becoming a bit harder in this position, but I think that with the push, I can still work in this range and get my points."
Currently, he favors high roundhouse and crescent kicks. He can land the ax kick from the clinch, and wields a side kick to keep opponents out of the danger zone. But in a category as hyper-competitive as the men's -80kg – a division that many fans consider the best in the game - he needs all the technically proficiency he can get.
"Athletes can have the same physique and technique, but mentality is what gets the win," Lashpanov added. He lauds his student's physique – "without it, the technique will not work" – but says that Khramtcov is a work in progress. "We are still working on everything, because he is very young, and he changes a lot. We are in the process of figuring everything out."
Regarding key opponents, Khramtcov rates 2016 Rio Olympic gold medalist Cheik Sallah Cisse of Cote d'Ivoire – known for his fearless and ferocious fighting style - as the most dangerous. "He is always very dynamic - no stops, no pauses," he said. Regarding Milad Beigi Harchegani, Khramtcov called him "a very technical fighter – a beautiful fighter - but our techniques are alike, so he is hard to compete against."
In terms of inspiration, he likes Korea's Dae-hoon Lee. "He sees everything that his competitor is about to do to - he feels what is coming in," he said.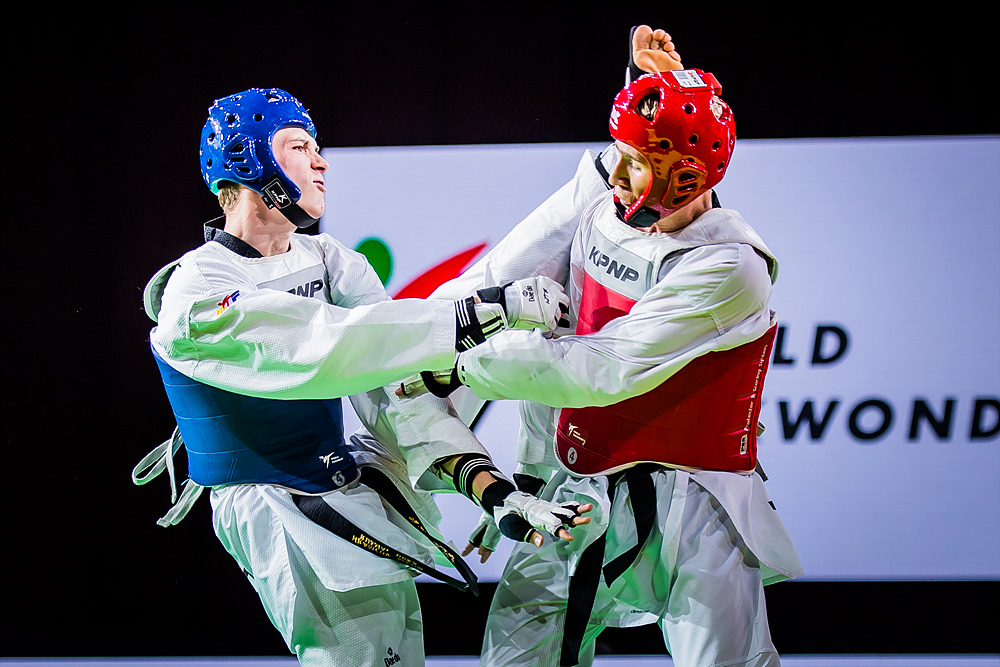 Winning in fighting, winning in dating
Khramtcov himself will be looking for a win in the USK CSKA Bascetball Arena on Sunday evening. With number-one ranked danger man Cisse out of the competition due to injury, his chances look excellent. In Moscow, he will have the local advantage – an edge that has helped him before. "The viewers and home atmosphere helped [at the European championships] in Kazan," he admitted. "I had a crucial moment in the semis - and the support helped a lot."
In dating as well as fighting, Khramtcov has a home-team advantage: He and teammate Natalya Antipenko have been an item for three years. "We met as juniors on the national team," he said. "We are not the first couples on the national team, because [team members] are together all the time."
His coach apparently approves: "If they do not interfere with each other's success, it's all good," Lashpanov said. "The sport is the priority!"
That's fine with Khramtcov. "The goal is the Olympics, to win the medal and maybe in the future I will become a coach or open my own sports school for taekwondo," he said. "But the goal now is the Olympics. I don't want to guess what will be next."
Khramtcov puts it down to generational change. "I think it is because of the change of age of the competitors: We have a lot of new athletes coming into the sport now," he said. "It is becoming more and more popular in Russia every year, which is a big change compared to several years ago when mostly nobody knew of it."
He is part of that new generation himself – and his coach hopes that his legacy can extend far into the future. "Our hockey team is a red machine - the team that comes and wins," said Lashpanov. "I want Maksim to come and win - and be remembered in 20-30 years."
Maksim Khramtcov: At a glance
Hobby: Computer games
Favorite song: "Smoke on the Water" by Deep Purple
Favorite movie: Action movies
Favorite food: Burgers and pasta
Why taekwondo? "I love the sport and I have a goal to win an Olympic medal"
Motto: "I don't think of the loss, I only think of the win"