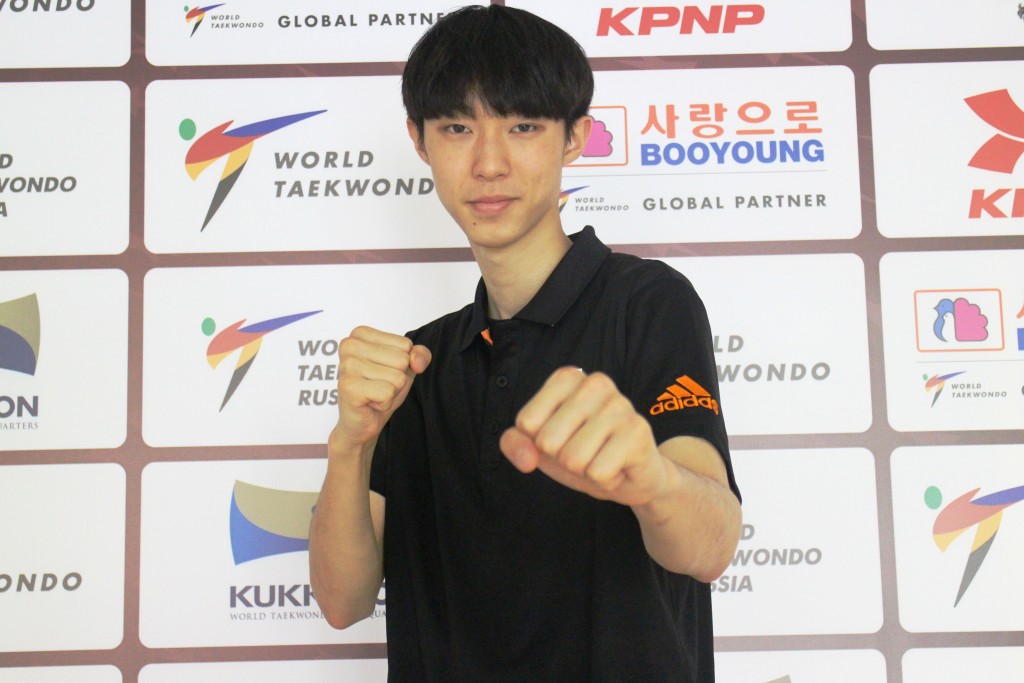 MOSCOW, Russia (Aug 12, 2018) - Jun Jang is a third-year high school student, he is the latest entrant to the most formidable squad in the game: Team Korea. According to those in the know, he is the only serious challenger to fellow team-mate and three-time World Champion Tae Hun- Kim – and is already, thanks to victory in Moscow, a Grand Prix champion.
On Saturday night, under the spotlights of the USK CSKA Bascetball Arena, Jang was pitted against Andrei Kanaev of the hometown team in the semi-finals of the Men's -58kg category.
The game started with light-contact sparring as the two carefully felt each other out. Jang was penalized for pushing, but attacked with kick-punch combinations to finish Round 1 ahead 3-1. In the second, the Korean went to work, methodically extending his lead, making excellent use of punches, combinations and close-range head kicks - all while demonstrating excellent ring control and nifty footwork. The second ended 13-3 to Jang.
In the third, the Russian had no choice but to attack. However, his moves looked increasingly wild compared to the cool composure of the Korean, who was using circular footwork and kick counters - all expertly delivered with economy of effort and motion. Kanaev was clearly outclassed by Jang, who was employing such a low-intensity style of play that he made it look easy. The match ended 24-9 to the Korean wunderkind.
"Last month was my first Grand Prix [in Rome, Italy], but I lost the first match," Jang on Sunday morning. "This time I had won, so I was very excited."
For the final, Jang marched onto the battleground for his gold-medal showdown with Iranian Iranian Armin Hadipour Seighalani.
It was a no-go. The Iranian had suffered an injury in his semi-final against Italy's Vito Dell'Aquila - granting Jang the gold by default "When I got into the field of play, I saw the coach giving the X sign and I understood what had happened," Jang said. "I was tired, but it was OK - I was happy."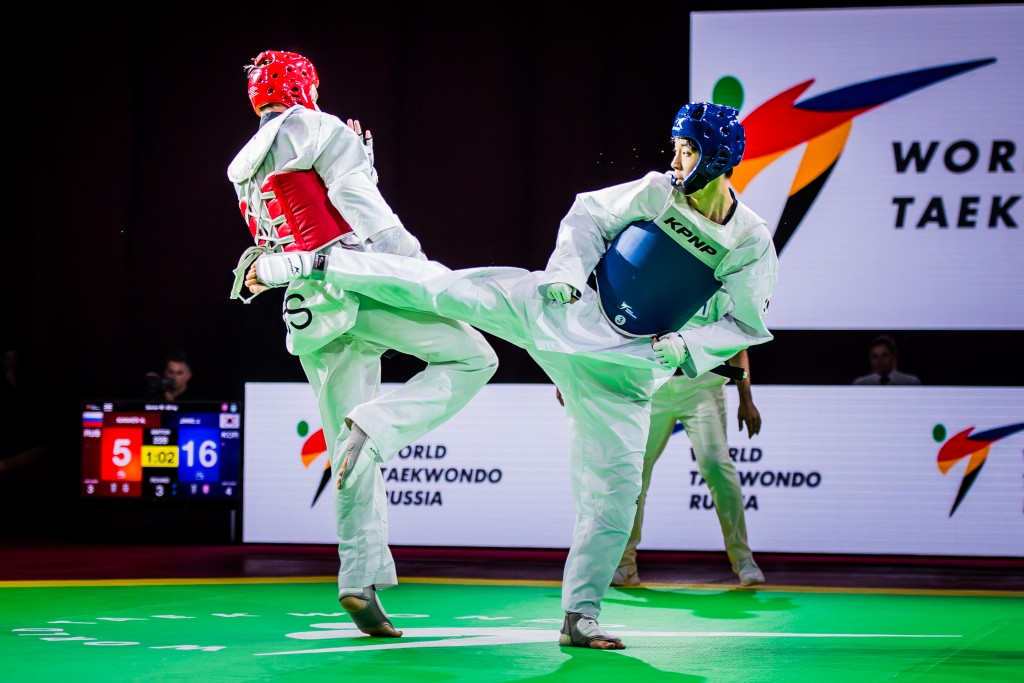 A New Star Rises
The 18-year-old from Chuncheon Province in central Korea, has been practicing taekwondo since the age of seven, but only started competing at age 12. He is currently a student at Hongsong High School, where his coach is Athens Olympic bronze medalist Song Myeong-seob.
Unsurprisingly, Jang's status as an international athlete has won him admiration among his schoolmates. "Originally, my friends at school were 'Wow!' when I was winning," he said. "As time goes by, they expect me to keep winning - but it is really hard."
Now, Jang is getting used to a new set of friends: The elite members of the Korea National Team. "I only joined the team in February but I get along with team mates very well," he said. "My roommate is very friendly, and the seniors guide me to improve team work."
His biggest fans – naturally - are his parents. "My parents are really happy that I have become an athlete, they are proud of me and I appreciate it," he said. "But when they come to the stadium, and they make a lot of noise, it is really hard - I am a bit shy!"
A 4th dan black belt, Jang has – in addition to his Moscow Grand Prix medal – first places wins at the 2016 World Junior Championships in Burnaby, Canada, and an Asian Championship title from the Asian Championships held in Ho Chi Minh City, Vietnam, this May.
On the technical front, he clearly has excellent footwork and masterly ring control. In terms of offensive moves, he cites his downward head kick. He also packs a wicked punch and knows how to mix his techniques into efficient combinations.
His tactical nous allows him to control the game. "I was taught by my coach to always lead the match," he said. Still he is skinny even by the standards of the weight category he fights in and admits that his biggest challenge is conditioning. "I am lacking physicality, so I am trying to improve that," he said. "Both stamina and strength."
Given his inexperience in elite-level competition, he is understandably jumpy before combat commences. "I have no special mental preparation, but I try to be relaxed before fights," he said. "If I am nervous before a fight, the fight does not go well." Pre-fight, he applies ice and tries to find a calm inner space.
Jang's combination of minimal age and major talent has seized the attention of the taekwondo punditry; Korean taekwondo media have nicknamed Jang "Super Rookie."
"He is proceeding so fast," said Taek-jin Yang, a senior reporter with "TKD News." "In the qualifications for the 2018 Asian Games, he fought Tae-hun Kim, but lost in the golden round against. He is the only one in the world who is competitive with Tae-hun Kim." Indeed: Kim, a three-time world champion, five-time Grand Prix winner and gold medalist in the inaugural Grand Slam, not only dominates his category, but is one of the most dominant fighter in the sport, period.
So the future looks bright. In the near term, Jang's plans are ambitious but predictable. "I want to go to university after high school, to major in taekwondo," he said. "If I quality as a national athlete I'll go to the National Training Center."
As an athlete, his gunsights are set on Tokyo 2020 – but after that he has - like many teenagers - no clear where he is heading. "I want an Olympic gold medal," he said. "I have no other plans beyond taekwondo at this time."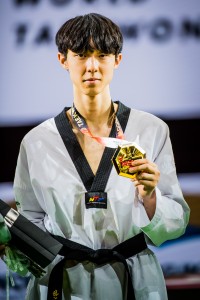 Jun Jang: At a Glance
Hobby: Watching YouTube clips and computer gaming
Favorite song: Anything by "Twice"
Favorite movie: Korea movie "Along with the Gods: The Last 49 Days"
Favorite food: Chicken
Why taekwondo? "My parents recommended me to start taekwondo, but at first I did not win a lot. But as time passed, I got a lot of wins, so I got inspired."
Motto: "Modesty in silence"