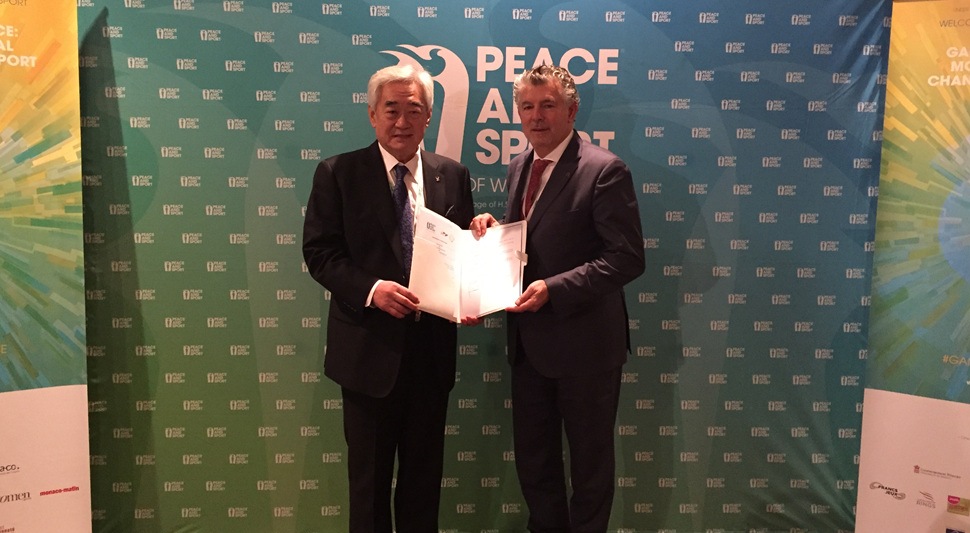 (Nov. 25, 2016) – The World Taekwondo Federation, or WTF, the Taekwondo Humanitarian Federation, or THF, and Peace and Sport have signed an agreement to join forces to promote taekwondo as a tool for social development.
The memorandum of understanding was signed by WTF and THF President Chungwon Choue, and by Peace and Sport President Joel Bouzoum. It has a duration of five years.
It commits all parties to promote peace, social cohesion and coexistence, and to improve living conditions via taekwondo. It also encourages education, training and responsibility among youth through taekwondo practice, and calls for all three parties to cooperate - such as by connecting the WTF and THF with Peace and Sport's partners and projects worldwide.
"This is a great step forward for the humanitarian activities of the WTF and THF," said Choue. "To work with an organization that is as respected and well known as Peace and Sport opens a new range of opportunities for taekwondo in its role as a vehicle for good."
The agreement was signed the same day the WTF was named "Federation of the Year" by Peace and Sport at the conclusion of the three-day Peace and Sport Forum that ran on Nov. 23-25. The award recognizes the sporting federation that makes a "…outstanding contribution to peace, dialogue and social stability in the world through sport."
The WTF received the award due to the efforts of its in-house charity program, the World Taekwondo Cares Program, which promotes the sport in developing countries and among refugees and displaced persons worldwide. The WTCP cooperates closely with the WTF's independent charity initiative, the THF, which was founded in April of this year.
The WTCP and THF, have carried out taekwondo programs in Syrian refugee camps in Turkey and Jordan, and among persons displaced by the earthquake in Nepal. An ongoing program, a taekwondo academy in Azraq Refugee Camp in Jordan, is being run with two instructors.
Taekwondo is one of the most economical and easily deployed sports on earth as it requires minimal equipment - just the human body. As an exercise, it delivers agility, flexibility, balance, strength and stamina. As a discipline, it delivers self-defense, self-confidence and self-belief. It is a gift that, once given, can never be taken away, as it can be practiced anywhere, at any time, by anyone.
A bespoke "edutainment" program for children has also been designed for the THF to teach the values of Olympism and global citizenship alongside taekwondo.
In 2017, the WTCP and THF will open a taekwondo academy for refugees in Rwanda.