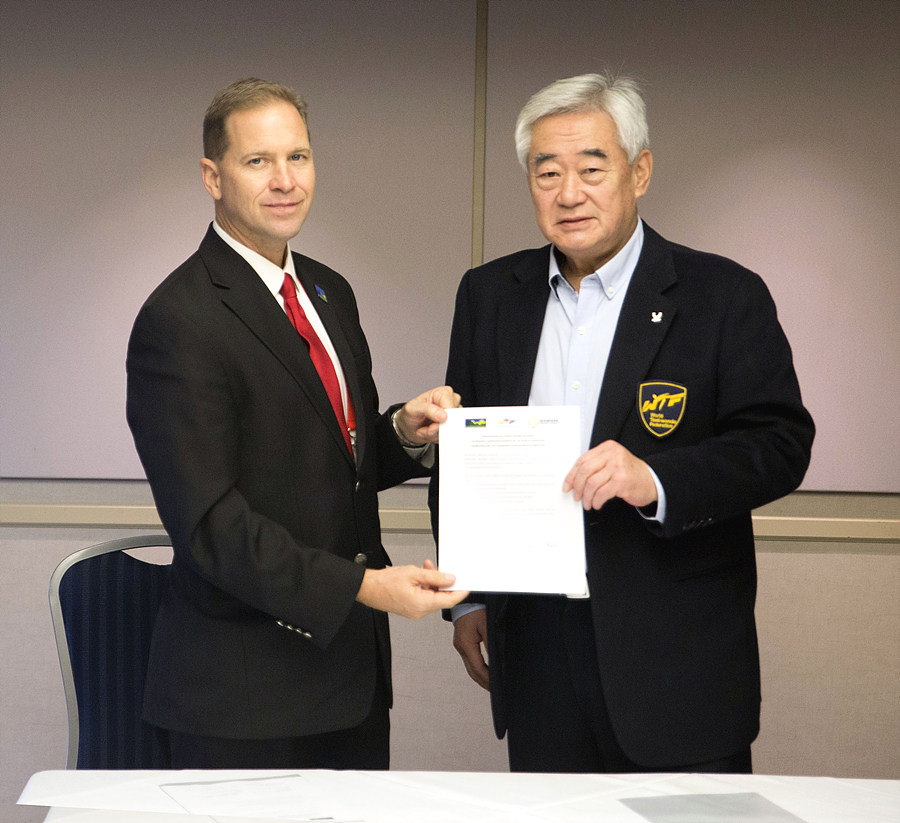 BURNABY, Canada (Nov. 17, 2016) – Taekwondo and related humanitarian programs in Rwanda are set to receive a significant boost.
The Taekwondo Humanitarian Foundation, or THF, and the World Taekwondo Federation, or WTF, today signed an MOU with the Rwanda Taekwondo Federation to promote humanitarian initiatives and peace and development activities.
"We are ready and willing to support," said WTF President Chungwon Choue. "And we are asking the IOC for support too; we will do it together."
The idea of a THF humanitarian initiative in Rwanda had first been raised by former IOC president and current UN Special Envoy for Youth Refugees and Sport Jacques Rogge, Choue added.
"This is a great opportunity to show the importance of taekwondo, post-genocide," said Rwanda Taekwondo Federation Director Martin Koonce, referencing the mass killings which took place in the country in 1994. "It gives Rwanda the opportunity to take the good news and the tenets of taekwondo to refugees from Congo and Burundi."
There are an estimated 150,000 refugees in Rwanda, largely fleeing civil strife in Congo and Burundi.
The MOU calls for the three parties to promote taekwondo as a vehicle for peace, social development and the integration of vulnerable populations and to execute humanitarian projects. It also calls for exchanges of know-how, information and publications, and the organization of joint meetings and workshops.
A key component of the programs will be for the establishment by the THF of a dedicated taekwondo academy for refugees in Rwanda. The THF is currently operating taekwondo classes for Syrian refugees in Azraq in Jordan and will open a dedicated training academy in the camp early next year.
A budget has already been secured for the construction and operation of the Rwandan academy, in the form of a US$200,000 pledge offered to Choue by the China-based Huamin Charity Foundation earlier this year.
"Taekwondo is not a federation, it is a family," Koonce added. "Taekwondo promotes a life of well- being."
Choue agreed, noting that there were already linkages between the WTF and Rwanda: The WTF's global sponsor, Booyoung Group, has sent 2000 pianos to taekwondo as part of its corporate social responsibility activities. Choue himself will make a reconnaissance visit to Rwanda, where he will attend the country's "Gorilla Open" taekwondo tournament in March 2017.
The signing took place at the Delta Hotel and Convention Center, on the sidelines of the 2016 World Taekwondo Junior Championships, currently underway in the Canadian city of Burnaby.