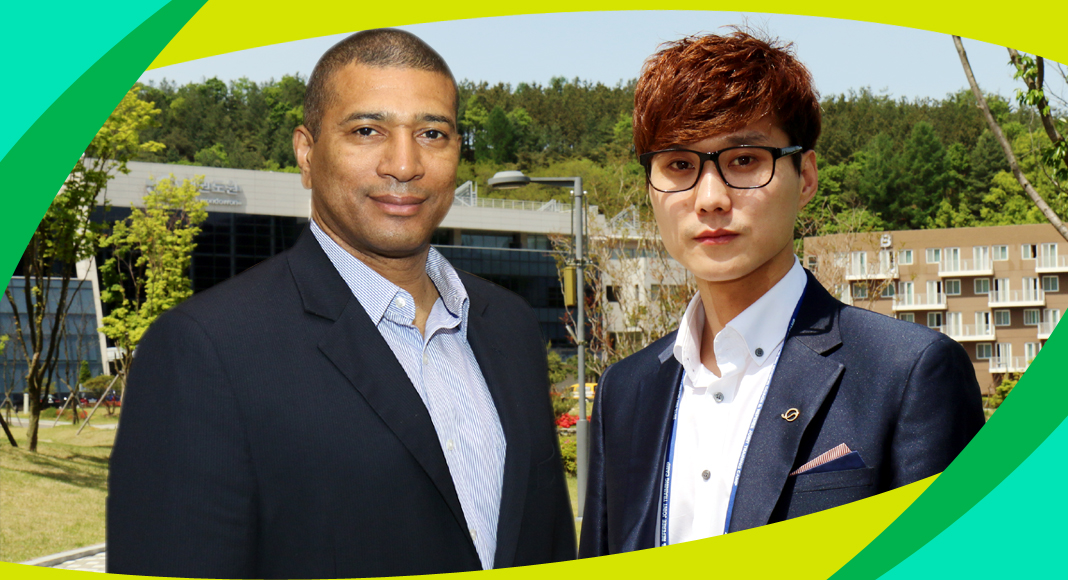 MUJU, Korea (May 6, 2016) - Coaches of two of the nations whose athletes will be making their Olympic taekwondo debuts this summer have had very different experiences on their respective roads to Rio 2016.
Countries making their first appearances on the Rio competition mats will be Aruba, Belarus, Cape Verde, Moldova, Mongolia, D.R. Congo and Tonga. This number might be increased after decision of Tripartite Commission for wild cards. But while Moldova will be fielding one of taekwondo's most famous fighters, coached by one of taekwondo's most famous coaches, Mongolia is sending a virtual novice, under a coach making his own debut at the world's greatest sporting event.
Moldovan superstar Aaron Cook is coached by Ivorian native Patrice Remarck, while Mongolian neophyte Temuujin Purevjdav is coached by Korean national In-young Hur.
For anyone who follows taekwondo, Cook needs no introduction. The ex-Team Great Britain international famously departed the squad after being passed over by national selectors for the London 2012 Olympics. He has since found a home in Moldova, a nation looking at make a splash in the sport. Now under the wing of Remarck, one of the most experienced coaches in taekwondo, Cook is a crowd favorite and a dangerous contender in Rio.
The two make a formidable duo. Remarck calls his relationship with Cook "unfinished business:" he formerly coached him between 2011 and 2013 – but not at the Olympics. He also briefly coached Team USA, before being retained, once again, by the Cook/Moldova camp, on April 1.
"He had been training himself so he missed a few little details here and there," said Remarck, speaking on the sidelines of the WTF's Coach-Referee Joint Training Camp, held at Muju's Taekwondowon facility. "We are changing some techniques and repertoires, giving him different scenarios for different types of players."
Fans will be pleased to hear, however, that Remarck is not going to be changing Cook's dynamic, offensive, spin-kicking game. "We are making some adjustments," he said. "But I don't want to change Aaron."
The Federation of Taekowndo of the Republic of Moldova is fully supporting the three-man team - fighter Aaron, Aaron's brother Luke, who is taking on team management duties, and coach Remarck. Rio gold is a real possibility, Remark reckons.
"If Aaron could bring home a gold, it would be very good for the country," Remark said. "It would really put the country on the taekwondo map."
The Remarck-Cook experience, which has granted Moldova a star athlete/star coach combo, could not be more different from another newcomer to Olympic taekwondo, Mongolia.
Team Mongolia's coach, Hur, had originally sought to find a nation which would be terra incognito. "I was looking for a country with no national team, so that I could start it off," said Hur – who, like Remarck, was attending the camp at Taekwondowon. "I bought a map in a grocery store and started from that!"
Mongolia did not even have an Olympic taekwondo program until 2013, when it became part of the nation's official sport curriculum. In fact, WTF taekwondo was virtually unknown in the nation until that year. Under Hur, it has made very fast progress.
The speedy progress of a combat sport like taekwondo may not be surprising, given that Mongolia is famed for its wrestlers and archers: Its traditional Olympic strengths have in wrestling, judo, boxing, archery and shooting. Even so, Hur's approach to coaching – starting with a perfectly clean slate when it came to selecting players – must also take credit for the success.
While other styles of taekwondo were practiced in Mongolia before Hur's arrival, he decided not to recruit from among these practitioners, but to incubate a team of total neophytes in WTF, Olympic- style taekwondo. "It is difficult to get them to change their style," Hur said. "Better to start from the beginning."
That approach has paid off. His student Temuujin Purevjdav, who qualified Mongolia for its first Olympic taekwondo sport at the Asian qualification tournament, has a mere three years of taekwondo under his belt: A very, very short period indeed, given that many athletes in their 20s have been training since they were toddlers. Hur scouted talent from sports including running and riding, and found Purevjdav on the sidelines of a taekwondo demonstration. Sensing potential, he asked him to do a few kicks. "I saw he had strength and flexibility," he said.
The rest is history – and even for Hur it has been a surprising ride. "I went to Mongolia in 2012," Hur said. "I did not expect to go to the Olympics, so quickly!"
Taekwondo's profile in Mongolia is now rising, with the government funding it after a medal win at the 2014 Incheon Asian Games and increasing numbers of beginners taking up training. "The athletes are getting into the media," Hur said. "And the national team and the coaches recently met Mongolia's vice president."
Whether Hur and Remarck's respective charges will win medals in Rio is, of course, impossible to predict. But the very fact of qualifying for the pinnacle of athletic events is great news for both countries' sporting establishments. It is also great news for taekwondo - proving that the sport's global reach continues to expand.