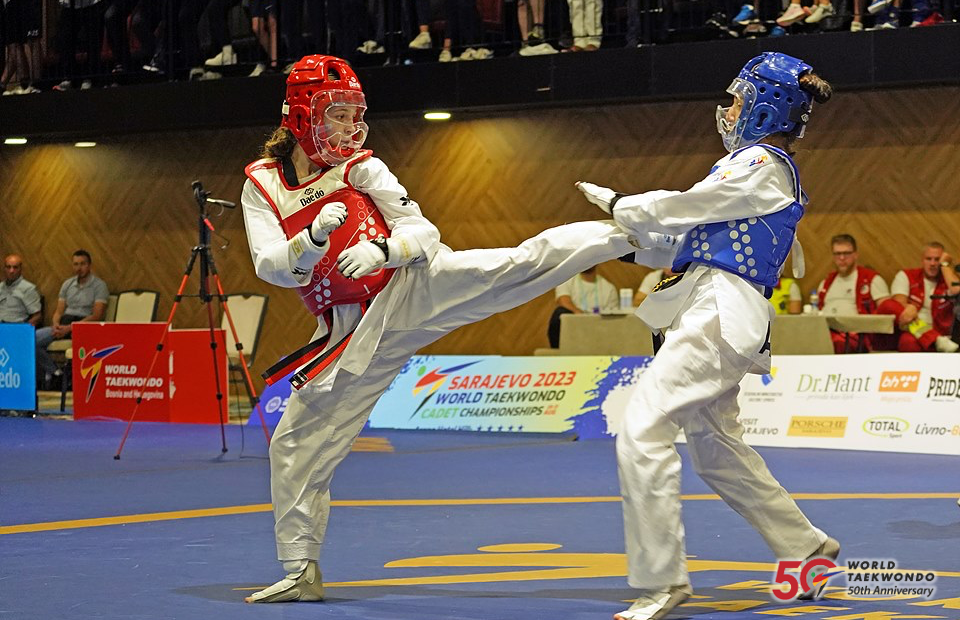 SARAJEVO, Bosnia and Herzegovina (Aug. 29, 2023) - The second day of the Sarajevo 2023 World Taekwondo Cadet Championships brought more spectacular Taekwondo action as young athletes proved why they are the ones to watch for the future.
Young athletes competed in the M-156cm, M-160cm, M-164cm W-156cm, W-160cm with Korea and Kazakhstan taking home two golds each and Thailand one.
In the M-156cm, Kanbusakorn Pichaisongkram of Thailand overcame Adilet Sheri of Kazakhstan in the final to secure gold. Meanwhile bronze medals went to Korea's Jungmu Heo and Australia's Kerim Yilmaz.
Korea's Garam Kim and Kosar Ojaglo from Iran fought in the final of the W-156cm. In a tense but fast-paced match, Kim won the first round 18-5 but in the second round Ojaglo fought back in a tight second round to win 11-10 forcing it to a third round. Kim looked set to lose the match but came back in the final seconds to win 15-11. Bronze medals were shared by Mexico's Nahomi Guadalupe Martinez and Kaelynn Yvonne Manalo from the USA.
The M-160cm final saw Korea's Donggun Lee matched against Kazakhstan's Nurperzent Samatuly. Lee proved too strong winning the first round 12-0 in just 40 seconds and the second round 13-1 to win gold. The Bronze medals were won by Yasan Jafari from Iran and Kirati Yokpuang from Thailand.
In the W-160cm, Taissiya Borovikova of Kazakhstan came up against Shams Alizada of Azerbaijan. Borovikova looked on course for gold after a strong first round display saw her win the round 17-4. Alizada came back in the second round but did not have quite enough as Borovikova won 13-12. Haneul Lee of Korea and Layan Alrawashdah of Jordan won the bronze medals.
The final category of the day was between Bauyrzhan Issamedin of Kazakhstan and Christos Rafail Nitsas from Germany in the M-164cm. The Kazakh proved too strong winning in two rounds, 19-7 and 16-4. The bronze medals were shared between Ding-fu Yang from Chinese Taipei and Fallos Franco Klaython from Ecuador – the country's first ever medal at the Championships.
The competition will continue tomorrow with the M-168cm, M-172cm, W-164cm, W-168cm, and W-172cm.