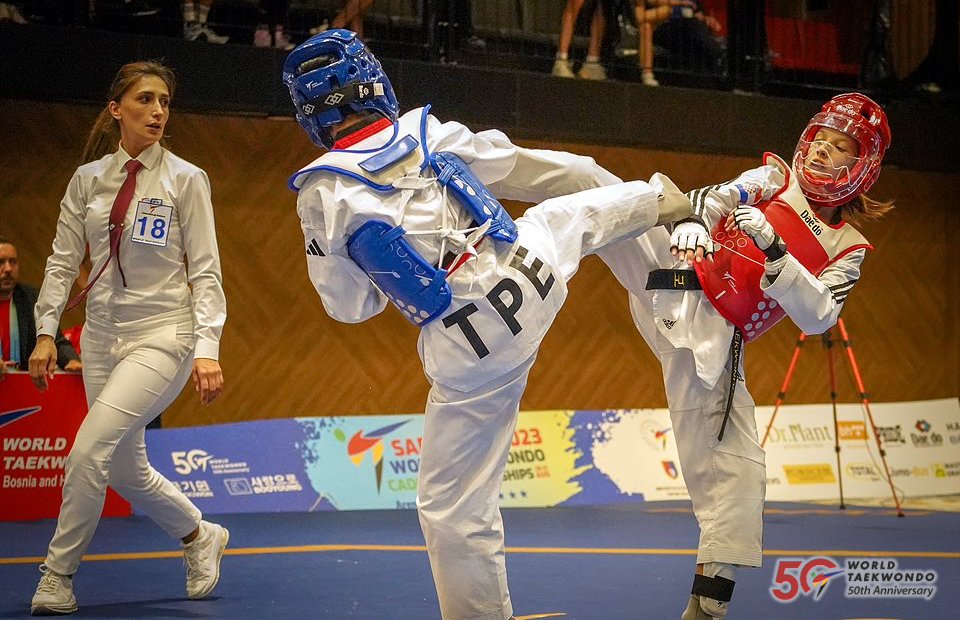 SARAJEVO, Bosnia and Herzegovina (Aug 28. 2023) - The Sarajevo 2023 World Taekwondo Cadet Championships got underway today in excellent fashion with Chinese Taipei, Uzbekistan, Korea, Italy and Croatia winning gold across the five contested categories.
Athletes competed in the M-148cm, M-152cm, W-144cm, W-148cm and W-152cm categories – the first time that height as well as weight have been factored into the categories in order to further protect the safety of the young athletes.
In the M-148cm, the final was between Hsin-han Chou of Chinese Taipei and Utku Kap of Türkiye. Nothing could separate the fighters in the first round as it finished 7-7. Chou proved too strong in the second and third rounds winning 12-6 and 5-2 to win the gold. The bronze medals were shared between Individual Neutral Athlete (AIN) Shamil Pakhrudinov and Minsung Kwon of Korea.
The M-152cm final saw Islombek Akhchurin of Uzbekistan face Italy's Francesco Cutrone. It was a close fought match with Cutrone winning the first round 13-10 but Akhchurin fought back to win the second and third round 16-4 and 14-1 respectively. The bronze medals were won by Chen-syuan Wu of Chinese Taipei and Dinmukhammed Tolybai from Kazakhstan.
The W-144cm final gold went to Geunmi Lee of Korea as she beat Nazerke Zhanabergen from Kazakhstan in the final with a commanding performance over two rounds, winning 12-0 and 15-2. Jordan's Safaa Eneizat and Hilal Ayar of Germany won the bronze medals.
In the W-148cm Virginia Lampis from Italy proved too strong for Germany's Maria Koukousoudi in the final winning the first round 17-4 and following up in the second with a 6-2 victory. Yi-hsuan Xia from Chinese Taipei won bronze alongside Greece's Paraskevi Kalogirou.
The last category of the day, the W-152cm was won by Croatia's Petra Uglešić as she beat Han-fei Wang of Chinese Taipei in the final in two rounds, 15-2 and 16-2. Bronze medals were won by Lilou Gamel from France and Chaeeun Lee from Korea.
The day's semi-finals and finals took place following the Opening Ceremony featuring local performances.
The competition will continue tomorrow with the M-156cm, M-160cm, M-164cm W-156cm, W-160cm categories.