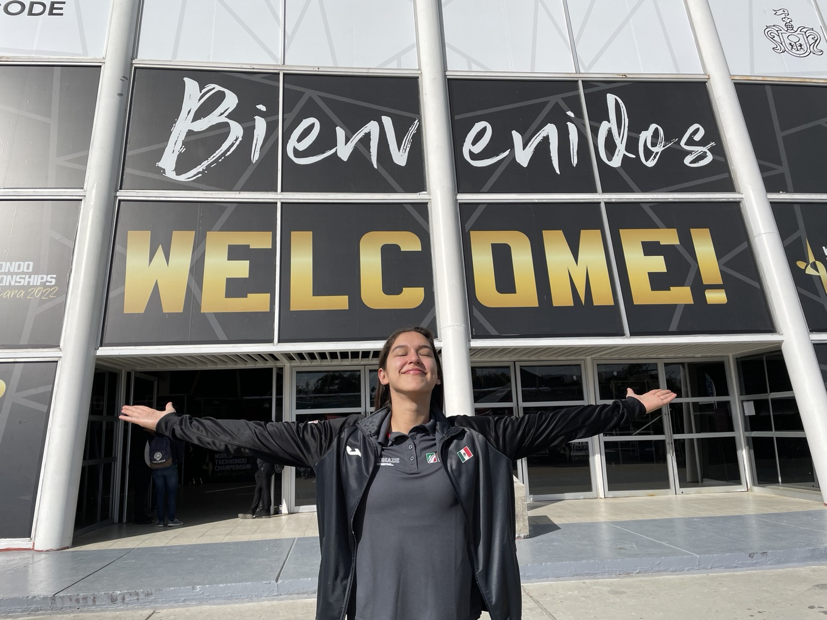 Using intense mental focus, Mexican champ blanks out the noise, focuses on the fight
GUADALAJARA, Mexico (Nov. 16, 2022) - As Leslie Soletero strode onto the field of play on the night of Nov. 15 for the fight of her life, the noise was thunderous.
In the electric ambience of Guadalajara's Centro Acuatico CODE Metropolitano, a stoked crowd chanted "Mexico, Mexico" interspersed with "Leslie, Leslie," while a Mariachi band on the second floor of the stands added to the cacophony.
This was aural "home town advantage" to the max. Soltero, however, blanked it all out.
"Too many times I get lost with other things - the noise, the referee, the people," Soltero said. "This time I stayed focused; this was the key to win."
She admits to being anxious before battle. Soltero had prepared for the bout by practicing breathing drills: Deep breath in, explosive breath out.
That psychological/physiological preparation was critical given what was at stake. Though she has a multiplicity of PanAm and Open wins under her black belt, prior to Guadalajara, her biggest win at the sport's elite level had been a bronze at this year's Paris Grand Prix.
Now, one woman stood between Soltero and the world title in the W-67kg category: Team Serbia's Aleksandra Perisic. From the start, their battle would be one of rare fervor.
After losing the first two points, Soltero seized three points with head kick, then the round went ballistic. Round 1 ended with a very tightly contested 6-5 score to Soltero. The crowd was ecstatic. If she would take Round 2, it would be game over.
The second round got underway with another head kick from Soltero, swiftly countered with a head kick from the Serb: Tied score. Then, in the dying seconds, Perisic scored to the body, keeping herself in the game – meaning all was to play for in Round 3.
It was intense. The battle accelerated the previous trends of the bout – kicks impacting on all targets, hard falls, high-tension instant video replays - but when the smoke cleared, Soltero was ahead.
The crowd went wild. Both Soltero – and members of Team Mexico in the VIP stands – wept literal tears of joy as she ran a victory circle with a flag held over her head.
"I was World Champion! I had obtained it!" she said. "I was crying because I could not believe it - crying was like breathing after a fight, like a relief."
Explosive relief. Over three rounds, Soleto had managed to fight in silence: She had retained a deep mental focus with just one blip.
"Only one time, during an instant video replay, I heard all the people shouting 'Leslie! Leslie!'" she said. "The rest of the time, I was not listening."
Soltero was lured to the game at a very early age. "I went to a multi-sports camp in summer 2008," recalled the native of Mexicall, in northern Mexico. "I only liked Taekwondo, so I chose that."
Fourteen years later, nothing has changed.
"Taekwondo is my passion, I feel happy even with training every day - even if I have pain, I enjoy it," she said. "I enjoy fighting with my friends, I enjoy everything about Taekwondo, including the physical training."
That is fortunate, as there will be no vacation after winning the world title: There is plenty of hard work ahead.
"I will keep training because I don't know if I will go to the Grand Prix Final in Saudi," she said. "If I go, I need to train. If not, I will also train - but not too hard!"
Due to the way the aftermath of Covid-19 has compressed World Taekwondo's event schedule, there will be another World Championships next year. Then it is the big one: The 2024 Summer Olympics.
"I want to be an Olympic champion in Paris 2024 - that is the next call," she said. "But before that, we have another World Championship next year, and we have the PanAm Games. But the biggest goal is the Olympics."
On the path to Paris, Soltero is well positioned when it comes to support.
In addition to the full backing of her family, she credits her coach David Davis for much of her success.
"I started with him two years ago and from the start, I liked his way to work," she said. "He has a plan - it is not improvisation."
And beyond her family and coaching team is a wider support network – a national one. Even if she does not hear their chants and shouts when she is fighting, she borrows their power.
"Mexico is a beautiful country, because if you win, all Mexico wins, they all feel it," she said. "They give me my energy."