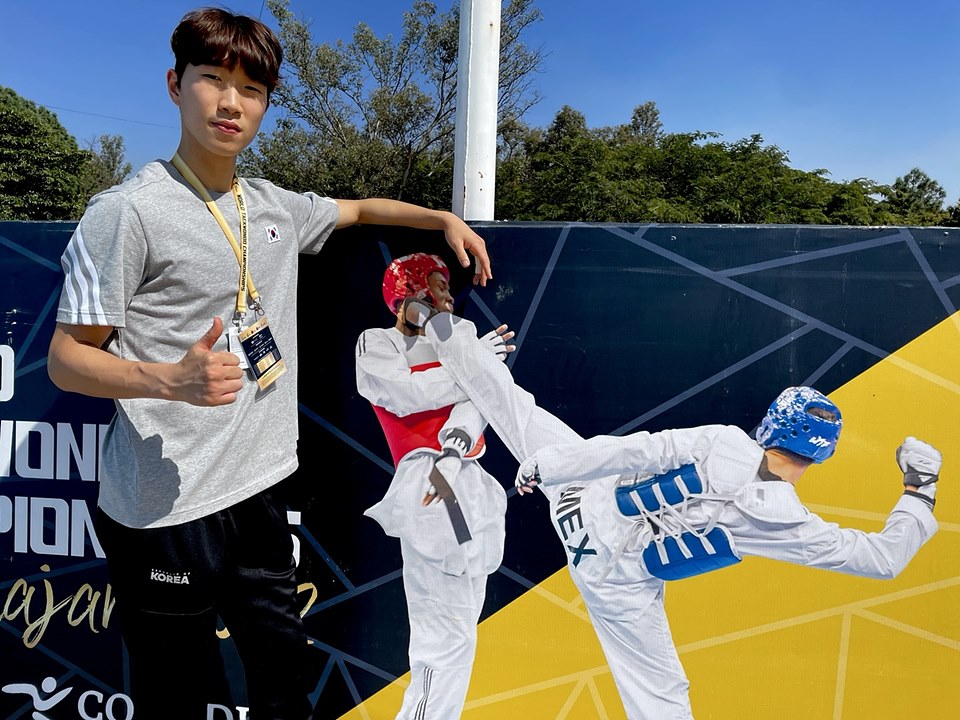 GUADALAJARA, Mexico (Nov. 15, 2022) - It was the parental plan that failed.
Seven-year old Woo-hyeok Park was a hyper-active infant growing up in Korea's mountain city of Wonju. His parents, frustrated at his inability to concentrate, sent him to Taekwondo classes hoping he would calm down and learn to focus.
"It didn't work!" said Park, now 22, who admits he is still hyper-active to this day.
But the quality that frustrated his parents worked to his advantage on Nov. 14. That night, on the field of play in Guadalajara's Centro Acuatico CODE Metropolitano, Park grabbed gold in the finals of the M-80kg category – for he is a hyper active fighter.
There is no waiting around, no standing off and none of the probing, tactical game other fighters play. With Park, it's all action.
He has some of the liveliest, most stylish footwork in the game, carrying him around the mats with sure-footed agility. Combine that with an arsenal of clean, stand-off technique, spearheaded by a front-leg ax kick, all built on a tall, leggy platform, and you have a weapons-grade Taekwondo fighter.
An instinctive fighter, too. In the semi and final matches, Park found facing athletes he had not planned for. He and his coaches had been anticipating Jordan's Saleh El-Sharabaty – eliminated in the prelims – or Egypt's Seif Eissa – who took bronze.
That meant Park had to trust his inner radar, his fight IQ. It was enough.
In the semis, he held off a stern challenge from Iranian Mehran Barkhordari. So furious was their battle that even senior officials in the VIP stand were roaring.
And the final did not disappoint. It pitted the bulldozer physique and wicked spinning kicks of Spain's Jon Cintado Arteche against Park's agility, activity and reach advantage.
Park used his punch to stem the Spaniard's attacks and trusted to his vision and reactions to evade the spinning kicks. Park also pre-empted his opponent's attack with attacks of his own – notably, his front-leg chopping kick – while his footwork danced him out of danger on the perimeter of the mats.
Asked how he felt having gold slung around his neck, his answer illustrated that – even for a natural like Park – Taekwondo is a tough path.
"I thought it was the reward after all that time since I started Taekwondo," said Park, who specialized in Taekwondo at both high school and university. "Training was often hard, was not easy, but I finally got a reward."
World Championship gold is the biggest win of his career. Prior to that, the 22-year-old's best efforts at the senior, elite level of the sport had yielded bronze at the Manchester Worlds in 2019, and another bronze at 2022's Roma Grand Prix.
Adding to the sweetness in Guadalajara, Park grabbed victory in a category no Korean had won since the Edmonton Worlds in 1999. That fact was picked up on and widely reported by the delighted Korean press.
"It was a real honor to read that, and to know I had made it," he said.
It is a tough category due to the weight and size advantage European, Pan-American and African fighters have over their Asia peers. "At around 80kgs, the height and muscle and power is very difficult for us," Park said. "Normally, Asians are a bit smaller."
Still, Park vows that there will be more Korean victories in the category to come. "I want to write a new history," he said. "I want to do even better."
That means Paris 2024 - and the grueling qualification marathon through the end of 2022 and into 2023. Aiding him in that journey should be the position he will take up on the elite Samsung Taekwondo squad next year.
All this raises an interesting question.
Like other teams in the post-Tokyo 2020 cycle, Team Korea is in a state of flux: Old hands are leaving, new blood is arriving. And of the Korean veterans who have exited the game, the one who leaves the biggest hole is Dae-hoon Lee.
In addition to a truck full of medals, Lee won more WT "Player of the Year" awards than any other fighter, male or female. Off the mats, he was universally liked for his friendly, easy-going personality. On them, he was admired for his relentless stamina and flawless technique.
So: Could Woo-hyeok Park be the new Dae-hoon Lee? Park's on-mat skills are crystal clear. Off the mats, he is relaxed and friendly, signing autographs for and taking photographs with the fans.
But Park brushes off the comparison. "I really respect Dae-hoon, so I cannot be an alternative to him," he said.
So who inspires him in today's Taekwondo? Park smiles. "I like myself!" he said.