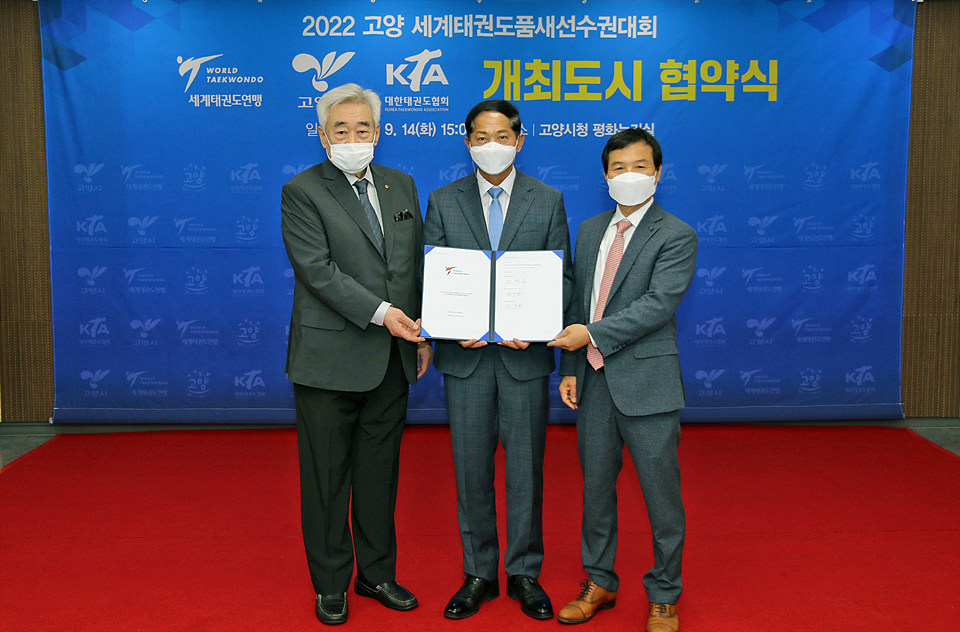 GOYANG, Korea (15 September 2021) - The signing ceremony of the host city contract for the Goyang 2022 World Taekwondo Poomsae Championships was officially held at the Goyang City Hall on 14 September.

The ceremony was attended by World Taekwondo President Chungwon Choue, Mayor of Goyang Lee Jae-joon and President of the Korea Taekwondo Association Jin Bang Yang.

The World Championships will be held in Goyang City on 21-24 April 2022. The city was selected by the World Taekwondo Council in May 2020.

Mayor Lee said: "With next year's Poomsae Competition, it will be an opportunity to leap internationally as a city of Taekwondo in Goyang."
President Choue added: "I am confident that next year's Poomsae competition will be the most successful Poomsae competition ever."
President Yang said: "I will do my best to cooperate with Goyang City for a successful Poomsae competition."

The first World Taekwondo Poomsae Championships was held in 2006 and attracted 590 athletes from 59 athletes. The discipline has grown significantly in popularity over the last 15 years as it provides a non-combat alternative to Kyorugi ensuring Taekwondo is truly a sport for all.

Last year's World Championships were held online for the first time as COVID-19 prevented the event from being held in person. More than 1,500 athletes from nearly 100 countries took part in the event.