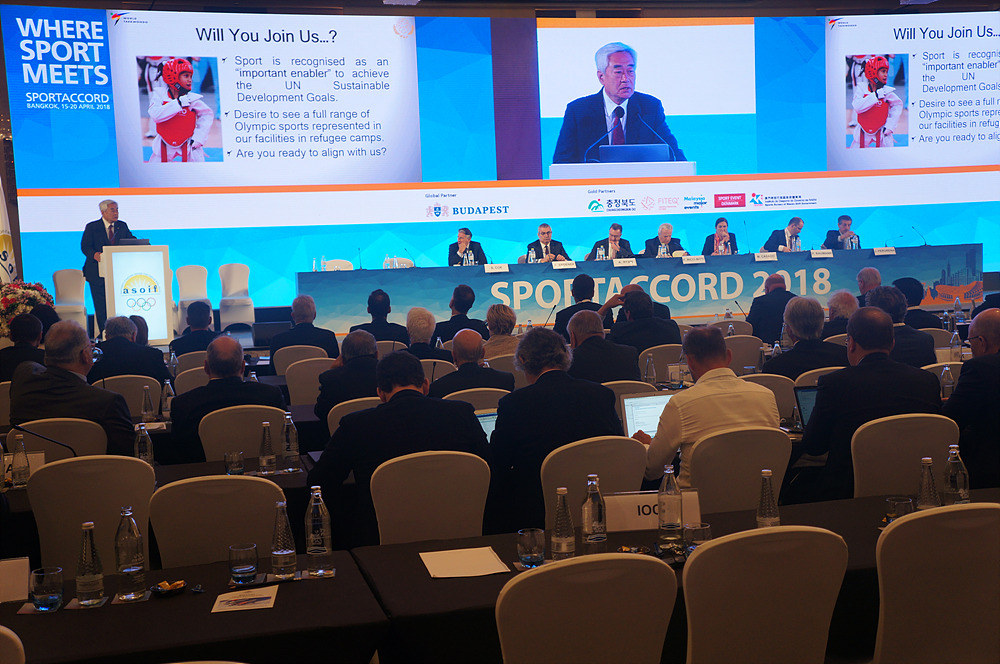 World Taekwondo President invites IFs to collaborate on THF projects
President Choue addresses IFs at ASOIF General Assembly
BANGKOK, Thailand (April 17, 2018) - World Taekwondo President Chungwon Choue today called on International Federations (IFs) to join the Taekwondo Humanitarian Foundation (THF) in empowering refugees through sport.
President Choue, who is also the THF Chairman, was invited by ASOIF to speak at the ASOIF General Assembly in Bangkok, to provide the attending IFs with an update on the Foundation's activities.
Officially established in April 2016, the THF now has active projects in refugee camps in Jordan, Nepal Turkey, Djibouti, Rwanda and France and even recently opened a purpose-built Taekwondo Academy in the Azraq refugee camp in Jordan. The THF deploys coaches and taekwondo equipment to refugee camps to teach young people taekwondo and use the sport as a vehicle for encouraging healthier living, understanding and peace.
President Choue explained to the ASOIF General Assembly that the THF is looking to work with all stakeholders to ensure its projects are as meaningful as possible and would welcome the opportunity to partner with other IFs.
Speaking following the ASOIF General Assembly, President Choue said:
"We face a grave global crisis. There are over 22.5 million refugees worldwide, half of them are women and children. The solution to this crisis can only be found through collaboration which is why we invite all IFs to collaborate with the THF and help us to empower the powerless.
"The THF is now operating in six countries around the world and over the last two years we have seen first-hand what a positive impact sport can have in young people's lives. These young people are in desperate need of support and through taekwondo and sport we can provide them with so much joy and happiness and key skills for future life. We would like to offer a broader spectrum of Olympic sports and so we would be delighted to partner with other IFs and work together to provide refugee children with a greater variety of sports activities. Peace is more precious than triumph and by working together we can help make sure that peace triumphs."
The power of taekwondo to promote peace and understanding was demonstrated at the PyeongChang 2018 Olympic Winter Games in February this year when World Taekwondo and the North Korean-led International Taekwondo Federation (ITF) performed a joint demonstration during the Opening Ceremony.