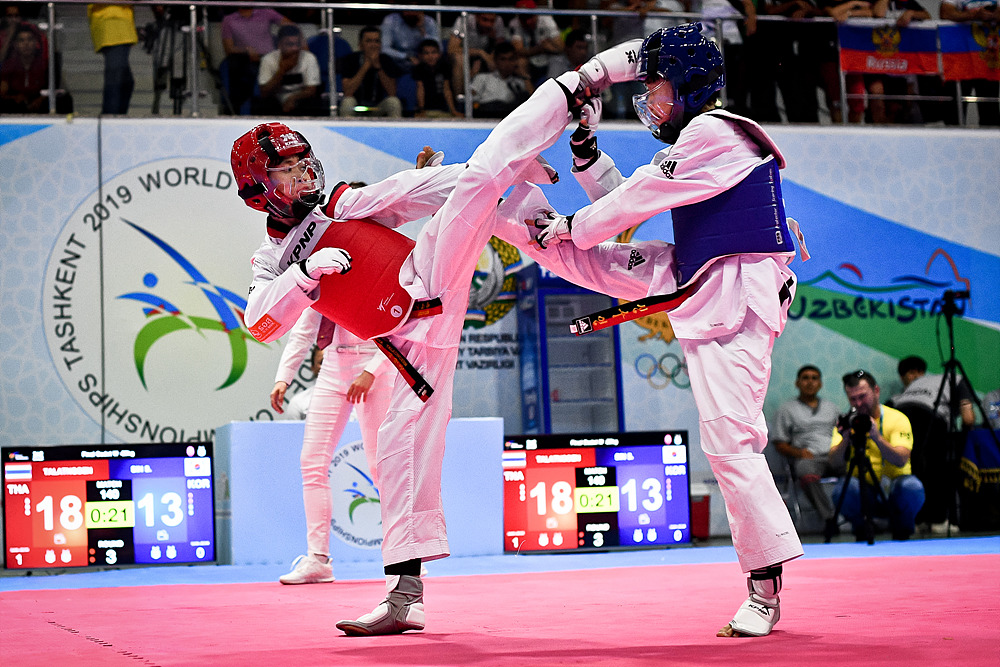 TASHKENT, Uzbekistan (August 8, 2019) - The Tashkent 2019 World Taekwondo Cadet Championships in Uzbekistan, is a showcase for the sport's rising stars. One name that was on everyone's lips at the conclusion of the event was the high-energy, high-scoring Waranya Talatngoen of Thailand who earned gold in the finals of the W-29kg category after annihilating beating Korea's Sun-in Sin in a truly superb match.
The Thai was the aggressor from the get go as Round 1 got underway, dominating center court and showing a higher work rate with a range of front-leg round and side kicks. And she was not afraid to try risky techniques – she stumbled after attempting a close-range arcing ax kick to the head. But as the round proceeded, she asserted her dominance, driving Sin back, and starting to employ front leg-rear leg combination attacks. She finished a very active first round 5-3 up.
In Round 2, Talatngoen charged out with a side kick, upping the energy of what had already been a high-energy bout. But Sin was now being more aggressive and no longer giving up the center of the mats as she had done in the first round. She was also unlucky not to score with a series of face kicks. But as Sin surged forward, the Thai deployed a new weapon from her arsenal – a beautifully timed punch that stopped Sin in her tracks. The second round ended with the Thai 12-3 up. And her fitness was apparent: When the referee signaled the end of the round, Talatngoen literally ran back to her coach.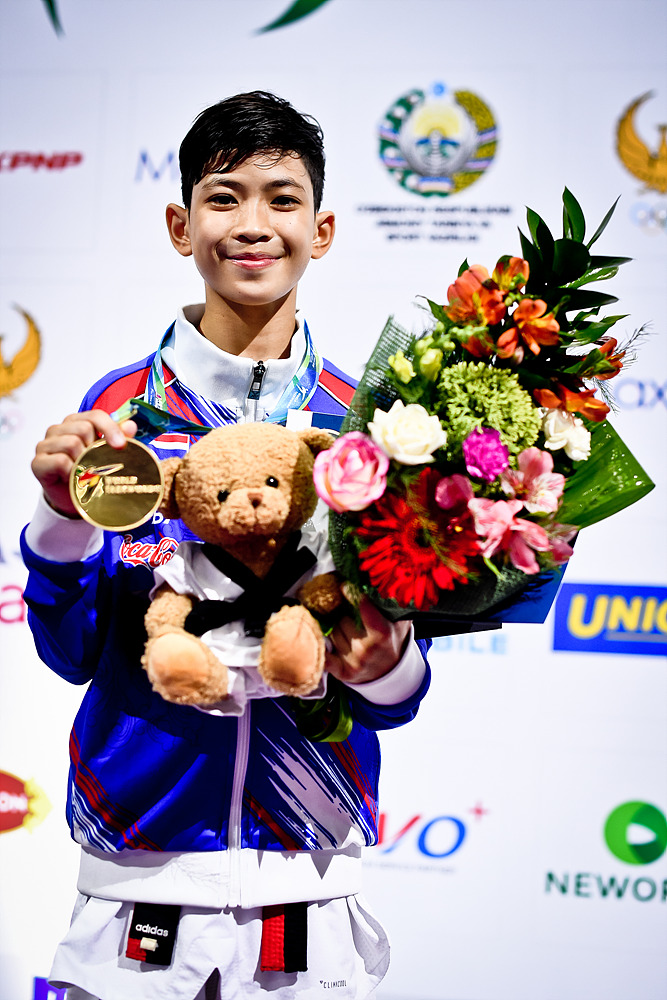 As ever, the final round would be the decider. It started off with a flurry of on-target techniques from both players, with Sin raising her score to 11, but Talatngoen still ahead on 14. Sin then pulled the score up to 13-14 raising the possibility of a turnaround. But from that point on, the tiny Thai went to work, firing on all cylinders. Moving fast, going to the grapple in clashes and using a really sweet back circle step when she was in trouble, she was kicking, kicking, kicking. And her target radar was bang on: She extended her lead to 23-13.
After a long, tense pause for a video replay – the score stood at 23-13- action recommenced. Talatngoen struck immediately, flooring Sin with a wicked hook kick to the head. The last seconds were all-out war, but the victor was clear: The Thai emerged with a 29-13 victory in a match that would have been the envy of any international-level senior fight.
"I am so happy because I got a gold medal!" she said after her win. "It's for my parents, my master and my nation!"
"She is very good at kicking, but I already knew her style," Talatngoen said of Sin. It was her second win over the Korean: They had previously clashed at the 3rd Asian Cadet Taekwondo Championships in Amman, Jordan.
As a fighter, Talatngoen assesses her key attribute as quickness. "My best strength is speed, I step a lot very quickly and move fast," she said. Others might consider it her aggression and fearlessness - and indeed, she alluded to that when she said, "When I do taekwondo, I feel so fun.. also, I like fighting!"
When she is not practicing taekwondo or doing school work, the 13-year-old enjoys mobile and computer games and reading. But as a leading member of Thailand's national cadet team, her two cadet gold medals have not sated her ambitions in the sport.
"I want to be a junior national taekwondo player in the future," she said.