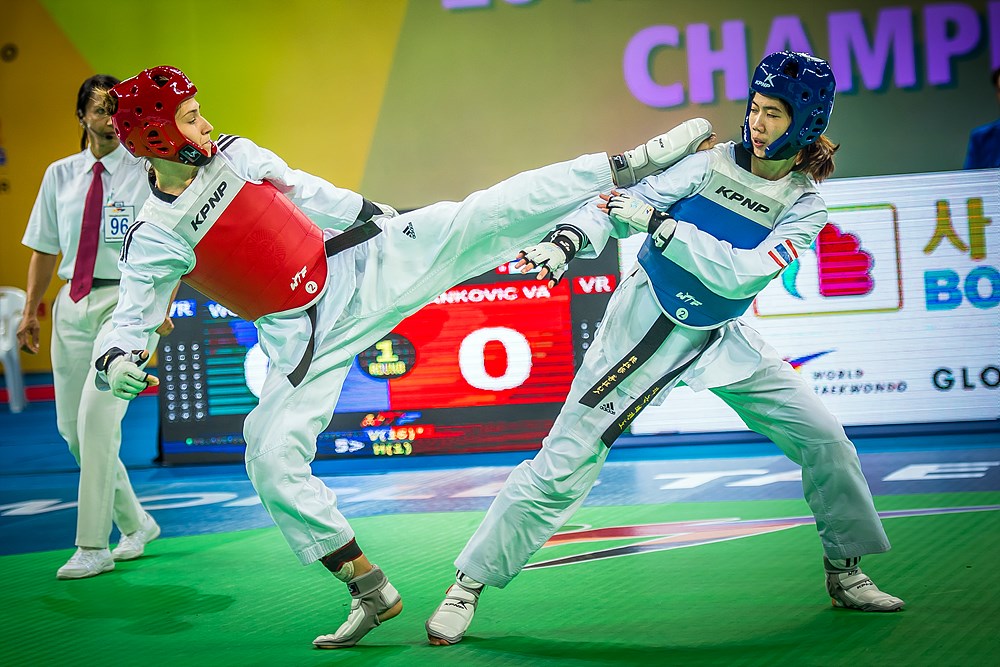 MUJU, Korea (June 28, 2017) - Finish high school? Check. Prepare for university? Check. Win World Championships? Check.
It was a fitting end to Vanja Stankovic's school days: On June 26, 19-year-old Serbian won the gold medal in the Female -49kg category. But it was not something she had anticipated before she flew out to Korea. "I did not expect to get to finals I just wanted to show my best and believe in myself and see what will happen," she said in an interview the day following her victory.
That victory adds yet another honor to the (increasingly crowded) medal wall at her dojang, Belgrade's famous Galeb ("Seagull") Taekwondo Club. Under Head Coach Dragan Jovic, the club has produced two Olympic medals (Milica Mandic's London 2012 gold and Tijana Bogdanovic's Rio silver) and now a world championship title – Serbia's first-ever.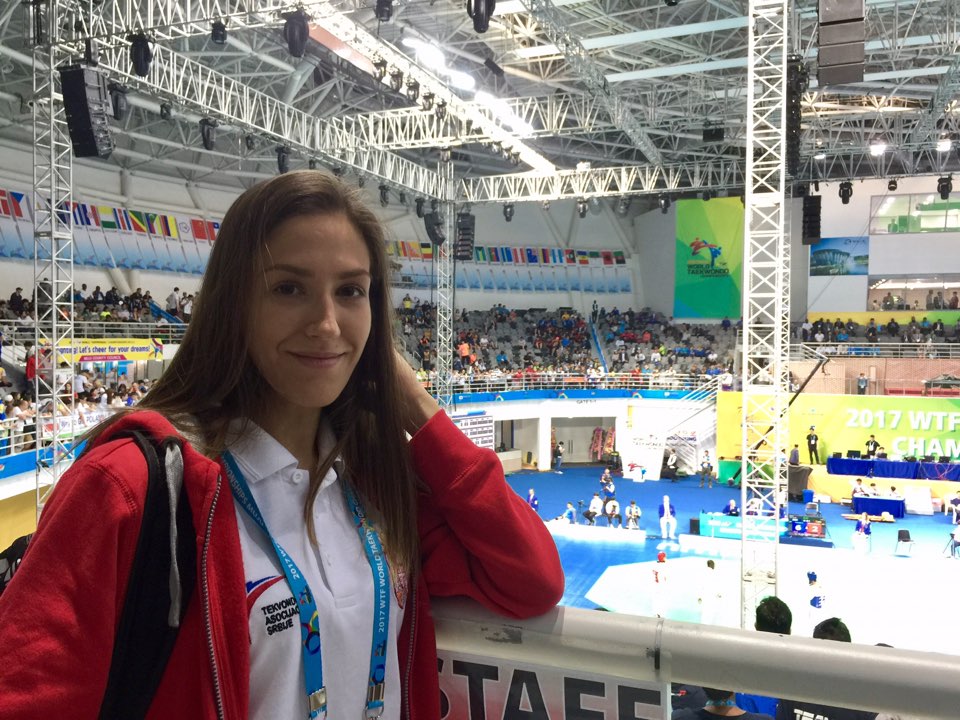 "Galeb is really the most successful club in Europe," Stankovic – who had already won golds at the European Under-21s in Bulgaria and the Belgian Open prior to Muju - said. "We have good coaches good system of training, we train so hard every day, twice a day." However, Galeb is not just training; it is also camaraderie. "In our club we are like a big family, everybody loves and supports each other, and everybody wants to come to the club."
If teamwork is one reason for Stankovic's success, another is her apprenticeship in the sport at a formative age. "I started when I was maybe 8-years-old, my friend started it and she liked it and asked me to go with her," she recalled. "It was a game and I liked it - and now, nine years later, I am here!"
Another reason is self-belief. "We always believe in ourselves and in our club and in our country," she said. "From the start, my coach Uros Todorovic was helping with my mental strength: He made me believe in myself."
With her good looks and engaging personality combined with her new world championship status, Stankovic looks set to become one of the stars of Serbian sport, given taekwondo's high profile in the Balkan nation.
"Before Milica's gold in London, nobody knew taekwondo, they would say, 'Is it fighting with sticks?'" she said. "But after two Olympic medals – especially Milica's in London - there was a boom for taekwondo in Serbia and now it is one of the most famous sports; everyone knows Milica and Tijana and Dragan."
Having finished school, she now plans to study economics at university – but will continue competing in taekwondo. "I want to see how high I can go," she said.
As a fighter, the Serb's core assets are speed, power and aggression.
"I am not very tall, you know, so I try to be the fastest I can be - I try to surprise my opponent with speed." And speed generates power. "I am not going for the KO, but I practice strong and fact and explosive," she said. "I always try to do my best - best speed! Strongest! That is what you see in the fight!"
In technical terms, she boasts clean and powerful technique; in fact, the high roundhouse kicks she unleashed in Muju could be taken from the pages of a taekwondo textbook.
With the new rules coming in, her preparations for the 2017 Worlds were strenuous, with heavy priority on conditioning. "It is physically harder now, you need to push each other," she said, detailing a long process of weight training and leg strengthening. "I think for me, the new rules are better; the new style is more aggressive - more fight! - and more interesting for the watchers."
Though she insists that she still enjoys both the training and the fighting of the sport, her final in Muju presented a stern test: She found herself taking on the defending World Champion and Rio 2016 bronze medalist, Panipak Wongpattanakit. The Thai star, in addition to her experience at the pinnacle of the sport, also boasts a height and leg-length advantage.
"The plan was to attack and don't give her the chance to make contact," Stankovic said of her game plan. "The plan was to break her fight, break her position, to move her and when she raised her leg, I would kick."
Prior to stalking out into the spotlight, she pre-pictured the coming bout. "Before a fight I sit quietly and I visualize the match: I see myself fast and strong and kicking the opponent in the head and body and the match is mine," she said. "I try to imagine…"
Then she was called out of the warm up area and onto the mats. Game on.
The buzzer sounded for Round 1. First blood went to Stankovic in convincing style: She landed a picture-perfect round kick to Wongpattanakit's head for three points - before being forced off the mats by the Thai's counter-charge for a one-point penalty. The first ended 3-1 to Stankovic. In Round 2, the Thai was stabbing forward with her long front leg, but not connecting. However, she was dominating the center of the mats, and forced Stankovic out of the area for another penalty point, 2-3. The round ended on that score.
In the third, the reigning champion had to score, but as she attacked forward, she went down, taking the board to 4-2 in Stankovic's favor. Then, as the Serb lunged in for a punch attack, the Thai landed her hook kick to the head but fell; her points were deducted for holding. The Thai coach appealed; disallowed.
The board now read 5-2 to the Serb. The Thai won back two points with a body kick, but Stankovic landed another wicked roundhouse to the head that dropped Wongpattanakit. In Zen-mode, her mind and body were perfectly synched. "I did not think about kicking," Stankovic said. "I just did what comes."
The score was 9-4, then 9-5. Thirty seconds remained. The Thai sought to score to the head, but her efforts backfired: she tumbled. The score was 10-5 – and that was it. Jovic hoisted his newly minted world champion – Serbia's first ever – onto his shoulders in delight.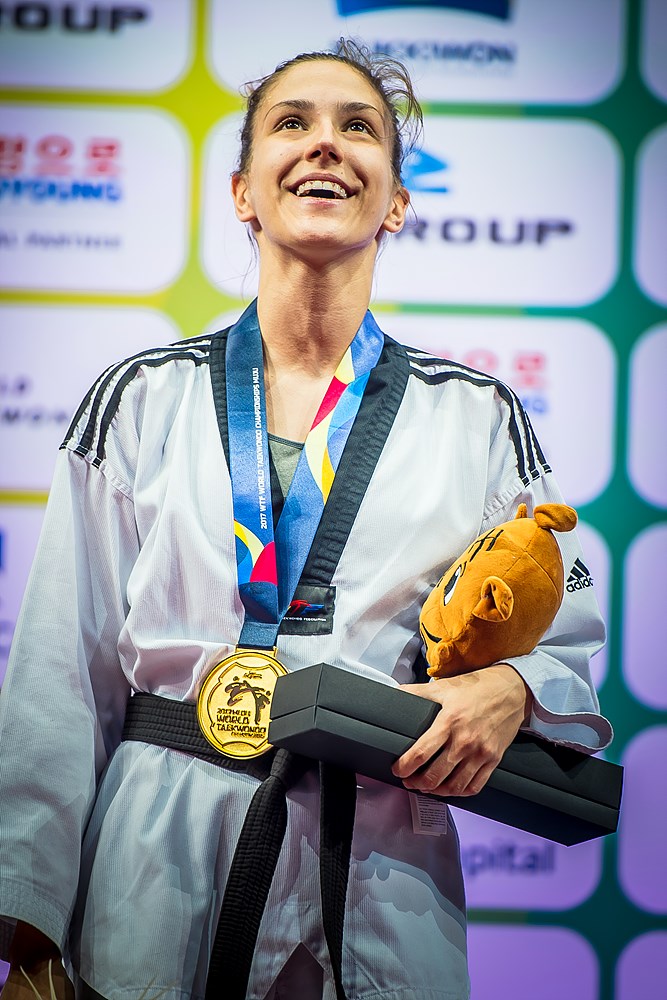 "I could not speak, I could not move, I just started yelling," Stankovic said, recalling the instant when she realized that she was the 2017 World Champion. "I could not see anything or hear anything, I just thought, 'I did it! I did it!'" Many, many times earlier I had tried to imagine that moment - how it would feel. It was the most amazing feeling, ever. "
A day later, when the dust had settled, she was able to look back upon about her taekwondo journey so far. The key learning is self-belief.
Taekwondo markets itself as being about self-defense, self-confidence and self-belief, but Stankovic was never 100 percent certain about the latter. After victory in Muju, she is now.
"I always told myself that hard work pays off," she said. "I was not sure - but now, I am down with that: It does!
Vanja Stankovic at a Glance
Hobby? Reading
Favorite song? "I can't really think of one!"
Favorite movie? "White Chicks"
Favorite food? Pancakes
Why taekwondo? "Because I love it! It is what I love to do."
Motto? "I always told myself that hard work pays off. I was not sure - but now, I am down with that. It does!