MOSCOW, Russia (06 December 2019) – The Moscow 2019 World Taekwondo Grand Prix Final got underway at the Krylatskoye Sports Palace, as 125 of the world's best athletes from 42 countries gathered to compete for a spot in tomorrow's ultimate final and bronze medal contests.
The opening ceremony captivated spectators with a local pop-dance group display and a truly phenomenal taekwondo demonstration by the Russian Taekwondo Union team. The home fans roared in support of the Russian athletes, relentlessly applauding with their clappers.
World Taekwondo President, Dr Chungwon Choue, thanked the Russian Taekwondo Union for its support and professionalism in hosting the 2019 edition of the Grand Prix Final.
The first day of the Grand Prix held both men's and women's competitions. Athletes competed across eight weight categories: W-49kg, M-80kg W+67kg, Ms-58kg, W-57kg, M+80kg, W-67kg and M-68kg.
The opening semi-finals match saw Tijana Bogdanovic (SRB) overcome Jae-young Sim (KOR) in the W-49kg semi-finals match to secure her place in tomorrow's final. She will face Jingyu Wu (CHN) who dominated her fight against Rukiye Yildirim (TUR). Tomorrow morning's bronze medal match will be a fierce contest between Korea's, Sim and Turkey's, Yildirim.
After two impressively close semi-finals matches, Maksim Khramtcov (RUS) and Milad Beigi Harchegani (AZE) booked their respective places in tomorrow's M-80kg final. It was a close match against Seif Essa (EGY) but Khramtcov's impressive head-kick demonstrated his incredible technique, the Russian thrived with the support of his home crowd. Harchegani just had the edge over Nikita Rafalovich (UZB), after he showed great awareness to adapt his technique and beat his opponent. Eissa and Rafalovich will compete for bronze place contest.
In the W+67kg semi-finals, Milicia Mandic (SRB) secured an impressive win over Bianca Walkden (GBR). Joining the Serbian fighter in the final against Shuyin Zheng (CHN), who overpowered national teammate Pan Gao (CHN). The bronze medal contest will be between Walkden (GBR) and Gao (CHN).
In the M-58kg semi-finals, Jun Jang (KOR) overcame his esteemed competitor Armin Hadipour Seighalani (IRI). Facing the Korean in tomorrow's final is Vito Dell'Aquila (ITA), after a fantastic semi-final match against Georgy Popov (RUS). The bronze medal contest will see Hadipour (IRI) fight home favourite Popov.
The competition was extremely high in the W-57kg semi-final, as Hatice Kubra Ilgun (TUR) and Zongshi Luo (CHN) qualified for tomorrow's final. The match between Turkey and the USA's Anastasija Zolotic was extremely tight, but the Kubra Ilgun did enough to progress. Another close semi-final match followed, with Luo (CHN) securing her place in tomorrow's final over Skylar Park (CAN). Zolotic and Park (CAN) will face off for the final place on the podium.
The M+80kg semi-finals saw a high-intensity battle between Sajjad Mardani (IRI) and Radik Isaev (AZE). With just one point between them, Mardani (IRI) was victorious. Kyo-don In (KOR) showed incredible composure against Ivan konrad Trajkovic (SLO) to secure his spot in tomorrow's final. Isaev (AZE) and Trajkovic (SLO) will compete in the bronze medal contest.
The athletes through to compete for gold in the W-67kg final are Matea Jelic (CRO) and Ruth Gbagbi (CIV). Jelic's (CRO) victory was yet another semi-final match with only one point differentiating her and her opponent Magda Wiet Henin (FRA). Meanwhile Gbagbi emerged victorious over Paige Mc Pherson, after a strong third round in the second semi-final. Wiet Henin will therefore face McPherson in the bronze medal contest.
The last category of today's semi-finals was the M-68kg, which was an incredibly close match between Dae-hoon Lee (KOR) and Mirhashem Hosseini (IRI). Lee secured his place in tomorrow's final, and he will face Bradly Sinden (GBR), who secured the last spot in tomorrow's final with a victory over Shuai Zhao (CHN). Zhao will join Hosseini in the bronze medal contest tomorrow morning.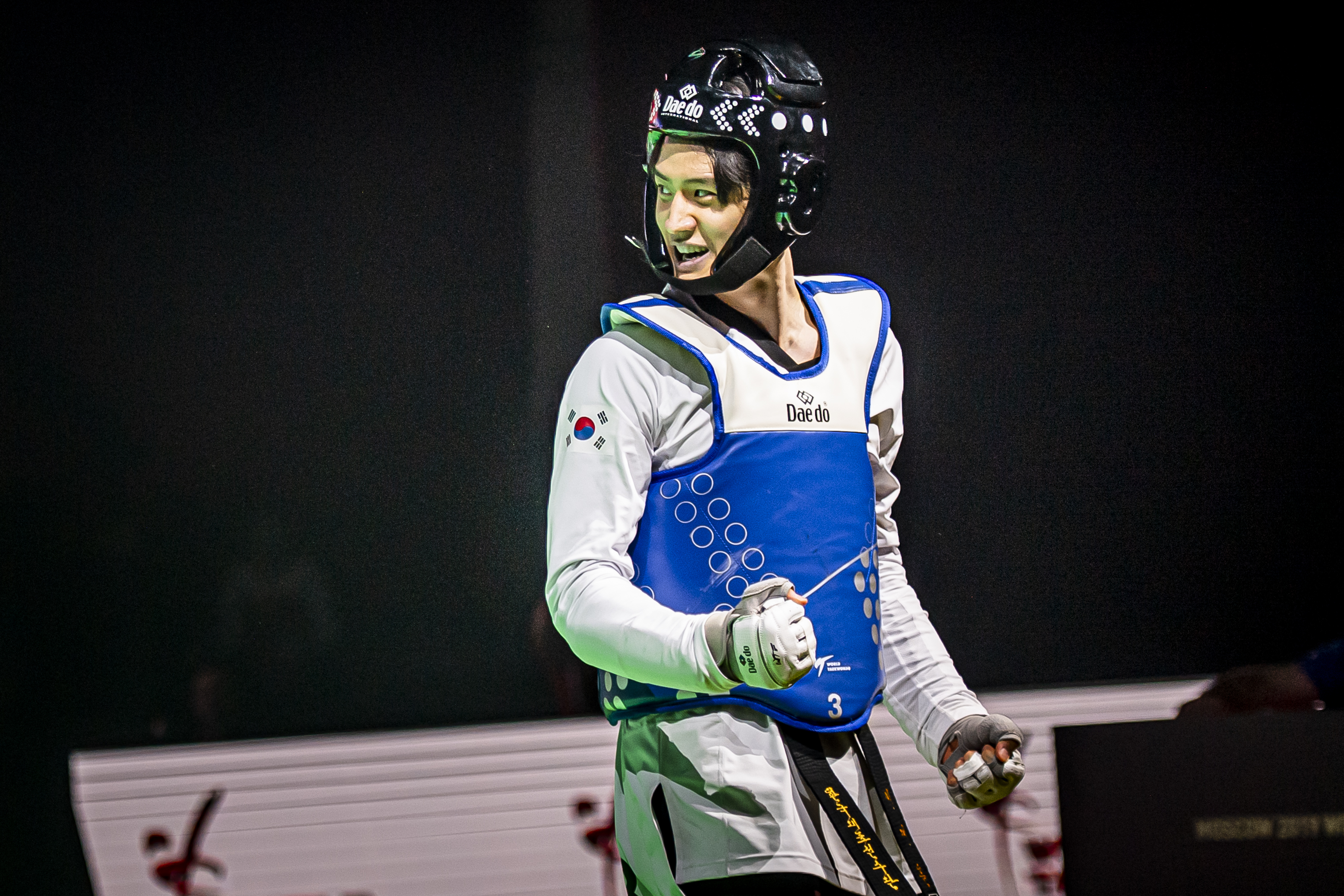 After a mighty start to the Grand Prix Final, the world's best athletes meet again tomorrow to compete in the highly anticipated medal events, which will be followed by the 6th Annual Gala Awards in the evening.
Council Members will confirm the competition uniform for Tokyo 2020 ahead of tomorrow's Gala Awards.