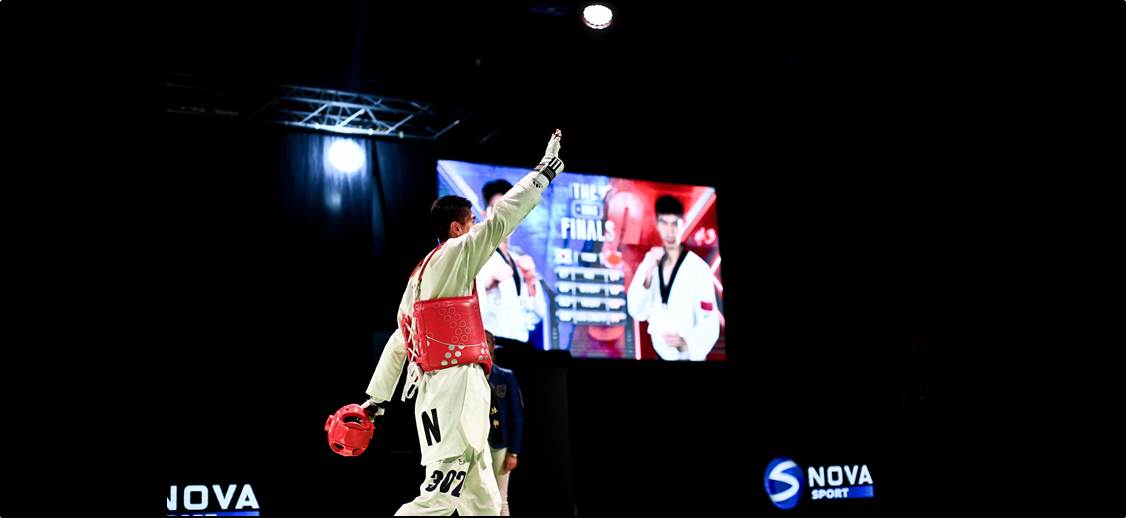 SOFIA, Bulgaria (19 October 2019) -Team Korea's Lee Dae-hoon is the most admired male player in the sport and on Day 1 of the Sofia Grand Prix he had been firing on all cylinders, consistently delivering match scores north of 30 points.
Then, in the final of the Men's -68kg, the consummate attacking player came up against the consummate defensive player: Team China's Shuai Zhao.
As battle commenced, anyone who expected the Korean kicking machine to be the first to light up the scoreboard would be disappointed: It was the taller Chinese who opened the score with body kicks, while maintaining the distance and a tight, cagey defense with excellent blocks. Round 1 ended 4-0 to Zhao.
In the second, Lee shifted into top gear, fighting forward and trying head shots, but, again, it was Zhao who scored, before Lee finally grabbed a point with a punch. Action grew intense, but Zhao kept cool and continued sniping accurately. The round ended 13-4.
In the third, the pattern continued, with Lee doing maximum work for minimal return: He raised his points to six, while Zhao extended his to 15. A video replay request by Lee's coach proved fruitless. A clearly discomfited Lee maneuvered Zhao to the edge of the mats, furiously kicking with both legs. But Zhao, unhittable, landed yet another body kick.
The board rose to 17-7 before both tumbled in torrid action. The match ended on that score – granting Zhao a remarkable gold over Lee, a fighter of legendary stamina and stratospheric point-scoring abilities.
"They have fought before in the Grand Slam and Lee beat Zhao like an old carpet so this time, Zhao obviously prepared a game plan to execute," said John Cullen, WT's Director. "He kept Lee at the end of his long legs, he frustrated him and he has a great defensive style - the Great Wall of China!"
Defensive Maestro
The 24-year-old from Liaoning Province agreed.
"My coach has a lot of experience, especially with Lee!" Zhao said the day after his match. "We learned a lot from him and we know his strong points, Lee is a great fighter, so defense was more important than attack."
Playing defense offered plentiful opportunities to impale the charging Korean on Zhao's long legs. "When I defended, it was a good position to counter," he said. "Also, a good defense can make an opponent lose his confidence and lose his spirit."
Assessing himself as a player, he cites his physical advantages –" I am tall" – and the resultant tactical advantage –"I am good at distance control, so I know where the opponent is and where to attack."
His favorite blow is the high-scoring and crowd-pleasing spinning back kick – an ideal weapon for a defensive fighter. Still he does not always fight at long range: "For some opponents it is good to stay away, for some, it is better to stay in close."
The Grand Prix gold was yet another addition to Zhao's trophy cabinet which already contains such precious metals as two World Championships golds – from Muju 2017 and Manchester 2019 - and of course, his Rio 2016 gold medal.
That was a life changer.
"Of course, there were changes, after that competition, a lot of people knew me," he said. Returning home from Rio, he was inundated with offers to join organizations and to participate in events; strangers came up to him on the street to greet him.
Golden Couple
The Rio win was doubly sweet for Zhao as his girlfriend, Shuyin Zheng, also won an Olympic title. Now, the two top guns of Team China are on a dual quest for Olympic Gold Medal Number Two at Tokyo next year.
But although he is number-three ranked in the world, Zhao is not guaranteed a berth at the Olympics.
While the top five Olympic ranked players can reasonably expect to get tickets to Tokyo, the points in his highly competitive category are so close that Zhao is going to have to kick his way through the Grand Prix finals in Moscow and then the Grand Slam in Wuxi.
That means he is not going to have a very relaxing year end, for even this defensive maestro admits to pre-match jitters. "I have to overcome nerves, I have to tell myself, to be confident, to not be afraid and to not get tense," Zhao said.
In all this, he turns to a trusted companion.
Like Zheng's great rival - Team GB's Bianca Walkden, who works out with, and roars in-match tactical advice to her beau, Moldavia's Aaron Cook - Zhang's relationship with Zhao extends beyond the romantic to the professional.
"During training we always stick together," he said "During matches, she makes me more confident. She inspires me a lot."
Shuai Zhao: At a Glance
Hobby? "Watching movies and TV dramas just for relaxing."
Favorite song? "'Light' by Wong Feng."
Favorite food? "Dumplings!"
Why do you do taekwondo? "At the start, I trained only because I liked it, but after I realized the spirit inside taekwondo, and that is what made me like it even more."
Motto: "Er - nothing!"