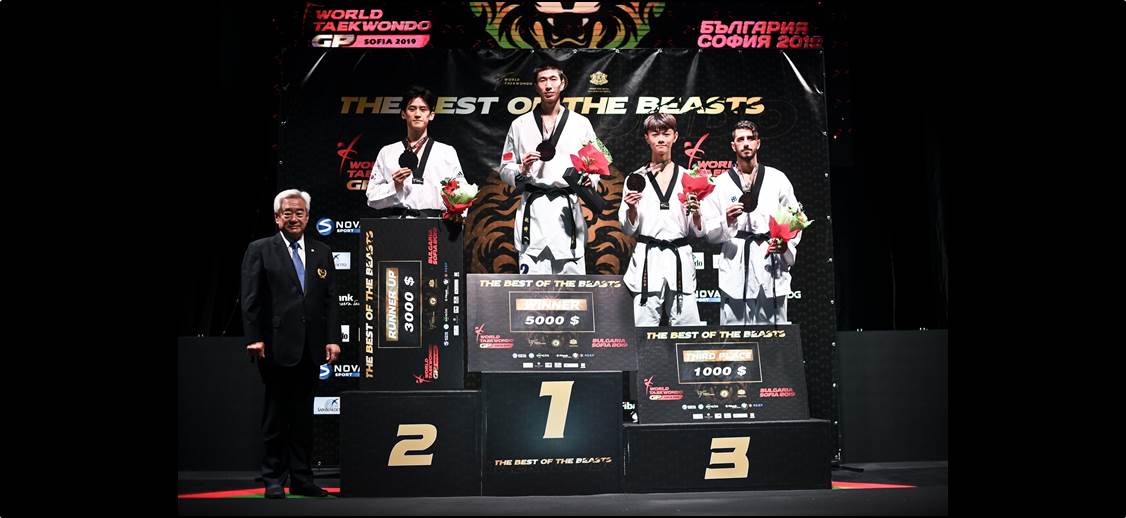 SOFIA, Bulgaria (Oct. 18 2019) - Day 1 of the Sofia 2019 World Taekwondo Grand Prix ended with two golds going to China and one to Korea as the Men's -68kg, Women's -57kg and Men's -58kg categories were contested.
The competition, dubbed "Best of the Beasts" was held at the Exhibition Forum Event Center of Sofia's Hotel Marinela. It followed an opening ceremony during which speeches were delivered and awards presented by WT President Chungwon Choue, Bulgarian Sports and Youth Minister Krasen Kralev, and Bulgarian Taekwondo Federation President Slavi Binev.
The World Taekwondo Demonstration Team performed, then battle commenced.
Men's -68kg
The final pitted Korea's multiple world champion Dae-hoon Lee against China's 2016 Olympic champion Shuai Zhao. Lee had been racking up stratospheric points all day, but it was Zhao who opened the score with body kicks, while keeping a tight, cagey defense with excellent blocks. Round 1 ended 4-0 to Zhao.
In the second, Lee added pressure, fighting forward and trying head shots, but it was Zhao who scored, before Lee grabbed a point with a punch. Action grew intense, but Zhao continued sniping accurately, and the round ended 13-4.
In the third, Lee continued to do maximum work for minimal returns: He raised his points to six, while Zhao extended his to 15. A video replay request by Lee's coach proved fruitless. Lee maneuvered Zhao to the edge of the mats, furiously kicking with both legs; Zhao, unhittable, landed yet another body kick. The board rose to 17-7 before both tumbled and the match ended on that score – granting Zhao a remarkable gold over Lee, a fighter of near-legendary talent.
Iran's Soroush Ahmadi and Chinese Taipei's Yu-jen Huang won bronzes.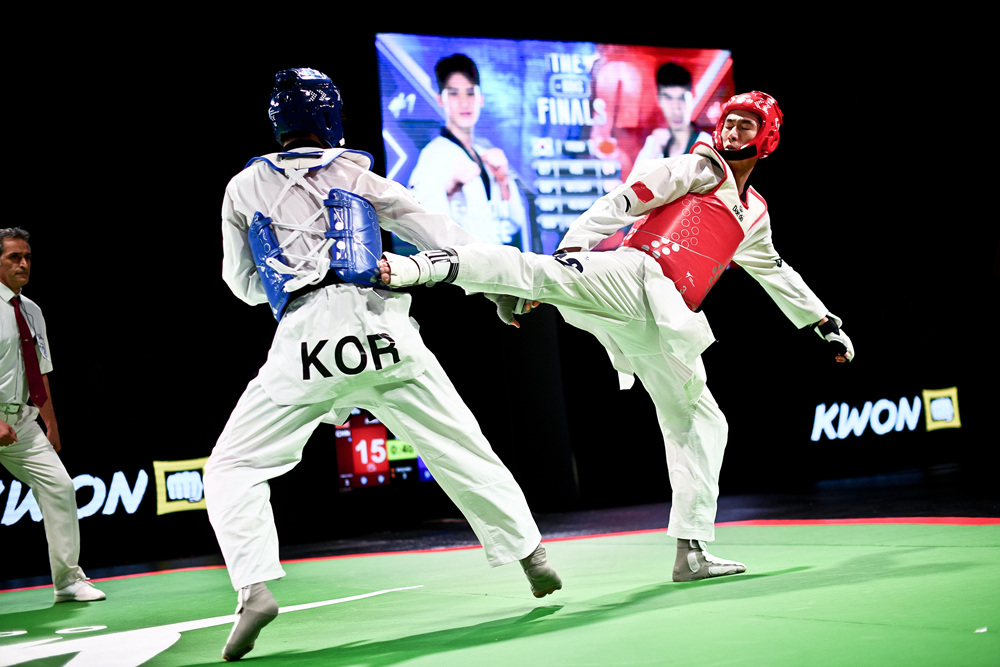 Women's -57kg
The final was another China-Korea clash: China's Lijun Zhou of China versus Korea's Ah-reum Lee. Both got straight down to business with minimal feeling out. Lee landed a punch for the first point, but Zhou stabbed in a short side kick to the body for two points, then added a third, ending the round 3-1.
In the second, both fighters mirrored each other, firing front leg kicks in open play. Lee landed another punch, then a fall from Zhao made it 3-3. More punches, more body kicks - and Round 2 ended 8-8.
In the third both fighters added intensity. Zhao went to 10-8, before Lee equalized, then drew ahead, 12-11 - but only briefly. Zhao raised her score to 13-12, then 15-12 - where the match ended, giving the Chinese player her first-ever Grand Prix gold.
Tatiana Kudashova of Russia and Hatice Kubra Ilgun of Turkey won bronzes.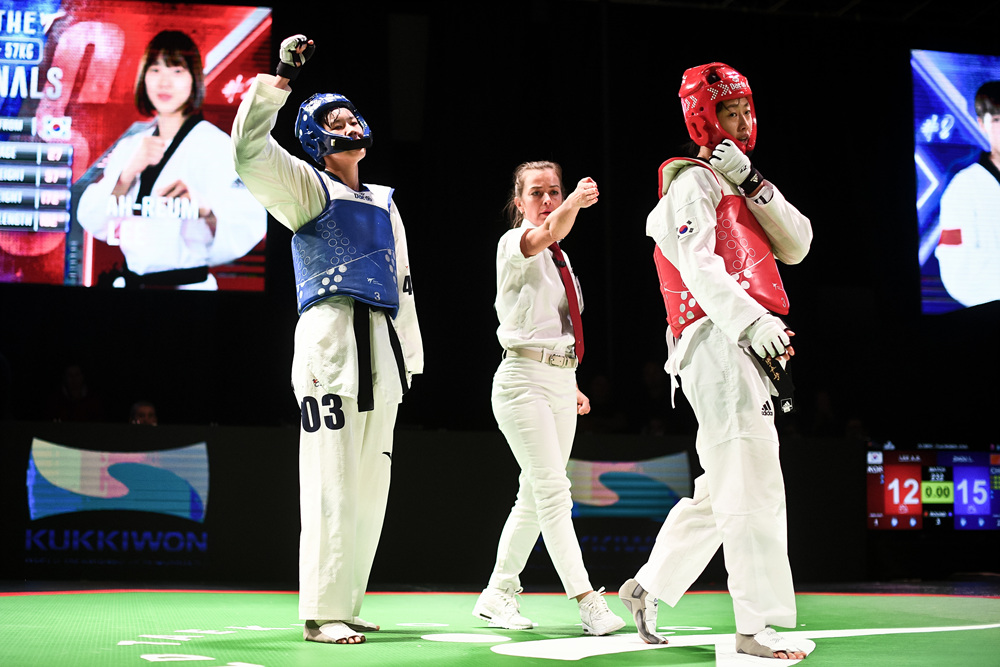 Men's -58kg
Team Korea had not struck gold in the first two finals, but was guaranteed it now: The final was a Korea-Korea battle of Tae-hun Kim versus team mate Jun Jang. However, this would be a real fight: Both fighters seek Olympic qualification.
It started with a good tempo and clean, open taekwondo. Jang drew first blood, landing a long, arcing round kick to Kim's head. Round 1 ended 3-0 to Jang.
In the second, Kim looked aggressive, but impaled himself on Jang's punch as he attacked. Jang then attacked and landed another punch. Kim, meanwhile, could not connect, and the round ended 5-0 in Jang's favor.
In the third, Kim was dropped by Jang's side kick. Jang now started varying his techniques, firing head and spinning kicks while controlling the distance. He landed a close-range head kick, but fell, giving Kim his first point. Still there was no question who was in control: The match ended on 12-1, with gold for Jang.
Armin Hadipour Seighalani of Iran and Vito Dell'Aquila of Italy had to be satisfied with bronzes.