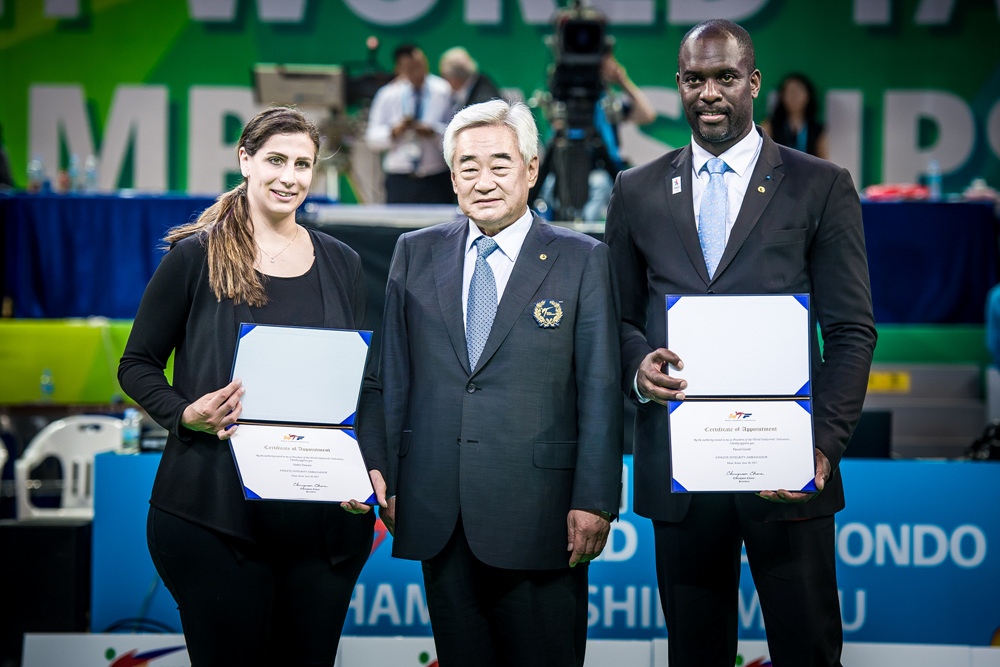 SEOUL, Korea (July 10, 2017) - With World Taekwondo putting ethical behaviors to the fore of the organization, the two newly appointed chairpersons of its Athletes' Committee have been named "Integrity Ambassadors" for the sport.
The two retired athletes, both with significant competitive careers behind them, are Nadin Dawani of Jordan and Pascal Gentil of France. Their role as "Integrity Ambassadors," was formalized near the end of the Closing Ceremony of the 2017 World Taekwondo Championships in Muju, Korea, on June 30, when they were presented with certificates of appointment by World Taekwondo President Chungwon Choue. The two will actively participate in anti-doping and educational moves, and will advise athletes on their post-retirement career options.
Earlier on the same day in a symbolic move, a group of VIPs including visiting IOC President Thomas Bach, Choue, Dawani and Gentil had used taekwondo blows to smash boards. A range of ills affecting sport – such as corruption, doping and match-fixing – had been written on the boards.
"The aim of the 'Integrity Ambassadors' will be to promote sporting integrity in taekwondo, and act as role models for our current crop of athletes," said Choue. "As retired athletes themselves, they fully understand the temptations, challenges and stresses facing players, and so are ideally fitted for the purpose of promoting fair and ethical practices."
The moves are just the latest in a line of actions World Taekwondo has taken to promote morality in the sport.
After the 2008 Beijing Olympics, the organization made "fairness and transparency" on the field of play its watchword. To that end, it leveraged technology to introduce electronic protector and scoring systems and instant video replays into the sport, so obviating human error in refereeing and judging.
With fairness and transparency having been achieved in the game's scoring and refereeing systems, World Taekwondo is now prioritizing initiatives to ensure integrity, such as educating athletes, even at the junior and cadet levels, on anti-doping.