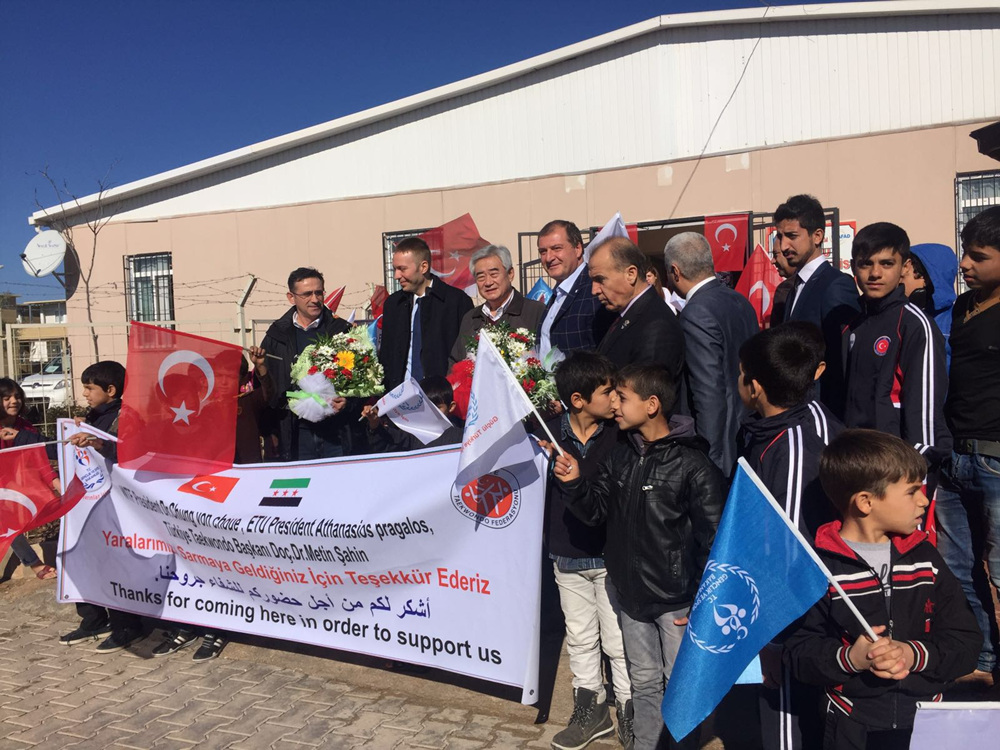 ISTANBUL, Turkey (January 15, 2016) - The World Taekwondo Federation (WTF) announced today that it will expand its Taekwondo Humanitarian Foundation (THF) project to Kilis, Turkey, as it aims to use taekwondo to bring hope and joy to people in refugee camps around the world.
The decision was made after WTF President Chungwon Choue visited the Oncupinar Accommodation Center in Kilis which is situated near Turkey's border with Syria. The President made the visit with European Taekwondo Union President Sakis Pragalos and Turkish Taekwondo Federation President Metin Sahin ahead of the European Qualification Tournament for Rio 2016 in Istanbul, Turkey.
The Turkish Taekwondo Federation has been successfully operating a taekwondo program in the camp for the past two years. There are currently 60 students learning taekwondo which not only keeps them physically active but teaches them respect, self-discipline, and understanding.
After the visit to the camp, WTF President Choue said:
"We are delighted to announce that WTF will make this center as one of the WTF-running THF Taekwondo academies. The Turkish Taekwondo Union has been doing a fantastic job with its taekwondo program in Kilis and working with them we will ensure that it has all the materials and instructors required. We will continue to work hard to develop the THF around the world and contribute to global sustainable development."
During the President's visit, new taekwondo uniforms and shoes were distributed to the young refugees aged between 10 and 14 who demonstrated the taekwondo techniques they have learned.
The Oncupinar Accommodation Center was established in March 2012 for 15,000 refugees. Today, the number has reached 25,000 with a second stage of the container area having been built.
The WTF initiated its first pilot project in the camps of Zaatari and Azraq in Jordan in December last year, and is carrying out its second program in Nepal on January 29 – February 4. The expansion of the THF projects is continued; the WTF is currently considering Ghana, Ethiopia, Colombia and Greece as the next camps where the taekwondo academy will be established.