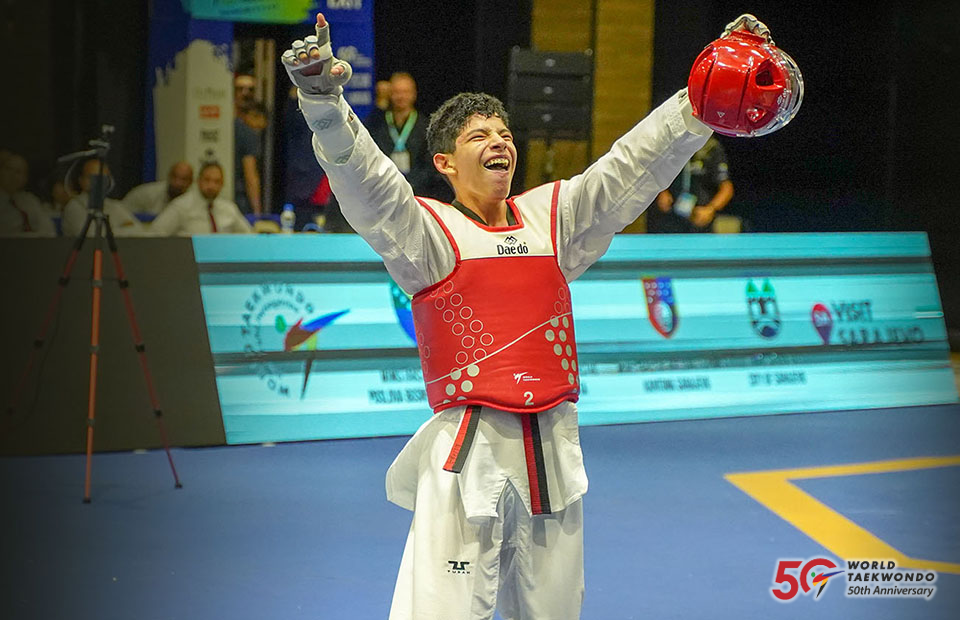 SARAJEVO, Bosnia and Herzegovina (Aug. 30, 2023) - The third day of the Sarajevo 2023 World Taekwondo Cadet Championships saw many dramatic and tightly contested fights among the five finals going the distance of three rounds to decide a winner.
Iran finished the day with two gold medals and Mexico secured one while two Individual Neutral Athletes (AIN) won the remaining golds.
In the W-164cm final, AIN Mariia Voroshilina faced Iran's Heliya Ebrahimiyan. Ebrahimiyan came out quickly, winning the first round with a commanding score of 20-13. Voroshilina composed herself to fight back with a convincing 16-3 win in the second round and in a close fought third round pulled away in the final 10 seconds to win 15-12. Bronze medals were won by Sofija Hinic of Croatia and Sofia Frassica from Italy.
Guillermo Manuel Cortes of Mexico and Kiril Kuznietsov of Ukraine were matched in the M-168cm. Cortes, the gold medallist from last year's World Taekwondo Cadet Championships, won the match in two rounds winning 13-8 and 13-9 leaving Kuznietsov with silver. Marc-daniel Jumanan from the USA and Georgios Iliopoulos from Greece secured the bronze medals.
The W-168cm saw another set of Iranian and Ukrainian fighters reach the final as Rozhan Soufi of Iran faced Polina Tupchii of Ukraine. The first two rounds were closely fought with Tupchii winning the first 5-4 and Soufi winning the second 11-8. In the last round, Soufi won 7-1 as Tupchii picked up Ukraine's second silver of the day. The bronze medals were won by Napassakorn Sritimongkol from Thailand and Chieh-ling Wang of Chinese Taipei.
The M-172cm final was another tight match with Italy's Abderrahman Touiar and Bashir Adzhiev from Iran needing all three rounds to find a winner. Touiar won the first round 2-1, Adzhiev took the second 12-9 but Touiar won the decisive round 6-2 to claim gold. Bronze was won by Kenai Hernandez from Mexico and Iran's Mirabbass Hosseinyfar.
The last final of the day was in the W-172cm. Seyedeh Kimia Mohammadi from Iran beat AIN Varvara Fomenko 9-3 in the opening round. Fomenko had looked on course to win the round but Mohammadi flipped the scores in the final 15 seconds. In the second round Mohammadi managed a convincing 16-2 victory to take gold. Bronze medals were shared by Mexico's Linda Victoria Rodriguez and Spain's Paula Mora.
The competition will continue tomorrow with the M-176cm, M-180cm, M+180cm, W-176cm, and W+176cm.