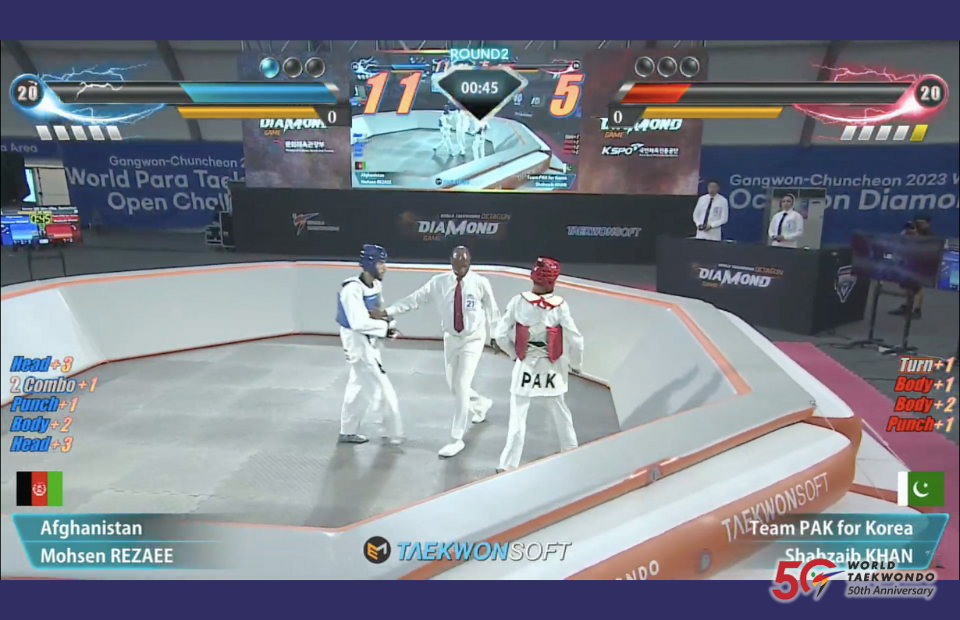 CHUNCHEON, Korea (Aug 19, 2023) - The second day of the inaugural Gangwon Chuncheon 2023 World Taekwondo Cultural Festival once again showcased the very best of Taekwondo, demonstrating the sport's excitement, versatility and accessibility across three premier events.
In the Gangwon Chuncheon 2023 World Taekwondo Octagon Diamond Game it was the turn of the male pairs, men's -58kg and women's -49kg. In the male pairs, it was Korea's two Lees who won gold with Min yeong Lee and Hakesong Lee claiming the top spot. Compatriots from Korea, Jaehyuk Lim and Jin soo Choi got silver and bronze was shared by Mohammad Kheirallah and Aghiad Abd Alaal of Syria and Mohsen Rezaee and Omid Sahak of Afghanistan.
In the men's -58kg, Rezaee upgraded his bronze from the pair category to win gold over refugee athlete Mahdi Khavari who won silver. Korea's Junwon Jeon and Mongolia's Yondonjamts Purevdash won bronze. In the women's -49kg, it was gold for Pakistan's Asifa Ali and silver and bronze for Kazakhstan's Cansel Deniz and Zhadyra Khairullina respectively.
The second day of the World Taekwondo Beach Championships showcased two categories: Recognized Poomase Under 17 Male and Recognized Poomase Under 17 Female. In the male category, Thailand's Nattrakron Niyomkull won gold, overcoming Moussa Kostit of Morocco who received silver. The bronze medal was won by Zaw Torley from Great Britain and Juian Camilo Ramirez from Colombia.
In the female category, the top spot was claimed by Yuri Paige Kim from USA. Silver was won by AIN's Arina Fedorova and bronze went to Akari Shinano of Japan and Aya Boussouf of Moroco.
Meanwhile, in the World Taekwondo Demonstration Team Championships there were performances in the Team & Freestyle Performance (Under 17) category. Gold was awarded to the spectacular Italy team, with silver and bronze medals going to Korean teams.
Earlier in the afternoon the festival's Opening Ceremony was held providing a fitting celebration for the spectacular event. Korean Air Force's Aerobatic team, the Black Eagles, delivered a jaw-dropping performance. The Athlete and Referee oath was made by Para Taekwondo Athlete Jeong Hun Joo (KOR) and Beach Taekwondo and Demonstration Team athlete Claudia Cianci (ITA) and WT Octagon Diamond Game Referee Ghazi Mubark Alghanem (KSA) and WT Beach Championships Referee Linda Pace (AUS) respectively.
During the ceremony, the Implementation Agreement on the Relocation of the Headquarters of World Taekwondo to Chuncheon was signed. The ceremony concluded with a performance by the iconic World Taekwondo Demonstration Team.