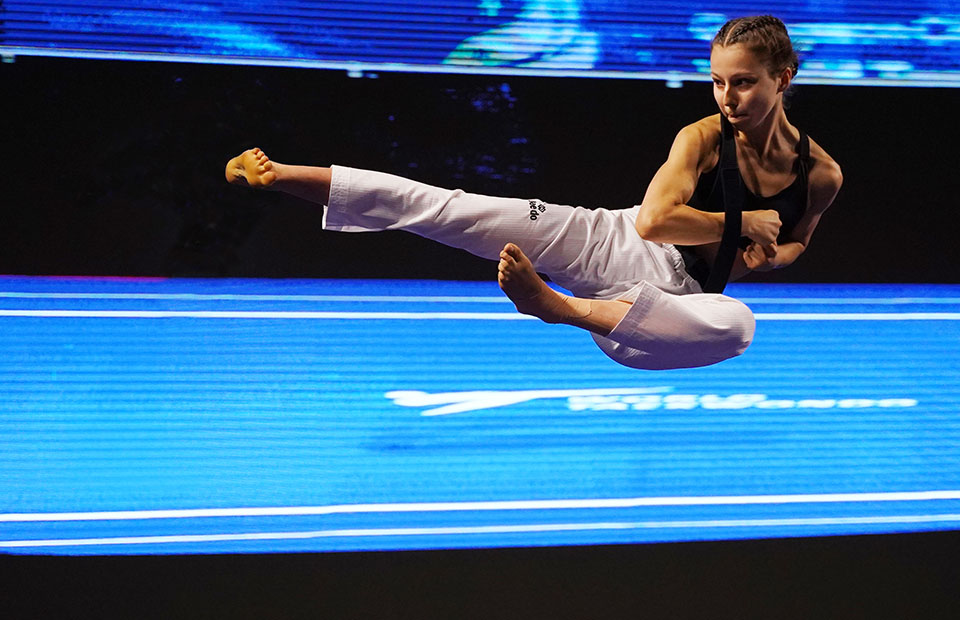 CHUNCHEON, Korea (Aug 18, 2023) – Day one of the first-ever Gangwon Chuncheon 2023 World Taekwondo Cultural Festival saw exciting action and medal winners across the World Taekwondo Octagon Diamond Game, the 4th World Taekwondo Beach Championships and the 1st World Taekwondo Demonstration Team Championships.
The 4th World Taekwondo Beach Championships, and the first edition to be held in Asia, saw incredible performances to kick off the festival, with action across the mixed Freestyle Poomsae Pairs in the over 17 age category, the male and female Freestyle Poomsae Individual competitions in the under 17 age category, and the Freestyle Poomsae Mixed Team event.
In the final of the Freestyle Poomsae Pairs Over 17, the Colombian team of Maria Kamila Nino Hernandez and Jehison Camilo Mateus Barreto took gold with an impressive final score of 7.099, while Puerto Rico's Arelis MEDINA and Gaby COLON MALDONADO followed closely with 7.066 for silver. The Spanish pair of Francisco Jose Tellez Munoz and Laura Iglesias Marquez managed a score of 6.766 to claim bronze and complete the podium.
The Freestyle Poomsae Mixed Team event also crowned its winner, with Ecuador's Team ECU Poomsae taking home the gold in style.
The Freestyle Poomsae Individual Male Under 17 competition also took place, with Sung hyun Eric Gun of the USA taking home gold, Italy's Federico Serain claiming silver and Thailand's Adulwit Thinthalang earning bronze. Meanwhile, in the Freestyle Poomsae Individual Female Under 17, Individual Neutral Athlete Sofya Tishkova came out on top to win gold, while Italy's Beatrice Coradeschi earned silver.
Meanwhile, the World Taekwondo Octagon Diamond Games also kicked off, with athletes competing inside an octagonal structure allowing them to utilise the boundaries in a way previously not possible. The men's -63kg and -80kg got the action in the octagon started with athletes locked in fierce competition for medals.
In the men's -63kg, Korea's Young-hwan Kim took the top spot and gold with an impressive display of Taekwondo excellence to overcome Bizhan Sadr Zada of Afghanistan in the final. Two athletes from Kazakhstan, Samirkhon Ababakirov and Yeldos Yskak claimed the bronze medals.
Korea also triumphed in the men's -80kg with Jin soo Choi defeating Kazakhstan's Eldar Birimbay to earn gold. The bronze medals were claimed by Afghanistan's Omid Sahak and Ramesh Hussaini.
The 1st World Taekwondo Demonstration Team Championships also got underway today, much to the delight of fans. Following day one of jaw-dropping performances by all the teams, Two teams from Korea finished in first and second place, and Italy and Vietnam in joint third place.
The opening ceremony will be held tomorrow, and the Beach Games, Octagon Diamond Games and Demonstration Team Championships will continue until August 20.