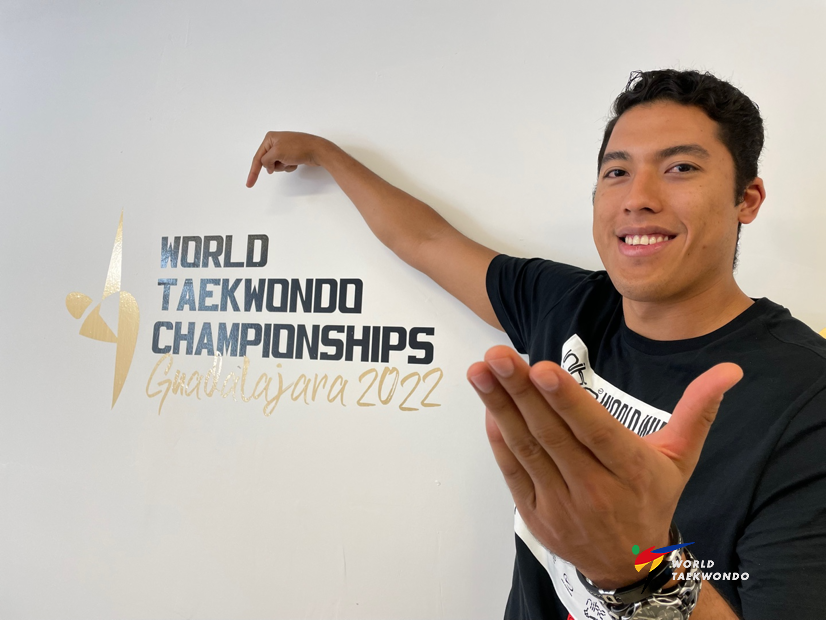 GUADALAJARA, Mexico (Nov. 20, 2022) – As he strides onto the mats to do battle, Carlos Sansores is an imposing specimen.
The ground shakes – for in a sport noted for tall, lean, fighters, the Mexican heavyweight is built like an armored cattle truck. And it was not just the ground that shook when Sansores entered the field of play in Guadalajara's Centro Acuatico CODE Metropolitano for the finals of the M+87kg.
Thunderous roars from the crowd resounded from the rafters to welcome the local hero as he faced Ivan Garcia Martinez of Spain in the final. It would be a rough fight.
Both men went to work. Sansores looked heavier on his feet - until he suddenly connected with a cobra-fast front-foot round kick to the head for three points. Then, he landed a body kick, and in a complex tumble, Garcia Martinez connected to Sansores' head - but fell. The Mexican took Round 1, 6-3.
Round 2 continued with both fighters fighting hard but not lighting up the scoreboard. In the final ten seconds, Sansores again unleashed his patented, whip-lash round kick to the head for three points - then it went bonkers as Garcia Martinez launched a desperate counter offensive. But it was too late: Gold went to the big hombre from Mexico.
"The plan was to finish it in the second round," Sansores said. "I wanted to go out with everything I had, I don't think, 'I'll do this,' or 'I won't do that' - I just fight."
Despite the roars in the stadium, what he had achieved did not sink in immediately.
"I was very happy, I was not conscious that it was a world championship match, I just felt that I had won the combat," he said. "Then I saw my family - they were in tears, very emotional! - and I realized that I was world champion."
And don't let the champ's imposing appearance or formidable skills put you off: Off the mats, he is totally approachable. Commenting on his Herculean physique, he laughs and slaps his mid-section. "It's a Dad bod!" he said.
His wife Pamela – with whom he has three young children - agrees. "He likes to eat too many things!" she confides.
Good things are landing on his plate at present. When the couple were dining at a restaurant after his win, the kitchen staff surprised him with a cake they had baked in honor of his achievement.
He needs to get used to this treatment. Taekwondo is hugely popular in Mexico and the press has gone full-on Sansores. It took him two hours to exit the venue, as he was mobbed at the doors by a crowd of fans demanding autographs and selfies.
"I was grateful to all the people, I am not the world champion, Mexico is the world champion," he said. "Everyone is part of it."
Sansores, 25, grew up in a sporting family in the seaside resort city of Cancun: Both his parents were footballers. In 2010, he discovered Taekwondo.
At first, he was drawn to the discipline of the martial art. But he also discovered a talent for the combat sport - a talent that was recognized. His first fight on Team Mexico was as a blue belt. From there, it's been upwards and onwards.
Technically, "I really like the exchange of kicks and I also like the fist – like Maria Espinoza! The front leg round kick is not my favorite. It is very predictable - but is one my fortes."
He adds "I am not very fast" – a surprising statement given the blink-and-you-miss-it speed of his front-leg high round kick.
In terms of physique, "I am very strong and tough," he said. "Other athletes have speed or height, but are not very strong."
Speaking more broadly, he says, "I am an athlete with a lot of courage. I don't have the best technique, but I am passionate about it."
His wife agrees. "He is a big man with a big heart," she said.
Now he is the world champ, he is well-known – the man other fighters will be gunning for. After the Grand Prix Final this December, he is looking ahead to the PanAm Games, the Central American Games and the next World Championships, in Baku, Azerbaijan.
He knows it won't be easy.
"In my Guadalajara fights I had an advantage because of the altitude of the city," he admitted. "But in other competitions, I won't have that."
Due to that, he reckons he needs to re-engineer his game in preparation for the 2023 competition season.
"My kicks are predictable, so I want to innovate my style of combat," he said. And not just himself: He also wants the game to keep innovating.
Most of his victories have been in the region: Will we be seeing more of him in Grand Prix events?
"It depends: I really want to go to other places, but it is not up to me," he said. "I have really good fights here in PanAmerica."
Currently, he resides in Mexico City, where he trains full time. But he misses Cancun.
"I really like to be with the family, but don't have enough time to spend with them in Cancun," he said. "My wife and my kids are my motivation."
If family is the motivation, Taekwondo is the provider.
"It is my passion and also my work," he said. "Taekwondo is the way I provide my family with a good lifestyle."