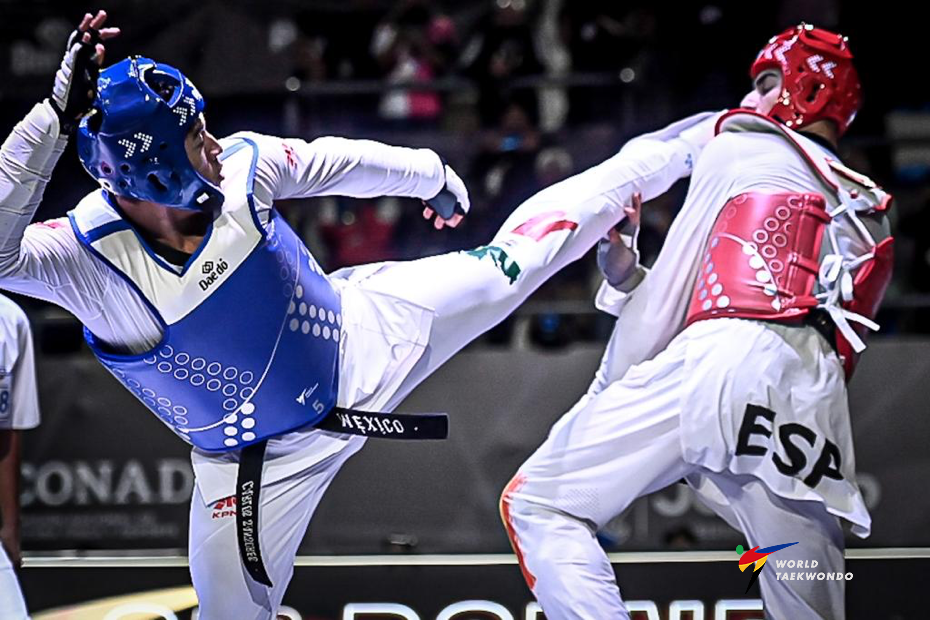 GUADALAJARA Mexico (Nov. 17, 2022) – Day 4 of the 2022 World Taekwondo Championships today delivered gold to Spain, Uzbekistan and Mexico.
After a packed day of action on five fields of play, the categories contested this evening at the Centro Acuatico CODE Metropolitano tonight were M-74g, W+73kg and M+87kg.
Clearly, the host country is on a roll in Guadalajara. As of tonight, Mexico leads the field with three gold medals.
M-74kg
The final was a faceoff between Edival Pontes of Brazil and Daniel Quesada Barrera of Spain.
Round 1 started with both men fighting cleanly with textbook techniques – round, ax and back kicks – but it was the Spaniard whose rangefinder locked on, as he connected with body kicks, taking the round, 5-1.
In the second, Pontes opened the scoring with a jump spinning back kick for four points. Quesada Barrera struck with a body kick for two. Then it started to fall apart for Pontes. A risky jumping spinning heel kick saw him visit the mats and the board went to 4-3. Then the Spaniard drew ahead, 5-4, fighting with more conservative, but accurate kicks. The Brazilian continued unleashing flamboyant moves, without connecting. The round ended 8-4, with gold for Quesada Barrera.
Bronzes were won by Firas Katousi of Tunisia and Stefan Takov of Serbia.
W+73kg
The final pitted Dana Azran of Israel against Svetlana Osipova of Uzbekistan.
In the first, the Uzbek went one up for a fall, before the Israeli equalized with a punch, then landed a body kick. The pace accelerated and both fighters landed to the torso, taking the board to 3-3. The round ended with a win for Azran on superiority.
In Round 2, both fighters lit up the scoreboard in a good, clean fight with minimal clinching or refereering and plentiful bootwork. The Uzbek drew ahead, 4-2, 6-4 and 6-5, taking the fight to the third round.
Round 3 proved anti-climactic with both players fighting hard, but not scoring. The match went to superiority, granting gold to Osipova and silver to Azran.
Bronzes were won by Lorena Brandl of Germany and Marlene Jahl of Austria.
M+87kg
The most thunderous roars yet heard in this championship sounded as local hero Carlos Sansores strode into the arena to take on Ivan Garcia Martinez of Spain in the final.
Both men went to work with Sansores looked heavier on his feet - until he suddenly connected with a cobra-fast front-foot round kick to the head for three points. Then, he landed a body kick, and in a complex tumble, Garcia Martinez connected to Sansores' head, but fell. The Mexican took Round 1, 6-3.
Round 2 continued with both fighters fighting hard but not scoring. In the final ten seconds Sansores again unleashed his patented, flicking round kick to the head for three points. Garcia Martinez launched a desperate last-seconds offensive but it was too late: Gold for Mexico.
Bronzes were won by Sajjad Mardani of Iran and Zhaoxiang Song of China.
Action continues in Guadalajara tomorrow, as the M-63kg and the W-53kg categories are contested.