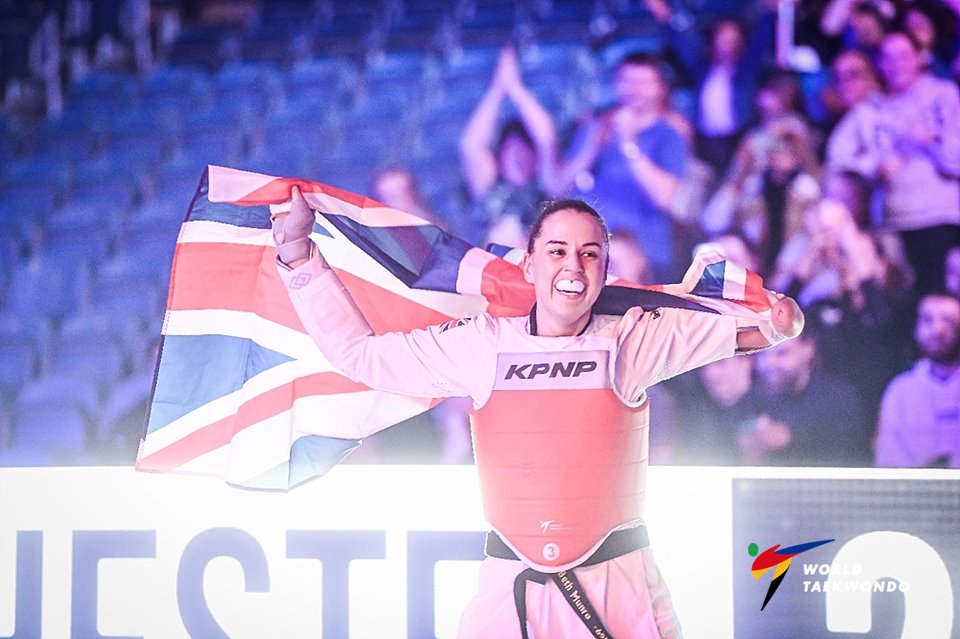 Great Britain's Beth Munro won her second gold medal this year in Manchester, while four fighters appear to be in the driver's seat for Paris 2024 gold after winning their third straight Para Grands Prix titles.
Home is where the gold is for Great Britain's Beth Munro.
For the second time in 2022, the Paralympic runner-up got the better of Denmark's Paralympic champion Lisa Gjessing on home soil.
To the thrill of the home crowd, and the nation watching live on BBC, Munro repeated the feat by winning her first Para Grand Prix title 9-4 over Gjessing after defeating the Danish legend for the European Championship in Manchester in May.
"It's always great competing on home soil", Munro told World Para Taekwondo. "Having family and friends there to cheer you on is great. They are like the third person on the mat driving you on".
The victory prevented Gjessing – the reigning Paralympic and four-time world champion – from winning her first Para GP and throws the -65 kg wide open.
Munro showed her mettle – and her growing experience – in a tense semi-final win over Paris Para GP champion Ana Carolina Silva de Moura (BRA). In a battle of exciting new fighters, Munro's experience at high levels shone through as she leveled the match late before punching her ticket to the final with a golden point kick.
"I feel like I'm growing as a Taekwondo athlete and gaining more skills over time", she said. "There's still more to learn, but I'm gradually getting better … I kept my mind focused [today] and knew that I could still win it".
The three Para GP winners this year – France's Djelika Diallo, Silva de Moura, and Munro – are neither the Paralympic champion (Gjessing), nor the reigning world champion, Turkey's Secil Er.
"I think my category at the moment is wide open and it's very close at the top", said Munro. "It's good because it keeps you on your toes and keeps you fighting for those much-needed [ranking] points for Paris [2024]".
Teammates Amy Truesdale and Joe Lane added a silver and bronze for Great Britain, respectively, to grab a medal of each colour for the hosts.
Truesdale fell to her Paralympic champion rival Guljonoy Naimova (UZB) in the final, while Lane fell to eventual champion Asad Toshtemirov (UZB) in the semi-final, failing to match the success he found while winning gold at home at the 2022 European championship.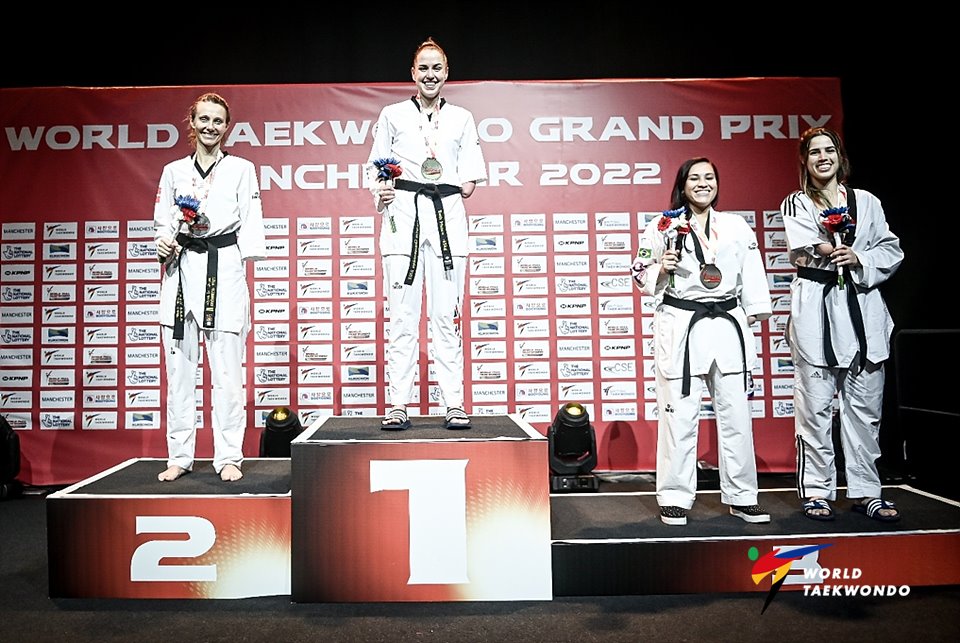 [Four 'Undisputed' Para GP Champions]
World Taekwondo created the Grand Prix Series to provide a spotlight for the world's best fighters to showcase their talents. Through three events, with 30 gold medals handed out, four fighters have won nearly half of them.
Mexico's Juan Diego Garcia Lopez, USA's Evan Medell, and Turkey's Mahumut Bozteke and Meryem Cavdar have won a combined 12 Para GP gold medals, winning gold at each of 2022's three Para GP events.
The three men have all put up identical 9-0 records against the sport's toughest competition, while Cavdar – the only remaining undefeated woman at the Para GP – has racked up a tidy 6-0 record.
Medell was made to work for his gold medal in Manchester, needing a last-gasp strike on Kazakhstan Paralympian Nyshan Omirali to secure his third straight title with a 9-6 win. It's been a dominant run for Medell, whose average margin of victory at the Para GP is 25-8 and who saw his streak of eight straight Para GP wins by over 11 points end in the final.
With many of his rivals out due to injury, Medell mentioned he was conscious to not take the competition lightly.
"It's what we call in the United States a 'trap game'", he told World Para Taekwondo. "I need to make sure to go in and execute and follow through with our game plan".
Of course, there are fighters that are unbeaten at other major Para Taekwondo events.
Garcia Lopez is the only one of the four 'undisputed' Para GP champions to also win every fight at the Paralympic Games. Other active fighters still undefeated at the Paralympic Games include Denmark's Gjessing, Brazil's Nathan Torquato, Uzbekistan's Naimova, and Peru's Angelica Espinoza.
Perhaps no streak is as impressive as Monglia's legend Bolor-Erdene Ganbat's at the World Para Taekwondo Championships.
The Mongolian legend has never been beaten at the event, with the reigning world champion putting together an incredible 20-0 record on his way to five straight world championships.
Toshtemirov Cements Status as -80 kg Favourite
It's been a 2022 to remember for Uzbekistan's Asad Toshtemirov.
The young fighter picked up his second straight Para GP title – and third Para GP medal this year after winning bronze in Sofia – to stake a claim as one of the best in the -80 kg group.
Toshtemirov topped Kazakhstan's No.1-ranked Paralympian Nurlan Dombayev in the final at the second straight Para GP, proving the pair are early Paris 2024 medal hopefuls.
Toshtemirov has used his Para GP success to vault himself to No. 5 in the world rankings, with a further climb anticipated after winning the full 60 points at the G6 Para GP in Manchester.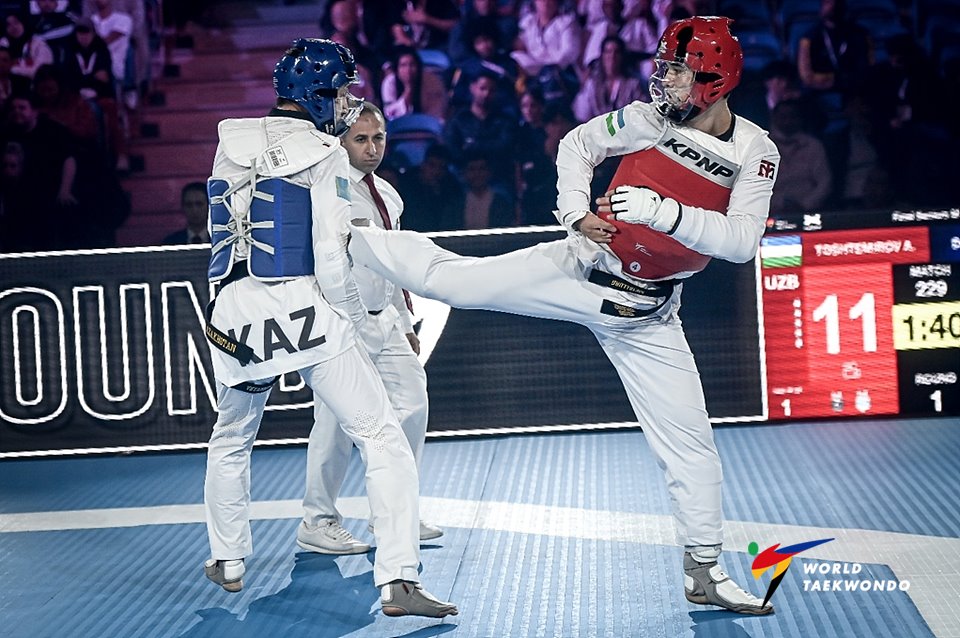 [Turkey, Brazil Tops Para GP Series Medal Table]
Adding another seven medals – including two more gold – at the Manchester Para GP, Turkey leads the 2022 Para GP Series with a total of 20 medals (8 gold, 4 silver, 8 bronze). Showing their status as the world's strongest Para Taekwondo programme, the team has topped the medal table at all three Para GP events.
Brazil continues to show the depth of its programme, adding another eight medals in Manchester, to stand second on the 2022 table with 17 medals (3g, 3s, 11b).
It was Brazil's Silvana Cardoso that provided the most memorable moment of Manchester for Brazil.
After falling for the first time since the Paralympic semi-final at the Paris Para GP final, Brazil's Paralympic bronze medallist returned to the top of the -57 kg category with a dominant 21-0 victory over rival Gamze Gurdal (TUR).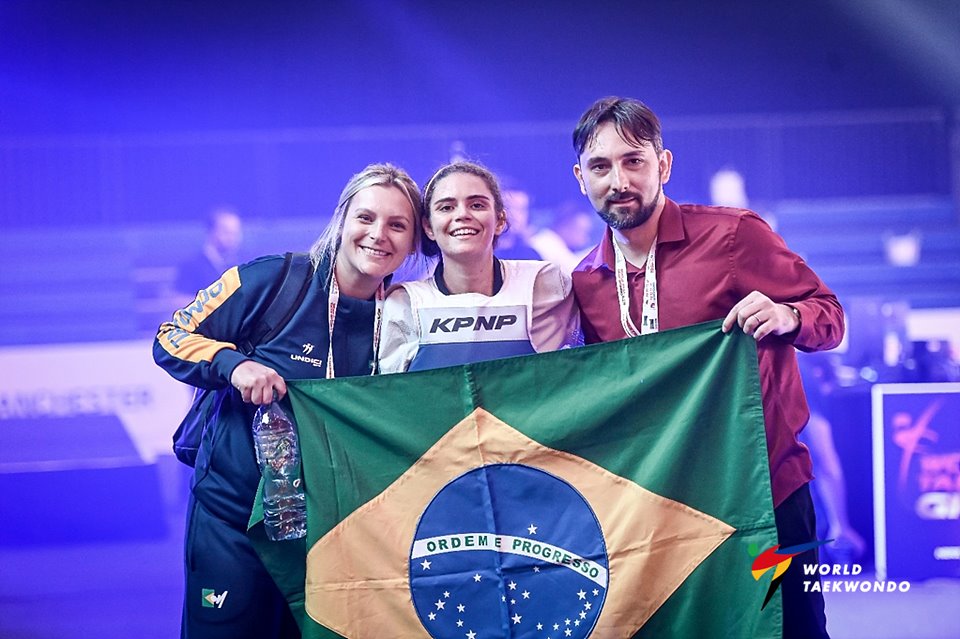 She attributed nerves to the uncharacteristic loss in Paris.
"Now I know what it means to be at the top, where all the other athletes study me", she told World Para Taekwondo. "I was nervous in Paris. Even though I'm experienced, this was new – I had to learn how to deal with it".
Cardoso worked on her mental approach ahead of Manchester.
"I did special work with a psychologist to prepare for this event", she said. "The psychologist said that I need to learn to deal with uncertainty and we did special exercises to work on that".
Other fighters crowned Para GP champions in Manchester include Israel's reigning world champion Asaf Yasur (-59 kg), Mexico's resurgent Claudia Romero (-47 kg), and Uzbekistan's reigning Paralympic and world champion Guljonoy Naimova (+65 kg).