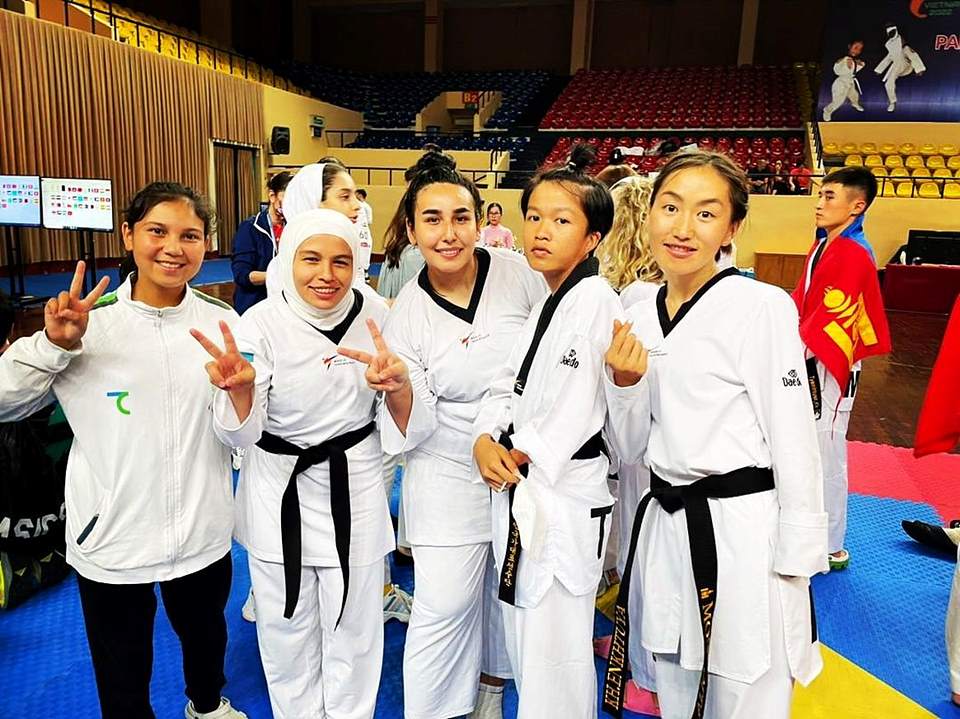 2020 Paralympic Games host Japan crowns its first-ever Asian champions, while Iranian women dominate the women's divisions.
Less than one calendar year after hosting the world's finest Para athletes at the Tokyo 2020 Paralympic Games, Japan can now claim its first-ever Asian champions in Para Taekwondo – and it was Tokyo 2020 Paralympians Mitsuya Tanaka and Shunsuke Kudo that led the way.
Call it "The Paralympic Effect".
Proving how invaluable Paralympic experience can be, Tanaka and Kudo's golds in -58 kg and -70 kg, respectively, led Japan to four total medals, enough for fourth on the overall medal table.
Veterans of the team, both fighters were instrumental in building the sport in Japan. Tanaka won bronze at the 2018 and 2019 Asian championships, while Kudo's bronze at the 2019 World Championships was the country's first at that level.
Also medaling for Japan were Katsuhisa Hasegawa with a bronze in -63 kg and Kenta Awatari, whose bronze medal in -58 kg was his first at the Asian championships since his silver at the 2018 Asian championships, also in Vietnam.
"I was aiming for the championship but, unfortunately, I ended up in third place. Despite holding a four-point lead with 20 seconds to go, I lost to [Kazakhstan's Nyssanbek Aidarbekov in the semi-final] by one point", Awatari said after the event. "It was a competition with challenges and regrets".
Japan has been basking in the positive reviews of its Paralympic hosting experience, where the team won 51 medals and, according to a recent survey, more than two-thirds of Japanese participants feel that the sports environment in Japan for Para athletes is improving.
It's a sentiment echoed by IPC President Andrew Parsons, who spoke about the Tokyo 2020 legacy in a recent interview with the IOC to mark one year since the event.
"The performances of Paralympians changed attitudes amongst Japanese citizens and empowered persons with disabilities to feel part of an inclusive society", he said.
"There can be no greater legacy than changing the life of a human being for the better, and the Tokyo 2020 Paralympics did just that".
Japan is now hoping to host the Winter Paralympics, with Sapporo aiming to win the 2030 Winter Paralympic bid.
Iran Becoming Powerhouse in Women's Divisions
Iran has long been one of the most dominant nations in Para Taekwondo, but it's been the men that have been doing the heavy lifting.
Before this year, Iran had won 13 Asian championship gold medals* – with every one of them coming from men. Until now.
Iran can now boast that three of its women athletes are Asian champions*.
Iran's women powered the country to the top of the Asian championship medal table, winning six of Iran's nine medals, including three new Asian champions*. Iran's men added another two gold medals.
Maryam Deroei in -47 kg, Mahdiyeh Hosseini in -52 kg, and Tokyo 2020 Paralympian Rayehe Shahab in -65 kg became Iran's first women Asian champions.
Perhaps none was more impressive than Deroei, who had to top two women that have a combined three world championships and a Paralympic bronze medal between them.
Showing she's a serious contender for a Paris 2024 medal, Deroei in the semi-final once again upended Thailand's two-time reigning world champion Khwansuda Phuangkitcha. She also beat the Paralympic bronze medalist in last year's Asian Para Youth Games final.
She capped off her first Asian title by beating Uzbekistan's Ziyadakhon Isakova 6-5 in a thrilling final. Isakova had stunned Mongolia's former world champion Enkhtuya Khurelbaatar in the semi-final, handing the four-time Asian champion just her second-ever loss at the event.
"I will keep trying because there are thousands of young ones that look to me for inspiration", she said after the loss, "I am trying and succeeding at being a trailblazer and role model for me soon – together in Paris in 2024!"
Iran's men also continued their excellence at the Asian championships, adding a 14th and 15th gold medal to their collection over six tournaments – and it was from two of the hottest fighters in the world.
World champion Hamed Haghshenas continued his hot run of late by capturing his first Asian championship, making up for a loss in the final at last year's event to his Paralympic champion teammate Asghar Azizi Aqdam.
Alireza Bakht is emerging as one of the top threats in the -80 kg category by adding his first Asian championship to the Para Grand Prix title he won in June. He easily outpointed Kazahstan's Paralympian Nurlan Dombayev and is sure to move past another up-and-coming fighter, Mexico's Luis Najera, to No. 4 in the world rankings.
Tournament Missing Star Power
Some of Asia's top athletes didn't make the trip to Vietnam – and this time, COVID wasn't to blame.
Regional powerhouses like Korea and China failed to send any athletes, depriving audiences of seeing the talents of Paralympic medalists like Korea's Jeonghun Joo and China's Yujie Li.
Also notably absent were two reigning world champions from Asia – Mongolia's five-time world champion Bolor-Erdene Ganbat and Iran's five-time world champion Mehdi Pourrahnama. The pair have a combined 12 Asian championship medals between them, including 10 titles.
Both fighters have publicly cited internal decision-making procedures as the reasons for not competing.
The absence of some of the region's top fighters allowed others to step up in their places.
In a thrilling conclusion to the -57 kg tournament, Kazakhstan's Paralympian Kamilya Dosmalova won her first Asian title by stopping Roza Ebrahimi from winning a fourth gold medal for Iran's women. It was the first medal for Dosmalova at the event since winning bronze in 2016.
In a battle of first-time finalists, Uzbekistan's Kudratjon Haydarov won his first Asian title by beating Kazakhstan's Baurzhan Kusherbayev in the -63 kg final.
The Philippines Allain Ganapin won bronze in the -80 kg category, giving the Philippines its first-ever medal at a Para Taekwondo event. Forced to miss Tokyo 2020 due to an ill-timed positive COVID test, Ganapin fell 12-9 to Kazakhstan's Paralympian Nurlan Dombayev in a bruising semi-final.
Still, the favourites lived up to their billing.

Uzbekistan's reigning Paralympic and World champion Guljonoy Naimova won her second Asian title – and first since winning in Vietnam in 2018 – with a clinical 19-1 win over Iran's Romina Chamsouraki in the +65 kg final.
"My Team. My Dream. Today done", Naimova wrote on social media following her win. "Thank you everyone. Gold medalist".
Iran's reigning Asian champion Saeid Sadeghianpour, who won bronze at June's Para Grand Prix in the -61 kg category, moved up to -70 kg in a bid for Iran to win its seventh straight Asian title in the weight category. He fell just short in his quest, losing to Japan's eventual champion Shunsuke Kudo 4-0 in the semi-final.
In the K41 class, Kazakhstan's Malik Mukashev and Iran's Seyedeh Nabavi were crowned Asian champions in the -80 kg and -57 kg categories, respectively.
*In Paralympic-eligible classifications only