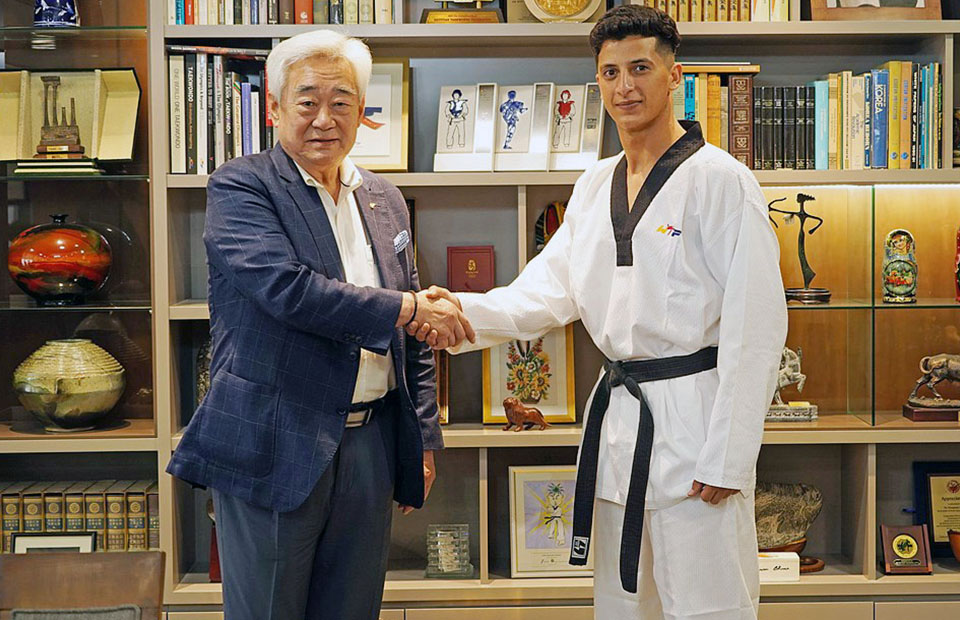 SEOUL, Korea (Jun 21, 2022) - Refugee athlete Wael Fawaz Al-Farraj travelled to Korea this week to take part in the 25th Asian Taekwondo Championships and 2022 Chuncheon Korea Open stopped off to meet World Taekwondo President Chungwon Choue at the federation's headquarters in Seoul.
Wael was recently selected by the IOC as one of seven Taekwondo athletes to receive Olympic Scholarships for Refugee Athletes to help them train towards the goal of being selected for the IOC Refugee Olympic Team Paris 2024. Having narrowly missed out on competing at Tokyo 2020, Wael will be hoping to put that right at Paris 2024 in two years' time.
The young Syrian refugee has risen up the ranks in Taekwondo in a very short space of time. In April 2016 at just 13 years old he saw a Taekwondo Humanitarian Foundation (THF) exhibition being set up in the Azraq refugee camp where he lived. He registered the next day as one of the first academy members. A year later he was the first athlete in the camp to be awarded a black belt.
He paved the way for a new generation of black belts in the camp and so far, 27 other black belts have followed in his footsteps.
The Jordan Olympic Committee applied for an IOC Refugee Athlete Scholarship for Wael and he targeted competing at Tokyo 2020 but he narrowly missed out. While disappointed, it has not deterred him, and he has been training and competing hard.
He made history earlier this year as he became the first Syrian refugee athlete living in the Azraq Camp in Jordan to compete in an international tournament outside the country. The 19-year-old competed under the World Taekwondo flag in the Arab Cup in Fujairah, UAE on Feb. 3-4, 2022 and the 9th Fujairah Open on Feb. 6-8 in the M-74kg category.
Now he travels again to compete in Korea.
World Taekwondo President Choue, who had led the federation's efforts to support refugees and created the THF, said:
"We are very proud of Wael and all that he has accomplished. To succeed in Taekwondo, you need skill but you also need determination and hard work. Wael has this and you can see he has prepared himself very well for these Asian Championships. He is an inspiration for other refugees but also for athletes around the world in showing that it is possible to overcome the most difficult challenges. We congratulate Wael on being selected for an IOC scholarship and hope that he will be part of the Paris 2024 Refugee Olympic Team."
Wael added:
"Taekwondo has changed my life. It has given me more strength and confidence. My goal now is to become an Olympian and to help other refugees just as I received help. My message to other refugees is, to never give up. Becoming a refugee is not the end of the world. In my case, becoming a refugee was a chance; I discovered Taekwondo and got to participate in international competitions.
"I am grateful to President Choue and all those who have supported me and allowed me to travel internationally to fulfil my dream."
Maher Magableh, World Taekwondo Council Member, was instrumental in arranging the visit for Wael to Korea great efforts between the Jordanian government and the Korean Embassy to bring Wael to Korea. Magableh recently organized the Hope and Dream competition which was held between the THF and Jordan Taekwondo Federation and saw 200 athletes from the Azraq and Zaatari refugee camps, as well as refugees training in clubs around Jordan, take part.