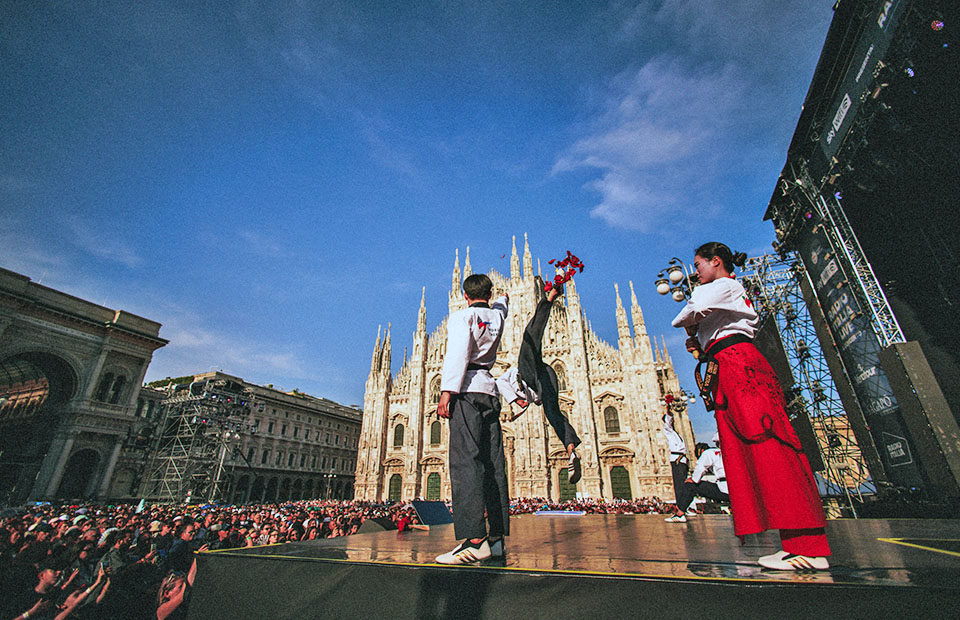 MILAN, Italy (May 21, 2022) - The World Taekwondo Demonstration team delivered an unforgettable performance at Duomo Square in Milan for the first time on 21 May to kick off a seven city Italian tour.
The world famous team, comprised of 20 members, performed a spectacular routine in front of 40,000 spectators who cheered enthusiastically during the 10 minute performance.
The Demonstration Team attended the concert pre-ceremony event held by Radio Italy, a major Italian radio station, which was the first held since 2019 due to COVID 19.
Tomorrow, the Demonstration team will perform on a special stage at Le Zattere Square, in front of a global audience on the island of Venezia.
Following their performance in Venezia they will perform at a number of cities in Italy including Alberobello, Monte di Procida, Orosei and Alghero from 25 to 29 May and at the iconic Piazza di Spagna, one of the most recognisable landmarks in the ancient city of Rome on June 2 before the Roma 2022 World Taekwondo Grand Pix.

The team's tour will draw to a close at the Roma 2022 World Taekwondo Grand Prix on 3-5 June when they will perform at the competition's official venue – Foro Italico Arena.