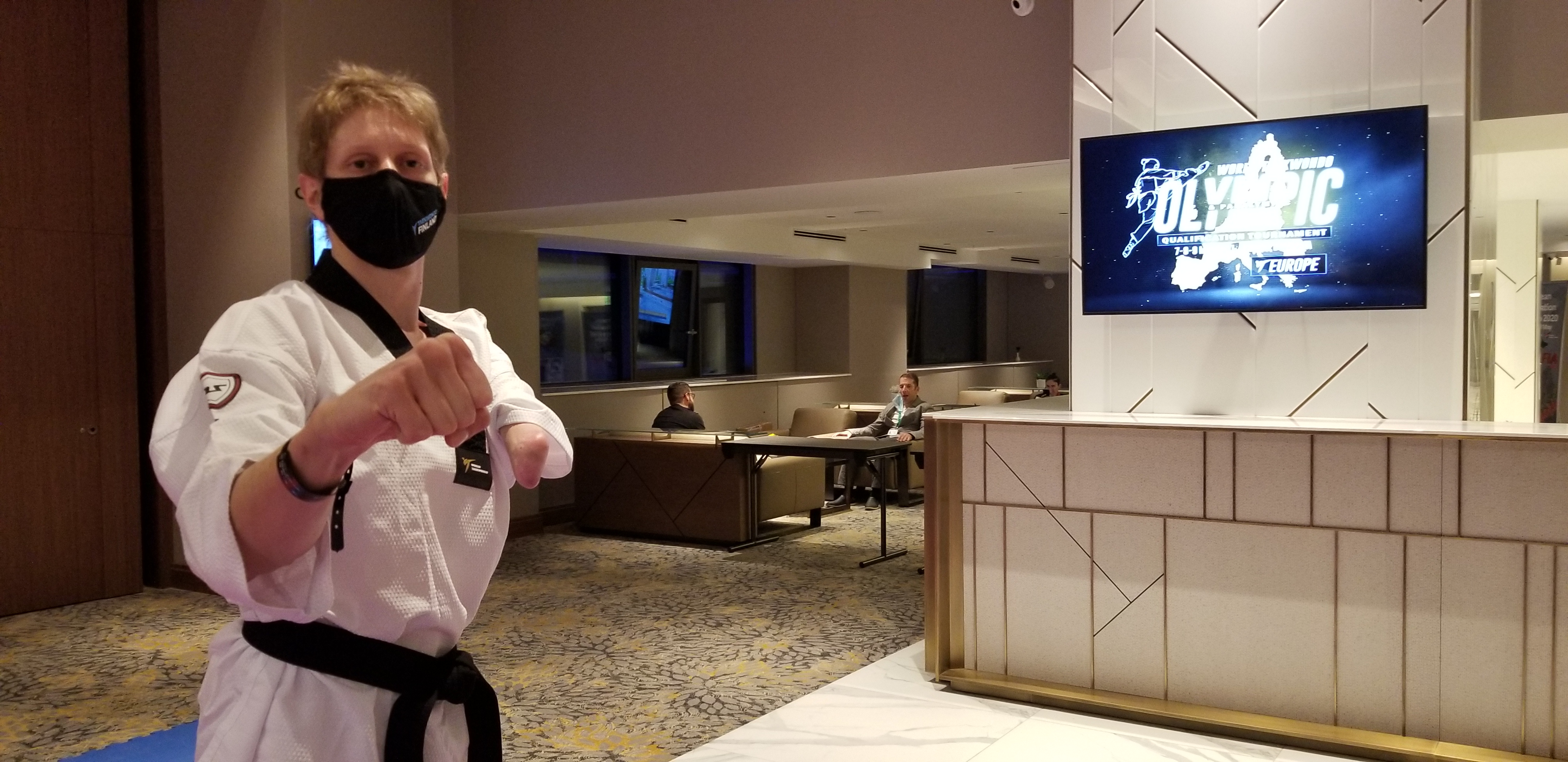 First international tournament in over a year will send six fighters to the 202One Paralympic Games.
-- Lee Reaney for World Para Taekwondo
International Para Taekwondo returns this weekend as the best Taekwondoins from Europe that have yet to qualify for the 202One Paralympic Games meet in Sofia, Bulgaria to determine who will still have a chance to become the sport's first Paralympic champion.
Despite already qualifying 24 (of 34) athletes through the international rankings, some of the best fighters yet to qualify come from Europe.
K43 athletes will join their K44 counterparts in six divisions, with draws ranging in size from two to eight fighters.
There are 26 athletes from 15 countries in Bulgaria, including 10 new competitors that could yet surprise their higher-seeded opponents.
There are also several athletes in Bulgaria that have seen international success since before Para Taekwondo won Paralympic status – including three-time world champion Aynur Mammadova (Azerbaijan) and two-time world championship medalist Matti Sairanen (Finland). For these fighters, the European Paralympic Qualification tournament represents the final hurdle to cross to join the sport at its Paralympic debut.

Let's take a look at the groups.
Three-time World Champion Mammadova (Azerbaijan) Favoured in Women's over 58 kg
There could be no bigger favourite in Bulgaria than Azerbaijan's Aynur Mammadova, the three-time world champion that was named Azerbaijan's Athlete of the Year in 2019.

Just missing out on automatic qualification, the veteran No. 6 seed must get past Spain's young Dalia Santiago Moreno in order to qualify for Tokyo, where she would automatically become a medal threat.

Being the favourite doesn't phase the confident Mammadova, who received sport psychology training from Gunduz Abdullayev, the Head Coach of the Azerbaijan Taekwondo Federation.
"I am very well prepared for this", she told World Para Taekwondo. "I am strong, I am No. 1 in the rankings [seeding] … (and) I believe in myself."
Mammadova came to Bulgaria from a training camp in Uzbekistan, where athletes from Azerbaijan and Kazakhstan trained together for 10 days with their Uzbekistani competitors.
"I have been on this path for 11 years, and Para Taekwondo changed my life", she said. "I have succeeded, and I support and motivate children and young people like me. I enjoy this job very much – it is my success story."
Sairanen (Finland) Looks to Become Para Taekwondo's Second Dual Paralympian in Men's up to 61 kg
Unlike the rest of the competitors in Bulgaria, Finland's Matti Sairanen knows exactly what he's fighting for in Bulgaria. The two-time world championship medalist in Para Taekwondo competed for Finland in snowboarding at the 2018 Paralympic Games in Pyeongchang, Korea.
Seeded No. 2 in the men's up to 61 kg division, he'll have to best four athletes to become the second Para Taekwondo dual Paralympian. Japan's Shoko Ota – who won bronze at the 2019 Para Taekwondo World Championships – is a two-time Winter Paralympic medalist (in biathlon and cross-country skiing).
Sairanen is one of the most experienced fighters in Bulgaria. He started in able-bodied taekwondo over 20 years ago and continued fighting able-bodied competitors even after seriously injuring his arm in a motorcycle accident in 2002. He discovered Para Taekwondo after seeing highlights of the first world championships in Baku in 2009 and contacted the Finnish federation.

The rest, as they say, is history.

He picked up a bronze medal at the very next world championships in 2010 and bettered that to silver at the 2012 world championships. His Para Taekwondo success has since waned as he moved into other activities, including snowboarding, knife-throwing, and parkour.

"I feel like I have something more to show", he told World Para Taekwondo.

He's ramped up his training and seen some recent successes, including a bronze at the Finnish (able-bodied) championships in 2018 and a gold in the Finnish (able-bodied) over 30 championships in 2019. He also won the US Open title in 2018.
"I'm not training for the Paralympics. I'm training to be the best I can be, to push myself", he said, before adding with a smile "It'd be nice to say I'm a Paralympian – at both the Winter and Summer Games."
Fataliyeva (Azerbaijan) Favoured in Women's up to 49 kg
Azerbaijan looks to qualify two women in Bulgaria as Royala Fataliyeva comes into Bulgaria as a strong favourite to claim the Paralympic spot in the women's up to 49 kg group.

Ranked No. 9 in the world, the 2019 world championship bronze medalist has just one competitor that stands in the way of a Paralympic ticket – Lia Chachibaia, a new athlete from Georgia.

Fataliyeva has four international podiums to her credit, including a bronze at the 2017 IWAS World Games and a silver at the 2016 European championships.
All Eyes on World Champion Bush (Great Britain) in Men's over 75kg
The biggest name in Para Taekwondo that has yet to qualify for the 202One Paralympic Games is Great Britain's reigning world champion Matt Bush.
Ranked No. 6 in the world, the hulking Welshman has hit four international podiums since 2018.
Still, in what is expected to be one of the most difficult qualifying groups in Bulgaria, he'll need to get by foes like Germany's Hasim Celik, who won bronze at the 2019 world championships.

Bush beat Celik 12-3 in the semi-final on his way to capturing his first world title.
Also in the six-person group is Hungary's No. 15 ranked Zoltan Kiss, the bronze medalist at the 2017 European Open championships.
Three-time World Champion Santana Santana (Spain) Moves Up in Bid for Men's up to 75 kg Spot
After Alejandro Vidal Alvarez claimed the up to 61 kg spot for Spain, three-time world champion Aythami Santana Santana had to bulk up. How he will fare against bigger opponents in the men's up to 75 kg division is one of the tournament's biggest stories.
Great Britain's Joseph Lane, ranked No. 13 in the world, comes to Bulgaria as the No. 1 seed.
Both will need to top up to seven other fighters in the weekend's biggest group.
Enea (Italy) Ranked No. 1 in Wide Open Women's up to 58 kg Group
One fight.

That's the level of international experience between the two fighters in the women's up to 58 kg draw.
No matter who wins the women's up to 58kg group, they will be one of the least experienced fighters in Tokyo.
Based on her one fight experience at the 2019 European Open championships, Italy's Sara Enea comes in as the No. 1 seed. She'll need to get by Great Britain's Beth Munroe (Great Britain), who is competing in her first international tournament, with the winner booking their ticket to Tokyo.