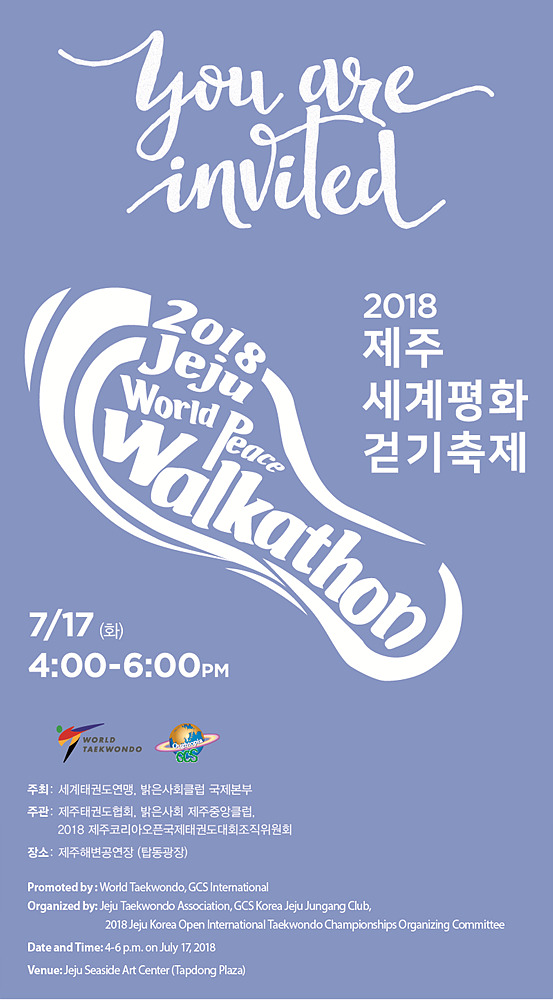 July 17 Charity Walking to synergize with 2018 Jeju Korea Open International Taekwondo Championships
SEOUL, Korea (July 13, 2018) - World Taekwondo (WT) and GCS International, a Korea-based, UN-recognized NGO, will be jointly holding the 2018 Jeju World Peace Walkathon on Jeju, the "Island of World Peace," on July 17, 2018.
Under the slogan "Peace is More Precious than Triumph," the charity walking event will last 2 hours from 4 p.m. to 6 p.m. It will consist of a 30-minute opening ceremony at the Jeju Seaside Art Center; a 1-hour, 2.3km seaside walk from the Art Center to the famous tourist attraction of Yongduam Rock; and a 30-minute group photo session there.
Organized by the Jeju Taekwondo Association, the GCS Korea Jeju Jungang Club, and the 2018 Jeju Korea Open International Taekwondo Championships Organizing Committee, the event will take place one day before the opening of the 2018 Jeju Korea Open tournament – offering participating athletes and officials the opportunity to take part.
The opening ceremony will feature a taekwondo demonstration by senior citizens.
The aim of the walkathon is to raise funds, which will be disbursed to orphans, reformatory inmates and victims of natural disasters in developing countries. Walkers are requested to pay a participation fee of 10,000 Korean won (U.S.$10) toward this cause, though this is optional.
Those who wish to join the walkathon can sign up between 2 p.m. and 4 p.m. both at registration booths at the Jeju Seaside Art Center and in the lobby of the Jeju Oriental Hotel, the headquarters hotel of the Korea Open.
"Jeju was designated as the 'Island of World Peace' in 2005 and we will reinforce this brand by holding a walkathon to benefit disadvantaged and vulnerable people overseas," said WT President Chungwon Choue. "The timing synchronizes with the Jeju Korea Open, reinforcing the message that taekwondo is a combat sport, which aims not at victory or defeat, but at building international fellowship and solidarity."
Choue added that he plans to make the walkathon an annual one – with the next one most likely on Sept. 21, 2019, the UN "International Day of Peace." GCS International promoted the establishment of the "UN International Day of Peace" in 1981.
To fulfill its social responsibility, WT is actively carrying out taekwondo support programs to "empower the powerless" - refugees, orphans, reformatory inmates and victims of natural disasters in developing countries.
Since 2016, WT has run its in-house "Taekwondo Cares" program and in the same year, WT helped establish the Taekwondo Humanitarian Foundation (THF) an independent international NGO in Lausanne, Switzerland. These bodies are now undertaking humanitarian projects in Jordan, Nepal, Turkey and Rwanda, and plan to expand programs to Cambodia, Djibouti, Cote d'Ivoire, Ethiopia and elsewhere.
GCS International was established in 1979 with three major focuses: goodwill, cooperation and service-contribution. It strives to achieve these by promoting healthy societies, better living, preservation of nature, restoration of human dignity, and promotion of world peace.
With some 40 national chapters, GCS International acquired a special consultative status from the UN Economic Social Council in 1997. In 2016, GCS International signed a memorandum of understanding with WT and the THF to help facilitate taekwondo-based humanitarian projects around the world.