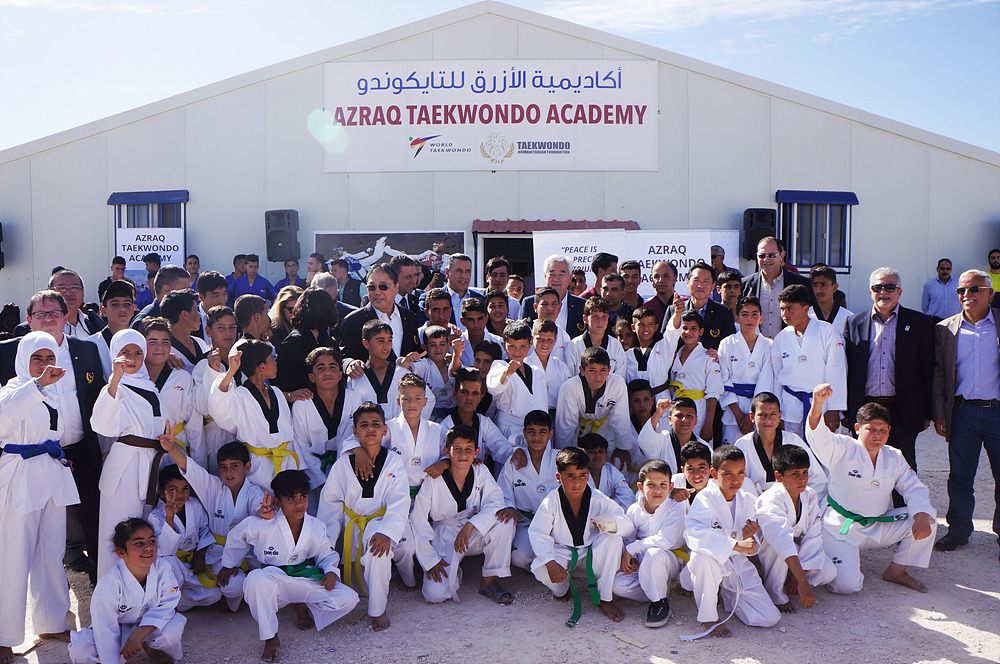 AMMAN, Jordan (April 1, 2018) - On Sunday April 1st, 2018, the Azraq Taekwondo Academy training facility was officially inaugurated by Taekwondo Humanitarian Foundation (THF) Chairman and World Taekwondo (WT) President Dr. Chungwon Choue, just short of two years after the launch of the Foundation's first pilot project in the camp.
His Royal Highness, Prince Rashid Bin El Hassan, President of Jordan Taekwondo Federation, attended this historic event, along with representatives from Jordan authorities, including Vice-President of Jordan Olympic Committee, Amman Mayor Office and SRAD, as well as delegates from UNHCR and CARE Jordan and friends of the Foundation who travelled specially from overseas to attend.
The Azraq Taekwondo Academy began operations on April 27, 2016, as one of the first projects set up in a refugee camp by THF and its mother organisation, World Taekwondo. Azraq refugee camp is located 90 kilometers away from the Jordanian-Syrian border and currently hosts more than 32'000 refugees, victim of the Syrian civil war, of whom a great proportion are children. THF's Academy trains children from the camp in taekwondo, providing them with important self-defence skills and key universal values imbedded within the philosophy of taekwondo. Currently, more than 80 students train at the Academy, with taekwondo sessions offered three times a week.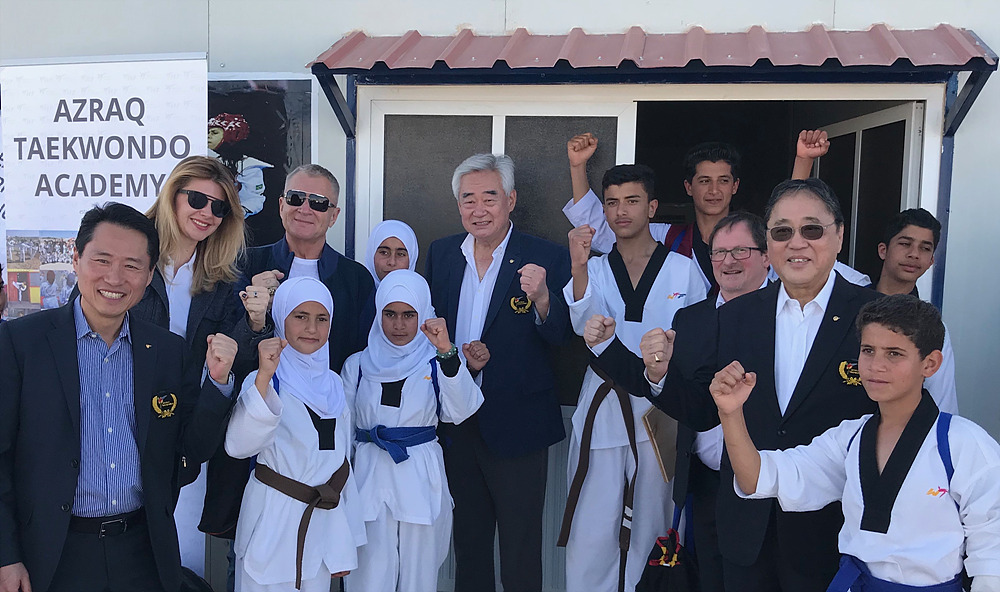 At the end of 2017, THF and World Taekwondo took the decision to construct a dedicated taekwondo training facility for the Academy inside to camp. This purpose-built facility will make a huge difference to the lives of hundreds of children today and in the future. It will allow the Academy to host more students and provide a better training experience with more classes and diversified activities. Students will be able to practice in comfort and safety. The facility also has a classroom, which will allow THF to implement its education programme that teaches Olympics values and the universal values of World Citizenship and World Peace.
Speaking following the opening ceremony, President Choue said:
"It was with great pride and humility that I was able to open the new taekwondo facility at the Azraq Taekwondo Academy. The Academy has been a great success and has even already produced its first black belt. But, we knew there was even more that we could do to maximize opportunities for these deserving young people.
"This new facility will make a huge difference and allow students to practise in comfort and safety. We have seen over the last two years how taekwondo has the power to bring hope and joy to people who need it most and help them live healthier and more fulfilling lifestyles. With this new facility we can reach even more young people and help teach them values which will help them in the future. This wonderful new facility will provide a benchmark for future THF projects around the world."
And also, Dr. Choue thanked to Mr. Lu Dezhi, Chairman of China's Huamin Charity Foundation and Crown Prince Fujaira who donated for taekwondo programs, and Mr. Bian Zhiliang, Chairman of Taishan Sports Industry Group Co, LTD.
THF and World Taekwondo hope to align their efforts with other Olympic Federations and invite other sports that need a physical facility to offer classes in this new Academy in Azraq. The Academy will provide a benchmark for future projects by THF.
Azraq will be used as a model for THF academies across the world – in Rwanda, in Djibouti and elsewhere.
For more information about THF's current activities, please visit http://thfaid.org/projects/.