(Oct. 31, 2017) – As part of its commitment to help build better societies through sport, World Taekwondo is supporting taekwondo classes for primary school children in Rwanda in the first "Taekwondo Cares" project in the country.
World Taekwondo and Korea-based Olympic broadcaster Seoul Broadcasting System have a memorandum of understanding under which SBS builds "Hope Schools" and WT supplies taekwondo instructors and financial support to purchase related equipment.
The first "Hope School" to benefit from this joint program is the Mukiza Primary School in southern Rwanda. There, some 60 boys and girls are being trained in the sport by a WT-recognized Rwandan taekwondo coach.

"Taekwondo upgrades children's health, fitness, self-discipline and self-confidence, and is especially applicable in developing nations as it one of the most cost-effective and easy sports to deploy," said World Taekwondo President Chungwon Choue. "I am delighted that this, our second charitable taekwondo program in Rwanda, is now underway."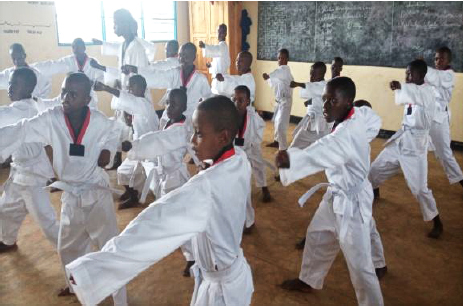 Separately, the WT's Lausanne-based charity initiative, the Taekwondo Humanitarian Foundation, which assists refugees and displaced persons worldwide, has been running a program in the Kiziban Refugee Camp in Rwanda.
The camp hosts more than 17,000 refugees from the Democratic Republic of Congo who were forced to flee their country due to war and instability. Since April 2017, the THF, in association with the Rwanda Taekwondo Federation, has been operating the Kiziba Taekwondo Academy, which runs three daily classes for 180 children.