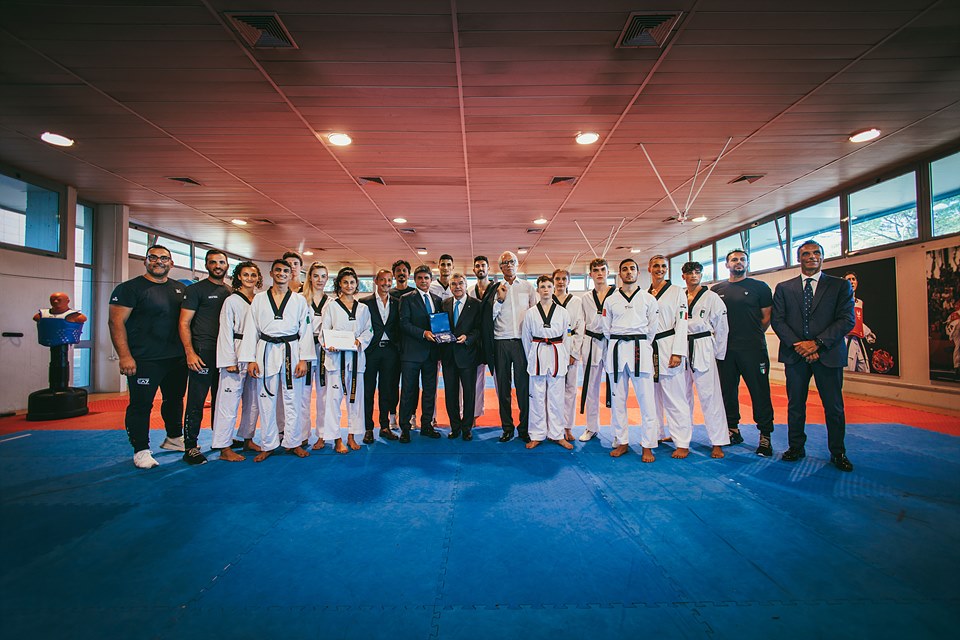 IOC president applauded actions to 'empower the powerless' through Taekwondo
ROME, Italy (Sep. 16, 2022) - IOC President Thomas Bach, after receiving the Italian National Olympic Committee (CONI) Gold Collar - the highest honour of Italian sport - spent a wonderful day among athletes and sports managers at the CPO "Giulio Onesti of Rome"
Great emotion surrounded his visit to the Italian Taekwondo Federation(FITA)'s gym, the nerve center of the country's Taekwondo Olympic preparation. There, he greeted Italian Olympians Vito Dell'Aquila and Simone Alessio and federation technical staff, and also met the Ukrainian national team and an Afghan refugee athlete. Both the latter teams have been welcomed by the Italian Taekwondo Federation over the past two years.
"All this is wonderful, I warmly renew my thanks," Bach told Italian Taekwondo Federation President Angelo Cito, referring to for the help offered to the Ukrainian athletes and the young Afghan hosted in Italy at the Centro di Preparazione Olimpica dell'Acqua Acetosa. "Thank you very much for what you have done for these athletes. It's the translation and application in the field of the Olympic spirit and our values, to stick together in the spirit of inclusion and non-discrimination: "Citius, Altius, Fortius - Communiter!"
"We are really proud of this wonderful surprise in the house of the Olympic athletes of Taekwondo - this is the beating heart of our sport where all the sacrifices and joys, defeats and victories converge, where everything is lived through the five-circle values," Cito said. "For us to welcome 'in the family' these athletes in difficulty, we can only refer to the fundamental values of the Olympic spirit."
Cito noted that the aim of the Taekwondo Humanitarian Foundation(THF) Italia was to "give hope through sport to those in life who did not have the same opportunities, so I can only thank with all my heart President Bach and President of the CONI, Giovanni Malago for the welcome surprise."