His Holiness Pope Francis and thousands more watch demonstration in St Peter's Square
VATICAN CITY (May 30, 2018) - World Taekwondo today performed an historic demonstration in Vatican City in the presence of His Holiness Pope Francis, further reflecting the federation's ongoing commitment to sending out a message of peace through taekwondo.
The demonstration took place in St Peter's Square in front of thousands of people gathered from all over the world for Pope Francis' General Audience. The World Taekwondo demonstration team performed a powerful and highly symbolic demonstration which ended with the team unfurling a banner which read 'peace is more precious than triumph' in Italian.
Following the demonstration, Pope Francis thanked the demonstration team. Pope Francis has spoken many times of the positive values sport brings to society. In May 2017, the Pope was awarded an honorary 10th dan black belt by World Taekwondo President Chungwon Choue during a special visit to Vatican City and the Pope also expressed his interest in the humanitarian activities of the THF.
Speaking from Vatican City, President Choue said:
"It is a huge honour for World Taekwondo to be invited to Vatican City to perform a demonstration at this holy and historic location. We are very grateful to His Holiness Pope Francis for allowing us this opportunity to send out a message that peace is more precious than triumph. We fully share the Pope's belief that sport has a very important role to play in society. At World Taekwondo, we take our social responsibility very seriously and we are committed to using taekwondo for peace and social cohesion."
World Taekwondo, under the leadership of President Choue, has taken a leading role in demonstrating the positive role sport can play in building a more peaceful future. In 2016, the Word Taekwondo demonstration team performed in an indoor auditorium in Vatican City for the 1st Global Conference on Faith and Sport and was also awarded 'Federation of the Year' the same year at the Peace and Sports Awards. The World Taekwondo demonstration team has performed all over the world at many iconic locations including the United Nations headquarters in New York.s
The demonstration in Vatican City took place ahead of the World Taekwondo Grand Prix Series 1 which will begin in Rome on 1 June and conclude on 3 June.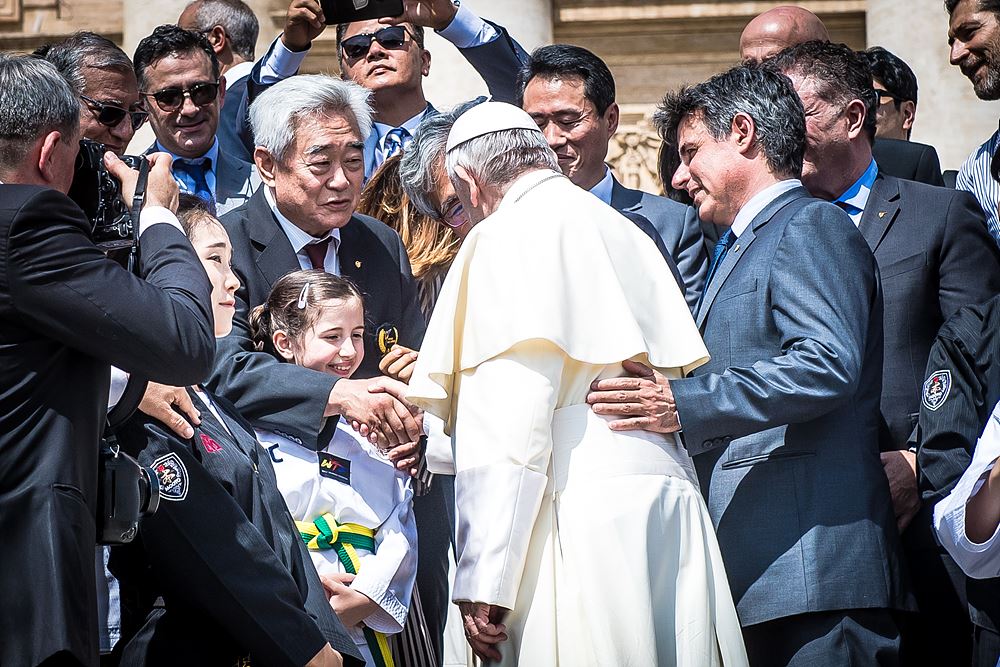 To see more photos, click HERE
To watch video, click HERE