BAKU, Azerbaijan (Dec. 11, 2016) – Taekwondo prioritizes perseverance and indomitable spirit, but few athletes have had to nurture these qualities more than Team Korea's Oh Hye-ri: She has overcome personal tragedy, agonizing injury, relentless competition and public disinterest on her path to the pinnacle of taekwondo.
The tall, attractive 27-year-old, who hails from Gangneung on Korea's east coast, "followed her friends from school" to taekwondo classes at age eight. Personal tragedy struck at age 10, when her father passed away: Since then, Oh and her two sisters (Hye-ri is the middle sister) were raised by their mother.
Taekwondo, however, remained a constant. Along with the camaraderie she found in the dojang, she discovered a talent and began competing at age 14. She did not consider her skills mature enough for Beijing in 2008, but did set her sights on the next Olympics. However, in the run-up to London 2012, tragedy struck again.
Given the number of players in Korea, the qualification process is a grueling one, and in pre-training, Oh suffered a deeply torn quad. "My thigh swelled up like a balloon," she recalled. Even so, she appeared on the mats two weeks after the injury – to no avail. "I had no strength, and I could not get the right angle for the kicks," she recalled. "I wanted to go to London, but I couldn't." A saying in Korean states that "An Olympic medal is like a gift from god" and that gift seemed a long way off in the summer of 2012 as she watched the competition on TV.
Fast forward to 2015. The next Olympic cycle was in full swing when Oh, now injury-free, captured gold at the Worlds in Chelyabinsk, Russia. That augured well for Rio. And indeed, pacing onto the mats in Rio's Carioca Arena, she was one step below the summit of the pinnacle of sports: Olympic gold. But to receive that "gift from god" Oh first had to defeat Team France's formidable Haby "The Abigator" Niare.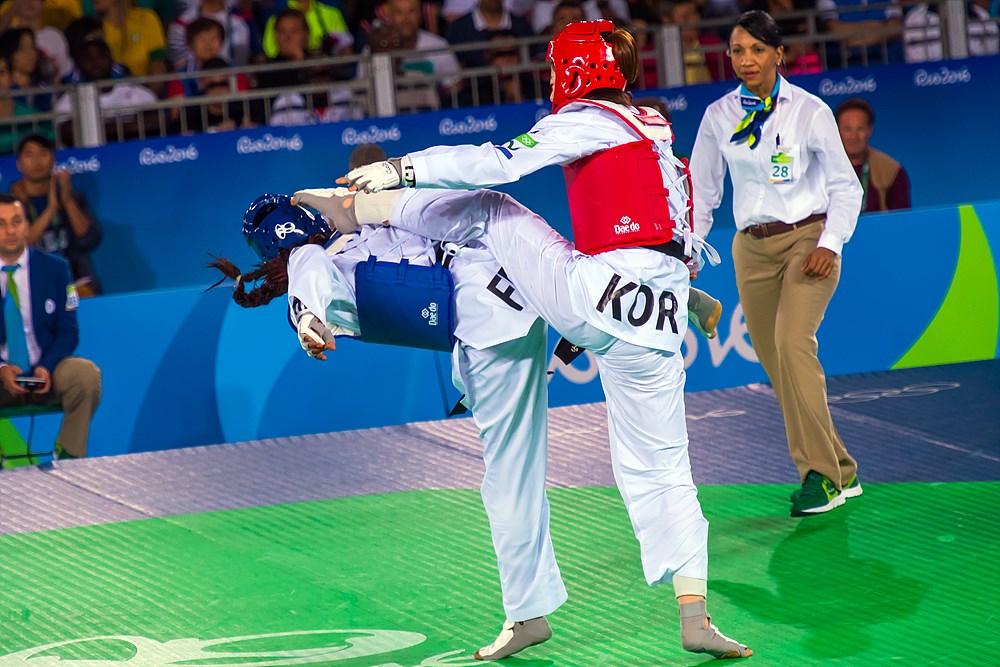 In the women's -67kg category, Niare was the number one seed, Oh the number six; the Korean was also at a height disadvantage. In the first round, Niare – a fighter with tremendous flexibility - landed her trademark "scorpion kick," a heel hook kick fired from impossibly close range, to the back of Oh's head, for a three-point lead. She extended it in the second, going 4-0 up. But Oh was undaunted, and returned fire with a spin back kick, taking the board to 4-3. Then, in a too-quick-to-follow flurry of kicks, the board flashed. Oh went into the attack and started pressuring the taller French fighter backward. In the third, both fighters tried to feint each other out before Niare appeared to land another scorpion kick – it registered but was disallowed. A video replay appeal failure. An ax kick attack bought Niare's score back up, before Oh added another single point - then the action mingled fast-and-furious, close-and-mess. Both athletes went for broke with the scoreboard flashing points like a pinball game, and the referee working as hard as the fighters. The final result could have gone either way, but it ended with a tight 13-12 victory for Oh.
She does not remember much about the whirlwind fight that delivered her dream. "I was losing in the first round, but I was not nervous - I was concentrating so much I did not realize the score was that high," she said. "I don't remember too much about it."
In a development that is typical of Oh's up-and-down fortunes, the euphoria of Olympic gold wore off back home. "Koreans did not like the way their athletes fought in Rio," she said – a reference to the tactical "new school" approach they have adopted over the more flamboyant "old school" style. "But from the athletes' perspective, we are fighting to win, we can't just fight to make the game exciting and lose - it does not make any sense."
The brilliance of her achievement was also over-shadowed by the high expectations Koreans have of their taekwondo fighters. "Koreans say, 'If you are Korean, you have to get gold as it is our national sport,' but I wish they would look at us in a kinder way, with warm eyes and a warm heart," she said. "If we get gold, they say, 'Well, you should have!' If we don't, they say, 'What's wrong with you?'"
Moreover, the success of Oh and taekwondo team mate and fellow gold winner So-hui Kim were overshadowed by the achievement of Sang-young Park, who won Korea a gold in fencing. "He became so famous that none of the other athletes could keep up with his popularity," she said. "Nobody recognizes me." Remarkably, she has been offered no commercial sponsorships.
The post-Rio disappointment may have been blunted by her latest competitive triumph: Gold at the Grand-Prix Finals in Baku, Azerbaijan, the last major event on taekwondo's 2016 fighting calendar. Injury free, she fought a highly professional match against veteran Chinese Taipei player Chia Chia Chuang. Although she characterizes her fighting style as "Shut up and attack!" she took on Chuang with economical motion and sound tactics
The Korean dominated from the start, gliding smoothly in and out, feinting with her arms and taking an early lead. That was soon reversed with Chuang going up 3-1. As usual, Oh showed her quality and in the third, went onto the attack, landing two head shots to go 7-3 up. It ended 8-4 to Oh, indicating that – following her triumph at the 2015 Worlds, the 2016 Olympics and the Grand-Prix Finals, that she truly is at the top of her game.
In person, Oh is more talkative, relaxed and outgoing than some of the other Korean fighters; she displays an easy-going, natural charm. Her nickname hardly suits her athletic prowess, but does match her cheerful personality: "Duck." (The nickname is a play on her given name: "Oh Hye-ri" sounds similar to the Korea word for duck, "ori.") Despite her charm, she has not boyfriend and says, vaguely that she would like to marry and have children after retirement. In her everyday life, she escapes the stresses of taekwondo training, she relaxes by reading and taking long, midnight walks along the banks of Seoul's Han River.
She is also a beginner in the sport which, perhaps more than any other, exemplifies solitude and freedom: surfing. "Right now, I have to do it with other beginners," she said, "But when I get better, I want to do it in places where there are not too many people around."
When traveling to competitions overseas, Oh studies English on the flights, which enables her to communicate with international players – all of whom she is on excellent terms with. (On the way to this interview, she was stopped in the venue by Sweden's Elin Johansson, who Oh had beaten the previous day, to exchange selfies).
She cites Turkey's Servet "The Cheetah" Tazegul and Korea's Dae-hoon Lee as the most inspirational fighters on the circuit. But, in a comment that perhaps reflects her own struggles, Oh says the players she most admires are those from developing nations like Cote d'Ivoire - those who have to suffer endure hardships in training.
And while her first reason to take up taekwondo was friendship, the reason she keeps doing it is not for gold-medal glory, but for the joy of the sport. "It is rare for anyone to have a career that she likes, but I love taekwondo," she said. "I am lucky."