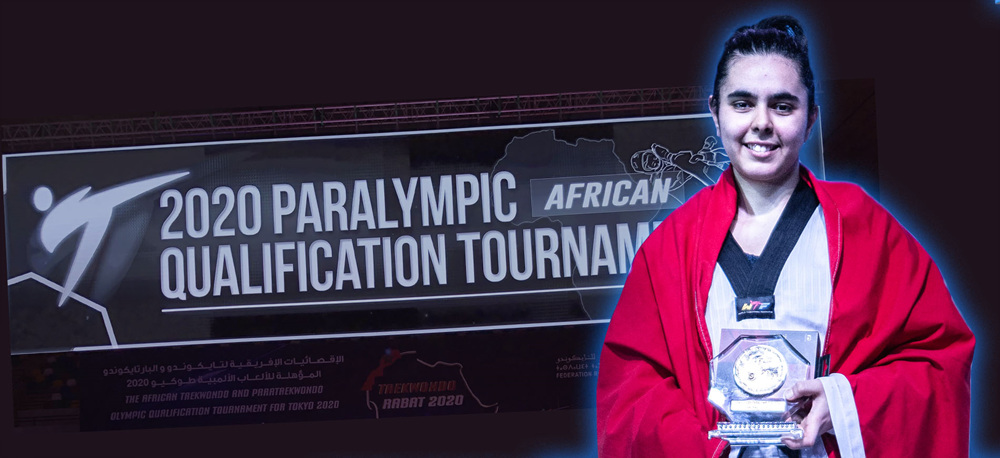 Paralympic dreams became reality for six African taekwondo fighters following a qualification event held on 24 February in Rabat, Morocco. It was the first of five continental qualification tournaments of the year, as the sport gears up for its long-awaited Paralympic debut at Tokyo 2020.
Home favourite Rajae Akermach secured the spot in the women's over 58kg and was beaming with excitement and gratitude after her victory.
"Since 2015 I've been working for this dream," she said. "I want to thank my family, my coach and all my colleagues. Really, I don't have words to express my feelings."
Akermach recalled the heartbreak of losing in the 2017 World Championship final and this victory could give her another shot at the biggest sporting showpiece.
"This time I hope to bring back a Paralympic gold medal," she asserted. "Why not?"


Morocco had more to celebrate ahead of Tokyo with Soukaina Es-Sabbar taking the women's up to 49kg category. Egypt's Salma Ali Abd Al Moneem Hassan found her ticket to Tokyo by topping the up to 58kg.
Three male fighters also realised their Tokyo 2020 dreams.
Another Egyptian Mohamed Yasser Mohamed Abbas Zayd took the top honours in the men's up to 61kg. Senegal's Ibrahima Seye claimed the up to 75kg class, while Libya's Mohamed Alsanousi Abidar triumphed in the over 75kg.
"I will start preparing for the 2020 Paralympics. I have to put more effort to have a good performance at the Paralympic Games," Yasser said. "I will do my best in the Paralympic Games and continue to get better."
Click HERE to watch athletes' interviews.
Click HERE to find the results for the African Qualification Tournament for Tokyo 2020 Paralympic Games.