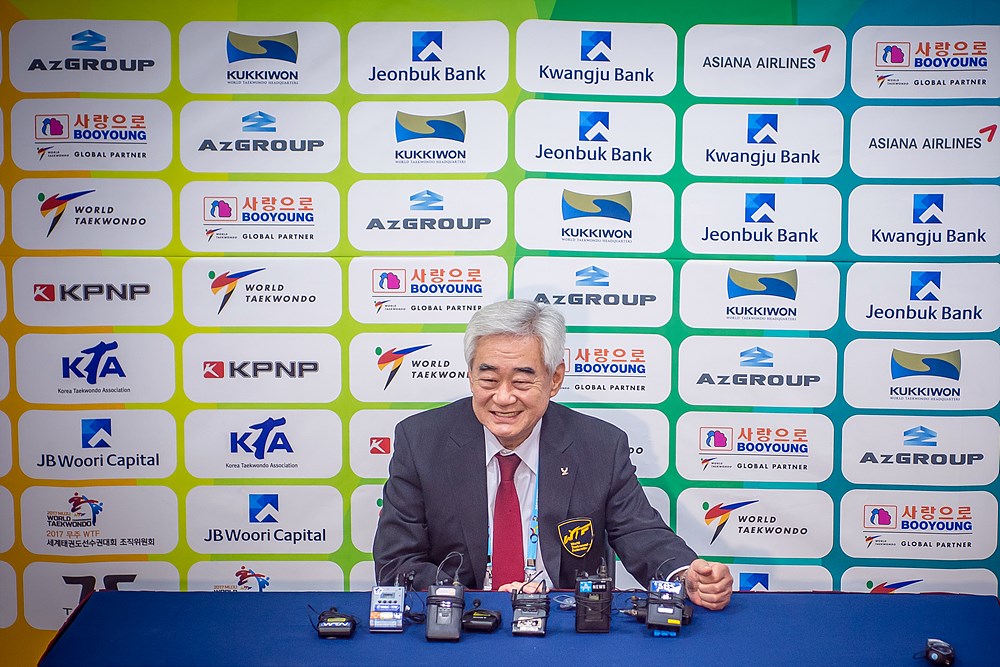 World Taekwondo Elects New Leadership in Advance of World Championships
MUJU, Korea (June 23, 2017) – Dr. Chungwon Choue of Korea won his fifth consecutive term as the president of the World Taekwondo , after the federation held its quadrennial leadership elections at the Muju National Sports Center in southern Korea today.
"Thank you for your confidence in me," Choue said, to a standing ovation as he was returned to office.
In addition to its chief executive, elections also took place for the headships of the World Taekwondo's five Continental Unions and its Council. The newly elected and re-elected officers take up their duties after the conclusion of the upcoming World Taekwondo Championships, which take place in Muju from June 24 – June 30.
There was only one candidate for the position of president, and two candidates for the two auditor slots. However, the Assembly was asked to cast their votes for these positions for the sake of credibility. They did so.
The popular Choue was re-elected with significant support as were two auditors, Ali Sagirkaya of Turkey and Dalibor Krpan of Croatia.
The current presidents of the Continental Unions were all re-elected, with no other candidates standing. They are: Gen. Ahmed El-Fouly of the African Taekwondo Union, Kyu-seok Lee of the Asia Taekwondo Union; Athanasios Pragalos of the European Taekwondo Union; John Kotsifas of the Oceania Taekwondo Union; and Ji-ho Choi of the Pan American Taekwondo Union.
There were 28 candidates for the 12 available Council seats. The newly elected/re-elected World Taekwondo Council members are:
Driss El Hilali of Morocco (re-elected)
Issaka Ide of Niger (re-elected)
An–chin Hsu of Chinese Taipei
Kook-hyun Jung of Korea (re-elected)
Hazem Ahmad Awwad Naimat of Jordan (re-elected)
Tae-kyung Kim of New Zealand (re-elected)
Jesus Castellanos Pueblas of Spain (re-elected)
Metin Sahin of Turkey (re-elected)
Anatoly Terekhov of Russia (re-elected)
Maria Borello of Guatemala (re-elected)
Inseon Kim of Canada
Juan Manuel Lopez Delgado of Mexico (re-elected)
World Taekwondo Council Member Ivan Dibos of Peru acted as chairman of the election committee. The election was overseen on the day by World Taekwondo Council Member and Ad Hoc Election Chair Anthony Ferguson of Trinidad and Tobago.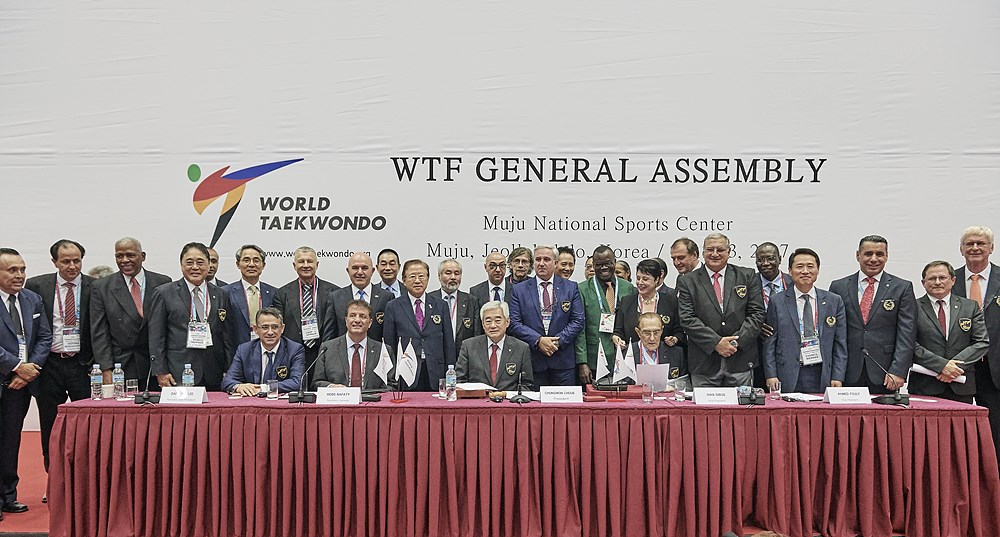 Voting took place in polling booths using an Optical Mark Recognition system. The accuracy of the initial vote was confirmed with a recount.
Choue, who came to taekwondo after a career in academia, first won the World Taekwondo presidency in 2004. He has enforced "fairness and transparency" in taekwondo, a strategy which has assured its future on the Olympic program. With that mission achieved, and with taekwondo having expanded its global member base to 208 MNAs, he has set forth a new mission: Ensuring that taekwondo "dazzles and excites," making it as popular as a spectator sport as it already is as a participation sport. The World Taekwondo must "convert our global presence into global power," he said.
Choue simultaneously serves as president of the Taekwondo Humanitarian Foundation, a charitable initiative founded in Lausanne in 2016, with the mission of empowering refugees, displaced persons and orphans worldwide by teaching them taekwondo.
Prior to the vote, Choue noted, in a speech the challenges the federation faces: The rise of new media supplanting the old; increasing regulatory oversight of sports; and the rise of new forms of sport and entertainment vying for public and media attention.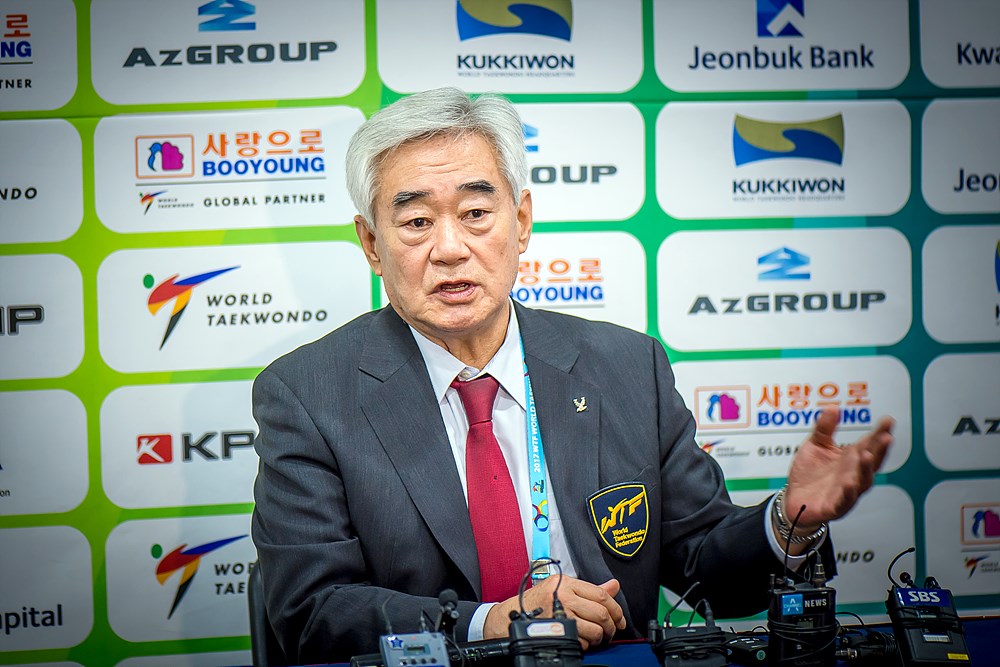 But in the face of these challenges, he insisted that the future of the sport is bright, given its proven capacity to evolve. "If we do not take the initiative on change, we will lose it," he said. "It is up to us to control change and channel it in a positive direction."
He laid out his vision. The World Taekwondo must be more focused on its athlete, he said; it must diversity ifs formats, to ensure that it is truly a sport for all; it must upgrade the spectator value of all events; and it must be optimally member-centric.
He made clear his faith in the World Taekwondo's Council and General Assembly. "There is nothing we cannot achieve and no barrier we cannot overcome," he said. "Nothing will stop us further developing our great sport." Addressing the Assembly directly, he added, "Thank you for all you have done and for all that I know you will do. Taekwondo forever!"