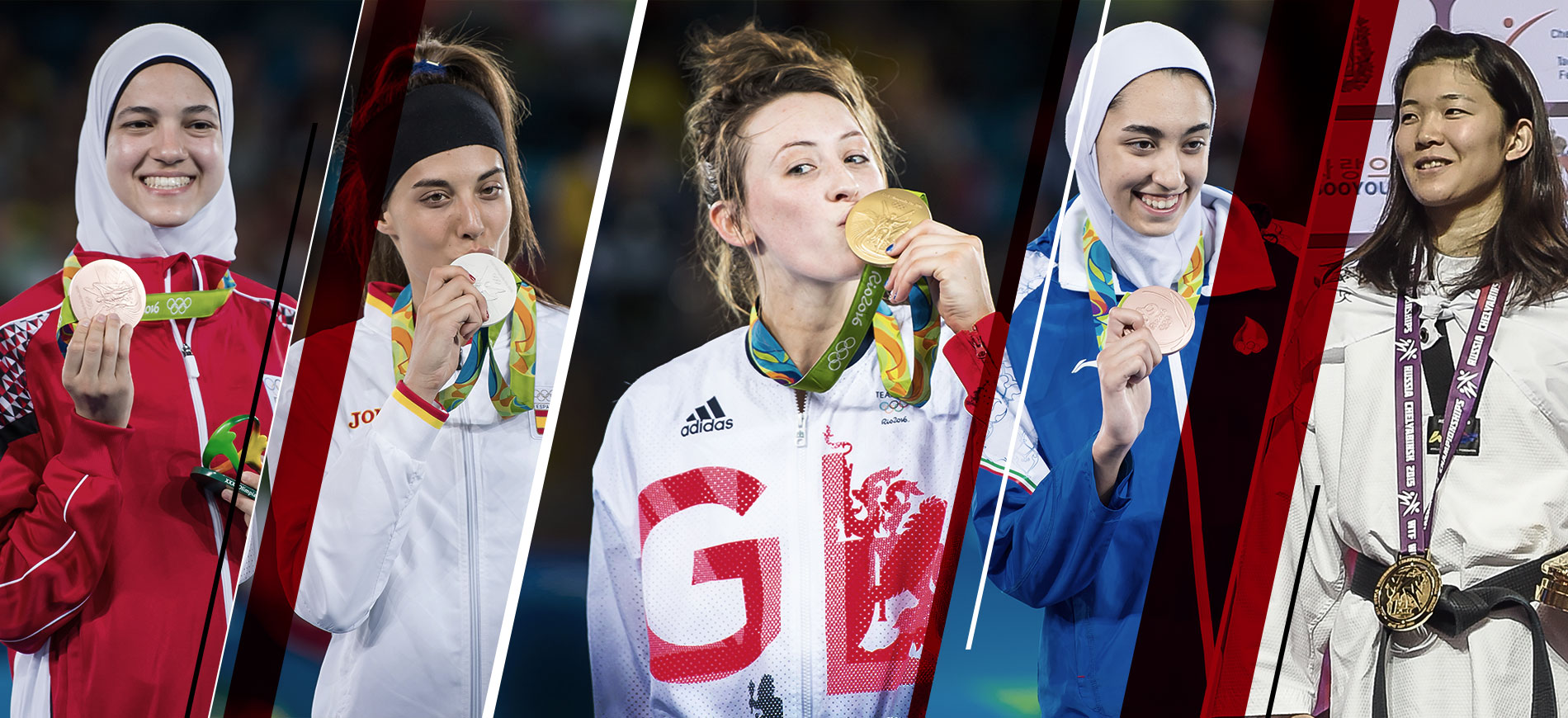 (May 23, 2017) - Team GB's Jade Jones is arguably the highest profile player in global taekwondo today. She won her first Olympic gold medal in London 2012 at the age of 19 and won her second gold – in utterly convincing style – in Rio in 2016. In her most recent WTF interview, Jones made clear that she wants to the "The One" – the first-ever taekwondo athlete to captured three Olympic golds. However, since Rio, and then her last gold medal performance at the World Taekwondo Grand-Prix Final in Baku, Azerbaijan last December, she has been concentrating heavily on media appearances.
Looking at her ability and age, the possibility of a third gold in Tokyo 2020 is feasible. The June Muju Championships is the opening campaign on the track to Tokyo, but she said in interviews that the Worlds are not her primary goal: Her key mission – around which her training will cycle – is the Olympics.
Oddly, given her Olympic dominance, "The Welsh Warrior" has no record of winning a world championship. The worlds are a more grueling competition than either the Olympics or the elite Grand-Prix events, as they are open to a much wider field. Jones has fought in three worlds. In Gyeongju in 2011, she lost to China's Yuzhuo Hou in the final in golden point. In 2013 in Pueblo, she lost to Japan's Mayu Hamada in the quarter finals – also in golden point. And in Chelyabinsk in 2015 she lost to Iran's Kimia Alizadeh-Zenoorin by a single point.
Jones' competitive future in taekwondo seems to have been prefigured in 2010. At the 2010 World Taekwondo Junior Championships, Jones lost to Korea's Su-ji Choi in the finals, but in that same year, in the Youth Olympics in Singapore, she won gold. To sum up: Jones has never won gold at Junior Worlds or at the Worlds, but has won one Junior Olympic and two Olympic golds.
So can Jones break her jinx in Muju?
A variable is that the WTF adjusted its rules at the start of 2017. One of the great strengths of Jones and her coach Paul Green, is the duo's successful video replay appeals for head kicks. Under the new rules, these appeals are no longer allowed. On the other hand, the new rules favor more free-flowing aggressive action, and Jones is a very aggressive, offensive fighter. So, the new rules could play to her strengths.
Jones stands 167cm tall - short compared to some other fighters in her category. But she has a strong right leg push kick and excellent flexibility and speed - notably in her game-winning round kick to the head. In the Grand-Prix series, she has been showing off a back kick, and in Rio, added a left-leg ax kick to the head to her impressive arsenal.
The other players in Jones' category tend to be tall, leggy fighters who prioritize front leg attacks, or who win points with counter kicks to the head.
Another contender is Mayu Hamada of Japan, who will be particularly hungry for gold in 2020, in front of the Tokyo home crowd. The ex-karate fighter is tall, strong and an effective puncher. If she can hold off her opponents and assert her strength, Hamada can seize her second World Championship gold medal, following her win in Chelyabinsk in 2015.
One athlete with a record of beating Jones is Iran's Alizadeh Zenoorin. Tall, young and very leggy, the Iranian was the first female from her nation ever to win an Olympic medal: She took a bronze in Rio. At 185cm, she towers over the Welsh girl, and has beaten Jones twice: At the Grand-Prix, and also at the 2015 Worlds in Chelyabinsk.
Another variable is the hungry young guns who will be aiming to make their names in the game by taking out the superstar.
The reigning Junior World Champion, who will make her senior Worlds debut in Muju is Canada's Skylar Park, a third-generation taekwondo player. Park is a force to be reckoned with: An offensive fighter with a great physique and a great technical repertoire, she has held her own against Calvo Gomez and Hamada in the senior division. But in her only battle against Jones – an exhibition match at the United Nations in New York, fought in 2017 – she was comprehensively beaten.
Then there is Korea's Ah-reum Lee. An up-and-coming in-fighter, she has not managed to make either the Grand-Prix or Rio: This will be her first World Championships, but as always, Team Korea cannot be discounted.
So there you have it. Whether Jones will smash her world championships jinx is one of the biggest questions hanging over the upcoming battle in Muju in June.