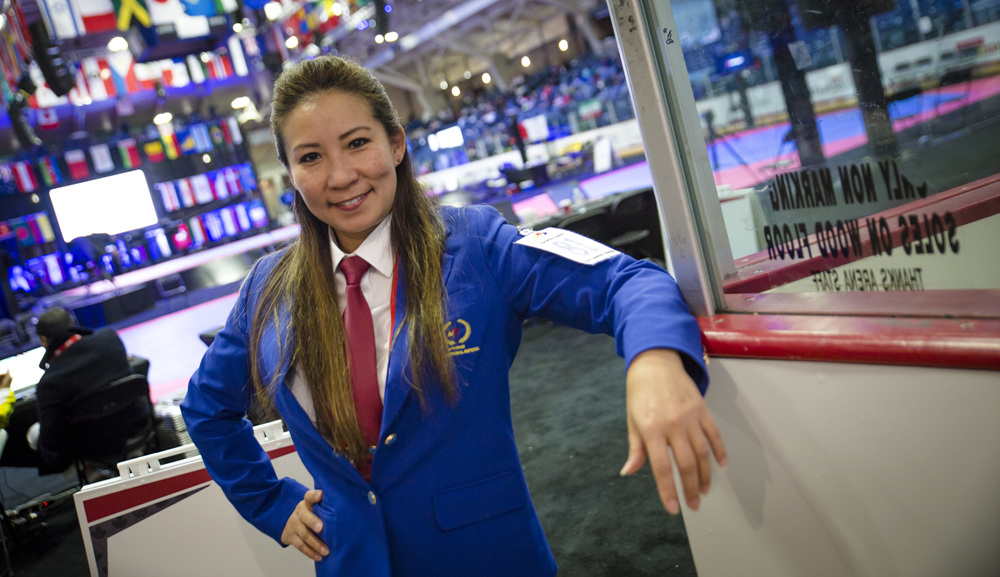 (January 3, 2016) - In taekwondo, there are Olympic champions and there are Olympic referees. There are kyorugi athletes and there are poomsae athletes. There are officials and there are coaches. And amid the vortex of combat, there is emotion, passion – and even love.
Taekwondo, in short, offers a broad horizon of opportunities. Few can realistically expect to experience all these things. One who has is Elva Pai Adams.
"Taekwondo is like my second life - taekwondo introduced me to the world," said Pai Adams during a break from officiating at the 2016 World Taekwondo Grand Prix Final. "It's a passion, it's an obsession."
The 48-year old naturalized American got her start in taekwondo in her native Taiwan in 1983. The reason she got involved was one typical for many martial arts aficionados – a physical altercation. "I had a fight with another girl in my Chinese Opera class!" she recalled. Seeking revenge, she sought out combative training.
Although Taiwan was a hotbed of traditional Chinese kungfu, her school offered only taekwondo. That became her default martial art - but her desire for bloody revenge soon evaporated when she discovered that she had an aptitude for the sport. She earned her black belt in two years, and began competing almost immediately, at a time when Chinese Taipei's female team was at its formidable apex.
She took bronze at the 1986 Asian Championships, gold at the 1987 Worlds and gold at the 1988 Asian Championships. But the biggest moment was the Seoul Olympic Games in 1988 – the year when both South Korea and taekwondo hosted their global coming out parties.
"It was an eye-opening experience," she recalled of the now-legendary '88 Games when taekwondo appeared, for the first time on the Olympic program, as a demonstration sport. "I never knew I would be in the same house as all these elite athletes from all over the world." When the smoke cleared, the flyweight from Chinese Taipei had an Olympic bronze medal hanging around her neck.
Fast forward 28 years, and Pai Adams stood, once more, under the Olympic spotlights. At Rio 2016, however, she was encased, not in chest and head protector, but in the uniform of an international referee. As the first female international referee to qualify from the USA, she is one of the most sough-after officiators on the international circuit.
"It was a great, great time!" she said of the Rio experience. "It was all about the athletes - making sure the right athlete won."
How different was the refereeing experience compare to the competing experience? "I did not have the competitive pressure, but I knew how important [the Olympics] is for the athletes," she said. "That was my pressure: I could relate, because I understand the game."
Every taekwondo athlete – indeed, every elite athlete – suffers bumps, bruises and chronic injuries. Ironically, it was not fighting but refereeing that bought Pai Adams her most serious injury: While officiating a heavyweight bout, one of the competitors stumbled and fell upon her, tearing her ACL. That injury significantly slowed her down.
However, it also led her down another road: The gentler, contact-free discipline of poomsae – the "art" side of taekwondo rather than the "martial" side of kyorugi. Today, she continues to train several times per week, largely for health, doing poomsae, stretching and kicking. Indeed, she can still unleash a wickedly high side kick – a move she demonstrated to a gob-smacked reporter at the 3rd Annual Gala Awards while wearing an evening dress!
Poomsae practice led her down another road: poomsae competition. She is widely acknowledged as a master instructor in the field, having coached the team which took home the bronze at the 2014 World Taekwondo Championships in Aguascalientes, Mexico. More recently, she took silver in the Women's Team Over 30 category at the World Taekwondo Poomsae Championships in Lima, Peru in 2016.
Online, she is a significant player on social media, with a legion of friends and fans following her global travels and taekwondo adventures on Facebook.
Making Pai Adams' "second taekwondo life" even more remarkable is that she also has a "first life:" She is not a full-time taekwondo pro. An accounting graduate she is, in her professional career, a vice president of business banking at Wells Fargo Bank. She is also the mother of "two beautiful children."
And taekwondo has bought Pai Adams more than simply competitive honors and global travel: It has also delivered that elusive gift every human seeks - love.
She and her then-coach, Raymond Hsu, married when she was still a teen. "I was young, he was my coach," she said. The two tied the knot when Pai Adams was 17, but the marriage did not last. However, the two – now, both naturalized Americans - remain on good terms and remain geographically close to one another in San Antonio, Texas. In fact, Pai Adams still works out at her ex's San Antonio dojang.
Today, there is a new life partner. Perhaps inevitably, the gent in question has deep taekwondo roots: US Coach Brian Singer. Singer joined Pai Adams in Rio where she refereed and he volunteered, and was with her in Baku, where he was coaching Team USA at the World Taekwondo Team Championships and she was officiating. The couple will soon be opening their own dojang in San Antonio. However, she said she will also continue her long, long-term training with Hsu.
So, when will this widely traveled taekwondo veteran finally hang up her dobok? Not for a while, apparently. "I still have to win a world championship in senior poomsae!" she said.