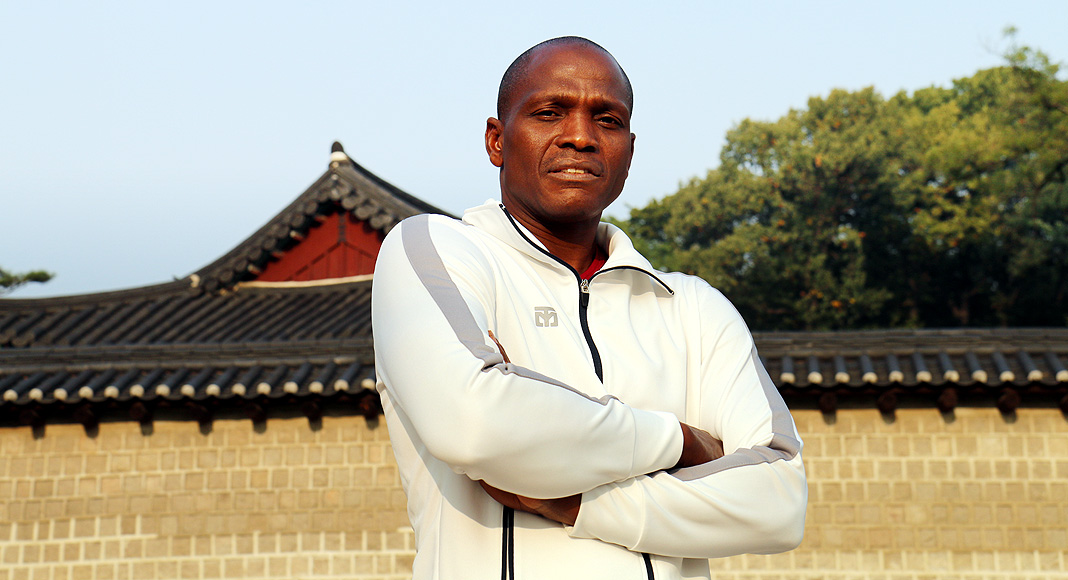 (November 1, 2016) - If you are a taekwondo athlete in Cote d'Ivoire – congratulations! You have never had it so good.
Cote d'Ivoire sent three players to the 2016 Rio Olympics and two of them won medal. One of most spectacular female fighters in the tourney, Ruth Marie Christelle Gbagbi, seized bronze, while – in what was arguably the most exciting final of the Games - Cheick Sallah Junior Cisse took gold. The two Cote d'Ivoirians gave their country an overall fifth place in taekwondo's Olympic medal table, and pushed it to the top of the league in African taekwondo.
The man who can take significant credit for the spectacular result is National Coach Tadjou Attadda. A native of Abidjan, the 53-year-old took up the sport at 18. "I was an athlete from the ages of 20-30; I was a champion in Cote d'Ivoire and I was also a silver medalist at the 9th World Championships in Korea," he said. He hung up his hogu at the age of 30; since then, he has been coaching.
"Taekwondo was well respected in Cote d'Ivoire because Master Kim Young Tae did a wonderful job introducing it to the country," said Attadda. "The medals confirmed the beautiful work Kim did before, and now all the people really respect taekwondo, now there is much more interest."
Indeed, the reaction at home to Cisse's win was "not a surprise" Attadda said: His player is a regular fixture at elite-level competitions.
So what is the secret to Olympic triumph?
"It is not a secret! It is tough! It is just God who gave us a lot of help!" Attadda laughed. However, he conceded that the country has been investing in taekwondo since 1985. Moreover, the sport is now popular among "the big guys from the government," which helps with funding. A further issue is harmony: "I am not only the coach, I am also the technical director for Cote d'Ivoire," Attadda said. "One person has all the decisions, and they all trust me to make all the decisions. If you have one person who is tech director and one who is coach, that will make a fight between each other, and players can be stressed."
Still, there are some issues holding back African players, Attadda believes. "The ranking system is very good - but not for Africa, as we do not have enough money to go to G1s and G2s," he said. "Plus, for African countries, it is not easy to get visas. These are two points that give us a lot of problems."
Like many coaches and players, he repeated a point about the Protector and Scoring System (PSS). He said that the rules have changed with the development of the PSS, but hope the system to adapt to the rules.
He is much happier with the rules as they stand currently. "I won two Olympic medals so I am not against the rules!" he said. He cautioned against excessive post-Rio changes. "If we change something, those changes will cause other problems," he said. "The style we have now – the front leg, with no power – is here now because we made changes in the past, so now we have this."
If alterations are to be made to the rules, he suggests introducing them gradually. "If you say, 'OK, change from one Olympics to another,' that is good: We have a four-year cycle," he said. "But if you change, and then change in four months, then in three months again – then we have a problem."
He also warns against devolving back to the old roughhouse, power-based style of taekwondo. "It is good to make an interesting and aggressive game, but if it becomes much more aggressive it will not be good for Olympism," he said.
In the future, he would like the WTF to give more attention to the Continental Union which most raised its visibility in Rio: Africa.
"When the WTF does something, I hope they give more attention to Africa - for Africa, taekwondo is hopes and dreams!" he said. "We have a lot of practitioners, and we have more licenses than Europe. So please consider the situation of Africa before making changes!"