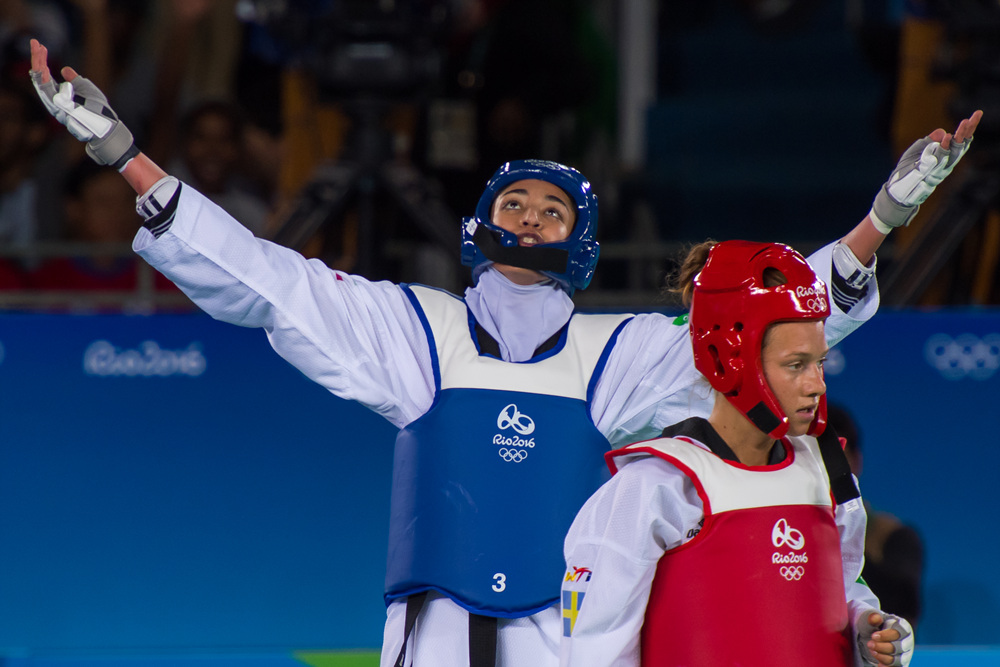 RIO DE JANEIRO, Brazil (Aug 22, 2016) – It was on Day 2 of the Olympic taekwondo competition at Carioca Arena 3 in Rio's Barra Olympic Park that history was written.
The final buzzer rang on the bronze medal match in the women's -57kg category and an 18-year-old athlete from Karaj, Iran had done something that had never been done before: Kimia Alizadeh Zenoorin was the first female Iranian athlete to win an Olympic medal – not just in taekwondo, but in any discipline.
Taking on Sweden's Nikita Glasnovic, the Iranian asserted her dominance early and extended it with a head kick that drew roars from the crowd. The Swede, despite firing off countless kicks, was unable to find the range and Alizadeh Zenoorin – after a final- seconds countdown from the crowd – won with rare conviction. She ended it by falling forward and kissing the field of play, then embracing her coach and taking photos with the crowd.
"I am very pleased to get this first medal -very pleased! - and very pleased for the girls of Iran," said Alizadeh Zenoorin, speaking one day after her fight. "I had tears in my eyes from joy, but I also had a little thought: 'I would love this to have been gold.'"
Even so, the color of her medal is overshadowed by the enormity of her achievement. "When I came here I wanted to break this enclosure, open the door, help other female athletes and also create a kind of self-confidence for people to go out there and do it," she said.
In that sense, Rio is definitely "mission accomplished."
On the personal front Alizadeh Zenoorin's bronze medal victory is going to be life-changing event, for she embodies the sportive empowerment of Iranian women.
"Obviously, now my life is going to change in that I have to be a role model," she mused. "It will be hard for me and my social life will change but I hope to be a good representative and a good person in society for people to follow."
Her country has fully recognized the significance of what has happened. Iranian media are full of her pictures; her photo portrait has been emblazoned across a giant poster decorating a central Tehran overpass; actors and celebrities are lining up to congratulate her when she lands; there are even clips up on social media of inspired Iranian grandmothers performing zany taekwondo moves.
"Surely all the public in Iran are very pleased and happy to see my achievement," she said "There is no restriction for female activities in [Iranian] sport and I hope from now on there will be lots of medals to follow."
Her coach, Mahroo Komrani Najaf Abadi, reckons her protégé has kicked down the last barrier for female sport in Iran. "I want everybody to know that in Iran we all love and enjoy sport the same way men do, it is the same for women and men," she said. "The only difference between rest of world and Iran is the boys train with male instructors and the girls train with female instructors."
Alizadeh Zenoorin's unexpected triumph – she was the Olympic 10th seed and her world ranking is 21st in a tough category that includes such high-profile stars a Team GB's Jade Jones, Spain's Eva Calvo Gomez and Egypt's Hedaya Wahba - may mitigate the disaster that befell the Iranian men. Iran is a taekwondo superpower and the team it fielded in Rio was best-of-breed. But from Day 1, it all fell apart.
Farzan "The Tsunami" Ashourzadeh Fallah, the number-one seed and the favorite to win the -58kg went out in his very first match. Mahdi "The Terminator" Khodabakhshi was the number-one seed and the favorite to win the -80kg: He went out in his second match. Sajjad Mardani, the number-two seed and a strong medal possibility in the men +80kg also went down in his second fight. The Rio results indicate that the rest of the world has finally worked out how to beat the Iranian powerhouses.
Those matches must have been hard for Alizadeh Zenoorin to watch. And her own preparation for Rio was agonizing. "Obviously, it was hard to come here and I had a lot of stress," she said. "I lost 10 kilos to be ready for this competition!" (Given that Alizadeh Zenoorin fights in the -57kg category, the extreme nature of that weight loss may be appreciated.) Still, the reward has been worthwhile. "I worked hard to get a medal. I thank God for this opportunity and I hope to be a good role model," she said.
At home, she is a student who, between classes and taekwondo sessions, enjoys hiking and climbing. In the future, she plans to finish her university degree in physiotherapy, become a physio, and teach taekwondo.
But given that she is aged just 18, there is more immediate business awaiting her on competition mats worldwide.
"She is very clever, she has a lot of patience and she is also, in my opinion, one of the best players in the world in taekwondo," said her coach, Mahroo Komrani Najaf Abadi. "Kimia has beaten [Rio gold medalist] Jade Jones twice."
(Indeed, on the sidelines of the competition mats, one taekwondo pundit opined that it was fortunate for Great Britain that the team's golden athlete was not drawn against Alizadeh Zenoorin in the preliminaries.)
"I would love to have faced her in the finals, I have competed against her four times and beaten her twice," Alizadeh Zenoorin added. "A lot of people in my weight I have competed against and beaten, I have beaten others before who are here - but unfortunately, I could not do it this time."
She cites Iranian taekwondo legend Hadi Saei, Team Korea bronze medalist Dae-hoon Lee and Team China double Olympic gold medalist Jingyu Wu as her inspirations in the sport. With her height – she is a good head taller than Jones – and her weaponry – her round kick to the body is a consistent scoring technique – she has all the right physical qualities to win more medals.
Her immediate goal is next year's World Championships in Muju, South Korea. "Nobody from Iran has taken gold at the World Taekwondo Championships in the females so I would like to go there and win that medal, too," she said.
And in four years – aged just 22 - it will be Tokyo 2020.
"When I arrive in Iran, I want to rest to heal my injuries, then work hard to change the color of the medal I have now," she said.