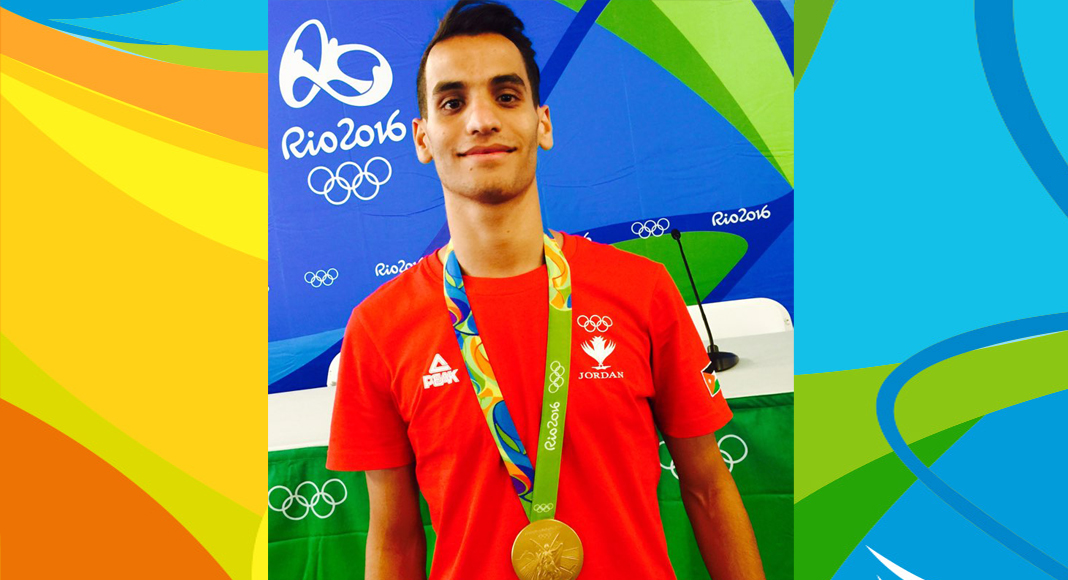 RIO DE JANEIRO, Brazil (Aug. 19 2016) - When he returns home to Jordan after gifting his country with its first gold medal in any Olympic sport, ever, Ahmad Abughaush is going to offer his gold medal to the king – but what he is really looking forward to is dining on his mother's home cooking.
A hero's welcome awaits the 20-year-old taekwondo star, but – having been away from home for the last two months of Olympic preparation, the shy superstar is keenly anticipating roast lamb served on a bed of rice and dressed with yogurt sauce.
It will be a well-deserved feast. On the night of Aug. 18, in Rio's Carioca 3 Arena, Abughaush wrote Jordanian and Olympic history, delivering the first ever medal the country has won in Olympic competition – and it was gold.
Cynics doubting the significance of Abughaush's achievement should have been outside the stadium that night, where the Jordanian contingent were laughing, wrapping themselves in the national flag – and yes, shedding literal tears of joy.
And it had been no easy achievement. After battling way through the preliminaries –and delighting the taekwondo cognoscenti with his lively footwork and his jumping, spinning attacks – he faced one of the most intelligent fighters in the sport, Russia's Alexey Denisenko, who had beaten Abughaush in the 2015 World Championships in Chelyabinsk, Russia (where the Jordanian was affected by a knee injury). The Rio final would be a clash not just of athletes, but of styles: The cool, cagey and tactical Russian versus the fiery, risk-tolerant and flamboyant Jordanian.
The match started fast with Abughaush exploding across the mats in a flurry of spinning kicks while Denisenko defended cannily. Then both fighters settled down, and the first round ended with no score. In Round 2 the Jordanian took first blood with a one- point lead, causing Denisenko to turn up the pressure, trying to force the Jordanian off the mats Abughaush's footwork came into play and he escaped by literally running around Denisenko. The Russian tried an aerial attack of his own, a jump side kick, but did not follow through. The second round ended 1-0 to Abughaush.
As the contest moved into its ultimate round, the Jordanian stabbed forward to add another point. The Russian returned fire with a serial one-two round kick to the body, scoring his first point. A side kick, timed as Denisenko feinted forward, raised Abughaush's score to 3-1, then an amazing aerial round kick – while he was retreating from a charging Denisenko – astonished the crowd: This was a technique that would have looked more at home in a martial arts movie than in Olympic competition With 32 seconds left, Denisenko surged into the attack, trying to force his rival off the mats but the Jordanian was unfazed by this desperate blitzkrieg, responding with bootwork and kicks. Though briefly driven off the field of play, the Jordanian ended the fight 10-6 – a historic win concluding an action-packed match. Abughaush ended by hugging his coach on the field of play as Jordanians in the crowd went ballistic. His coach fell forward, kissing the mats and bowing to the audience.
"It was great to hear the national anthem of Jordan in front of the whole world," he said of the medal ceremony. His post-match press interviews were interrupted by telephone calls from Jordan's royal family, congratulating him on his achievement. "When the king called me, it was like a dream," he said.
Asked what the message had been from the head of state he confided, "He said, 'You put the face of Jordan on the map, all Jordanians are very happy about this result - God helped us to get this." He also heard from his parents. "My parents were crying about this result," he said.
They were not the only ones. According to Deputy Mayor of Amman Hazem AA Naimat, "Everybody in Jordan, from the royal family down, were in tears. Nobody in Jordan slept last night!'
Abughaush first started taekwondo aged six, inspired by his elder brother, a practitioner. "I like taekwondo as it has good spirit and discipline and my family is very disciplined," Abughaush – who lives with his parents, both retired nurses - said. "Taekwondo is like a family and my coach is like my father."
Asked to describe himself as a fighter, he said his best attribute is his heart. "I have not been scared of anything since I was young," he said. "I like fighting, so I feel my personality fits taekwondo."
As for techniques, he is a fan of jumping, spinning "old style" taekwondo - citing Turkish star Servet Tazegul as an influence – rather than the more tactical "new style." "I make a mix between the old style and new style," he said, adding that he starts off with "new style" to amass points, then unleashes his preferred "old style" to entertain the crowd. "I plan for each game, but certain kicks were improvised, they just come out in the moment!" he admitted of his gold-medal match.
At home, he enjoys Playstation and football (he supports Barcelona and has been nicknamed "The Jordanian Taekwondo Messi" by his Jordanian fans). Still, he remains grounded. "He is a very down-to-earth guy," said his team's communications manager David Williams. "Yesterday, when everyone was emotional after he had made it to the finals, he was the one who stayed focused." The day after, realty was beginning to sink in: Abughaush told Williams that the endless round of media interviews he had given were tougher than his fights.
As for future plans, he will return to university – he took a break to prep for Rio - where he studies sport science. But he is not finished with taekwondo – he plans to compete in Tokyo 2020 to prove that his Rio win was no fluke.
In the more immediate future, he looks forward to getting home where he will be greeted by a nation that is delirious with his success. But after the hero's welcome is over, he most looks forward to closing the front door and attending to some roast lamb.