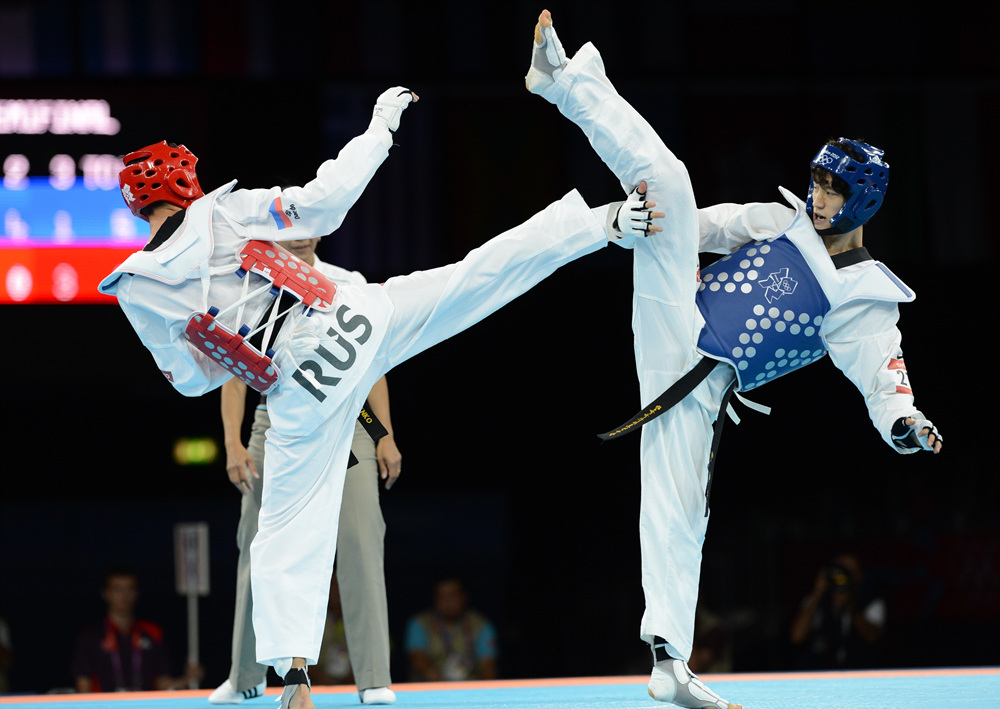 (Aug 14, 2016) – The men's taekwondo competition will pit a field of legendary fighters against an up-and-coming contingent of hungry young guns as the sport prepares to rock Rio with a "Festival of Fight."
The 2016 Olympic taekwondo competition takes place over four days, from August 17 to August 20, at the Carioca Arena 3. One men's and one women's weight category, each containing 16 fighters, will be contested on each day. The four men's weight categories are: -58kg, -68kg, -80kg and +80kg. How do these categories shape up?
-58kg: Iranian 'Tsunami' is Man to Beat
The men's -58kg category features the fastest, whippiest fighters in taekwondo – and some of the most technically proficient. The question hanging over the category is: Can anyone beat Iranian phenomenon Farzan Ashourzadeh Fallah?
Known as"The Tsunami," the 19-year-old Iranian burst onto the scene in 2014, dominating the season, and continued his winning ways in 2015, becoming World Champion. He is armed with an arsenal of whiplash techniques that strike from all angles and has excellent tactical nous. However, his bid to win the vacant title – the gold medalist in London 2012 has moved up a weight category – is no sure thing.
In 2015's Grand Prix Series 2 tournament he was sidelined with injury, and in the GP Series 3 he struggled to make the weight and went out in the semifinals. Then, in the season's Grand Prix Final, he was beaten in golden point by the number two ranked fighter, South Korea's Taehun Kim, whose team had comprehensively analyzed the Iranian's game.
Kim is a strong medal prospect with the full tactical and analytical muscle of Team Korea behind him. Third-seeded Rui Braganca of Portugal and sixth seed Levent Tuncat of Germany are highly experienced players, though Tuncat – one of the sport's most spectacular fighters - has been plagued with injuries in 2015. Of the young guns in the category, Si Mohamed Ketbi of Belgium (seeded seventh) and Carlos Navarro Valdez of Mexico (seeded fifth) are strong prospects. The Belgian is a cagey, tactical player, while the Mexican is a crowd-pleasing spin kicker.
The final result in this category is likely to hinge on whether Ashourzadeh Fallah has tweaked his comprehensively analyzed game.
-68kg: Star Wars
In Rio, the men's -68kg category is probably the most anticipated – it contains some of the sport's top stars and some of its most spectacular fighters, but there is no clear or obvious winner.
The number one seed and current world champion is Belgium's Jaouad Achab. A model player who blends the flamboyant "old school" taekwondo with the more tactic-centric "new school" style, Achab is great to watch, but being one of the smaller, lighter players in the division, may take some heavy hits.
The number two seed is South Korea's Dae-hoon Lee. An ambidextrous and highly experienced fighter - Lee started taekwondo under his father's tuition as an infant – he is also a very cool, relaxed player who compares himself to a turtle. A silver medalist in London 2012, he has made clear how hungry he is for gold in Rio. The number three seed is Mexico's Saul Gutierrez, known as "The Spine" for his long, lanky physique – a big plus in taekwondo, as it makes him a natural head kicker. Gutierrez and Lee have had a long, see-saw rivalry.
The fourth and fifth seeds are two of the most spectacular fighters in the game: Russia's Alexey Denisenko and Turkey's Servet "The Cheetah" Tazegul. Denisenko is known for his aerial techniques, while Tazegul, the London 2012 gold medalist, is famed for his serial jumping spinning kicks, making him perhaps the most crowd-friendly fighter in the sport. The contest between the two at the 2015 World Championships was won by The Cheetah, but went down as one of the all-time great taekwondo matches - an instant classic. And sixth-seeded Joel Gonzalez Bonilla of Spain cannot be counted out: He won gold in London 2012, albeit in the -58kg category; he has since moved up.
The final taekwondo pundits would most like to see is a replay of the epic 2015 World Championship battle between Denisenko and Tazegul. However, in this category, who the finalists will prove to be is impossible to predict.
-80kg: Taekwondo's Most Storied Fighters Face Off
The men's -80kg category is another highly anticipated category: Almost every fighter in this division has a story to tell.
Top seed is Iran's Mehdi Khodabakhshi. Nicknamed "The Terminator," his given name, translated into English, is also appropriate: It means "God-given." He made his mark in international competition in 2014 and has, for the last two years, towered over this category. His timing and targeting is near perfect, and on the mats he looks relaxed and in-control, making him one of taekwondo's most stylish fighters. He has defeated almost all the fighters in the category, but like team-mate Farzan Ashourzadeh Fallah, he has been comprehensively analyzed, so promises to be a "new man" in Rio.
The number two seed is one of the most popular but least lucky fighters in taekwondo: Moldova's Aaron Cook. A flamboyant and powerful super-kicker like Servet Tazegul, he has always been a crowd-pleasing athlete, but missed out on medals in Beijing and was famously not chosen by Team Great Britain selectors for London 2012. That prompted his exile and defection to Moldova. Few sportsmen are more gold-hungry than Cook, but the question is whether his flamboyant, offensive style can match the more tactical fighters in this category.
The third seed, Cote d'Ivoire's Cheick Sallah Junior Cisse has had an up-down rivalry with Cook and claims to "fear nobody." Fourth seed Albert Gaun of Russia has been dubbed the "Clown Prince of Taekwondo" for his joviality – he disco dances at medal celebrations - but the Siberian plays a cool game and has sniper-like kick placement. Fourth-ranked Lutalo Muhammad of Great Britain is the very man chosen by British selectors over Cook in London 2012 – he won bronze – which will generate sparks if the two clash in Rio.
And while he may be in the twilight of his career, the 13th seed, Steven Lopez of Team USA is a legend in taekwondo, the most famous fighter in the sport's history. Lopez (who is coached by his elder brother Jean) struck gold in Sydney 2000 and Athens 2004; bronze in Beijing 2008; and competed (but did not medal) in London. Taekwondo has changed since his heyday, but his vast experience and fighting spirit could yet take him through to the finals. At 37, Lopez is the oldest taekwondo athlete in Rio.
While the smart money may be on "The Terminator," there is no question that this category will be ferociously contested.
+80kg: Clash of the Titans
In all combat sports heavyweights tend to get the most attention. That means in Rio, the spotlight is going to be on the number-one seed, Dmitriy "Shock Force" Shokin.
The big, blond Uzbek has only a short history in elite competition, but his star has risen swiftly and in 2015 he became world champion. Soft-spoken and modest, Shokin admits he is not a spectacular fighter, but has excellent balance and reflexes and dominates the center of the mats, where his spinning back kick gets full play. He is built like a battlecruiser: The "thwack" of his kicks impacting his opponents' armor can be heard at the rear of stadia. Shokin has confidently stated his intention to capture the title in this category – vacant after London 2012 gold medalist Carlos Molfetta of Italy failed to qualify. And while would believe it seeing him in action now, Shokin originally took up taekwondo to protect himself from bullies.
The number two seed is Iran's Sajjad Mardani, one of taekwondo's pin-up boys. A sound tactical fighter, he has the formidable analytical and coaching muscle of the Iranian Team at his disposal, and has beaten Shokin. The number three seed is the lanky Radik Isaev of Azerbaijan. The nation has invested heavily in taekwondo in recent years which grants Isaev heavy support, but which will also put him under pressure in Rio.
Sixth seed Dongmin Cha of South Korea is one of the most experienced fighters in the competition: he won gold in Beijing in 2008. He has publically announced that Rio will be not just his last Olympics, but his last tournament, so will be going all out. And seventh seed Anthony Mylann Obame of Gabon delighted his nation by winning silver tournament in London 2012, making him arguably Africa's most famed taekwondo player.
Thus, the heavyweight category looks set to provide a fitting, fighting end to 2016's Olympic taekwondo competition.