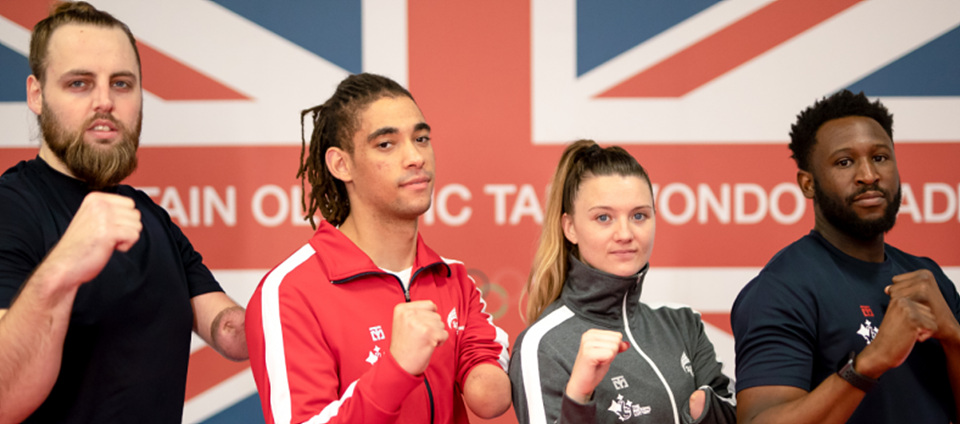 Para Taekwondo is set to mark another first by seeing Para Taekwondo athletes fight alongside their able-bodied counterparts in real time when the Para Taekwondo and Taekwondo European Championships are held concurrently for the first time this month in Manchester, Great Britain
"We train together, so it's about time we compete together" – British world champion Bradley Sinden on competing alongside Para athletes
Para Taekwondo's stars will have an opportunity like none before when they step up to the mat at the European Para Taekwondo Championships this month as they'll be fighting side-by-side with their able-bodied teammates.

Record audiences for Para Taekwondo – both live and on TV through event broadcaster BBC – will add another element of excitement for the athletes. And it's not just the Para athletes that are pumped.
"The Olympics is all one ring, but at the Europeans – it's one hall and it's not just Olympic athletes. We also have Para athletes competing as well – the first time it's been fully integrated. So, fans will get to cheer on the whole team", Great Britain's former world champion and Olympic silver medalist Bradley Sinden told the Yorkshire Post.

"We train together, so it's about time we compete together".
Previews of Paris 2024?
The set-up has attracted some of the world's top athletes, setting up early previews of what could end up being Paris 2024 podium battles.

The women's -65 kg category looks particularly exciting, with a potential Paralympic final rematch between Denmark's Paralympic champion Lisa Gjessing and Paralympic runner-up and home favourite Beth Munro. The pair met last month at the Pan American championships, with Gjessing again coming out on top. Throw in Turkey's world champion Secil Er and Ukraine's world championship bronze medalist Yuliya Lypetska, and four of the world's Top 5 fighters will compete in Manchester.
Fans will also want to keep their eyes on the women's +65 kg group, which could feature a trilogy fight between two of the greatest women Para fighters in the world – Great Britain's 2017 world champion Amy Truesdale and Uzbekistan's 2021 world champion Guljonoy Naimova. Truesdale won her world title at home in London and will be looking for 'home mat advantage' again as she tries to get past the world No. 1 after falling to her at the Tokyo 2020 semi-final at the 2021 world championship final.
The event could also mark the emergence of Great Britain's Joseph Lane in the men's -80 kg category. Lane narrowly missed out on qualifying for Tokyo 2020 in an exhilarating Paralympic qualification tournament finale, before traveling to Tokyo (and putting on kilos!) to replace injured teammate Matt Bush in the Paralympic heavyweight division. The experience was invaluable for Lane, who made his first world championship final in 2021, falling to RTU's Magomedzagir Isaldibirov to claim silver. A triumph at home would mark Lane's first international gold medal and his first European title.
Matt Bush, the 2019 world champion is still out with injury.
A Step Towards Equity
The event will mark one of the first examples in the Para sports world of Para athletes competing alongside their able-bodied counterparts.

Equity between able-bodied and Para athletes has long been a goal of the International Paralympic Committee and several Para sports have been featured at able-bodied world championships, including athletics - but only as a "demonstration event".
Rarely are competitions held concurrently.
Often, Para competitions are organised together with able-bodied competitions, but Para tournaments tend to happen before or after the able-bodied competitions. The result of holding the competitions together will be more people seeing Para Taekwondo for the first time.
It was the Manchester 2022 organisers, through the guidance of Great Britain Taekwondo that led to the implementation.

The idea of having able-bodied and Para athletes compete concurrently is an idea taking root in several Para sports.
Next month at the Oceania Athletics Championships, Para athletics will for the first time hold Para competitions concurrently with able-bodied competitions.
"In a world first for International Athletics competitions", reads a press release from Oceania Athletics, "Para athletes will compete for Oceania Championships medals at the same time [and] at the same venue [as able-bodied athletes]".