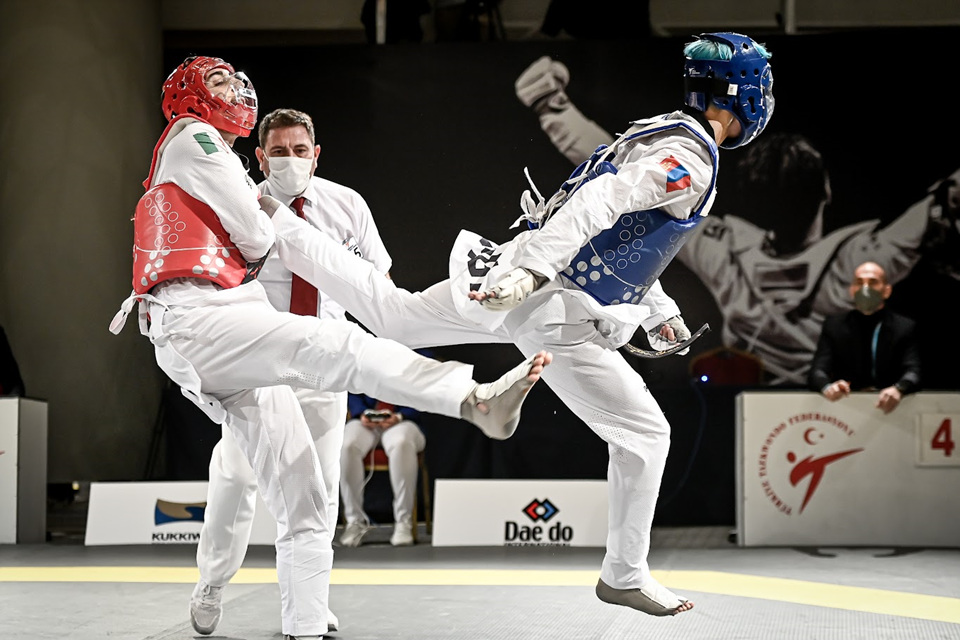 New weight categories, new classifications, and new rules on display at year-end event, but some things never change
– and Para Taekwondo's elite proved they'll be tough to beat as Paris 2024 qualification heats up.
Lee Reaney for the IPC
Paralympic grudge matches, clashes between stars from (formerly) different classifications, free-for-alls in brand new weight categories – the 2021 World Para Taekwondo Championships went a long way to definitively answering the question – how would the new Para Taekwondo look?
The answer? More strategic, more athletic, and more exciting than ever!
After a wildly successful Paralympic debut that showcased the sport's global appeal by seeing athletes from every continent win Paralympic medals, Para Taekwondo was rewarded with more medal events and additional athletes for Paris 2024.
To accommodate the growth, the sport consolidated its classification after substantive medical revue to allow more athletes with different impairment types to compete for these spots.
The results were evident at the new look World Para Taekwondo Championships, which saw a record number of athletes become world champions.
Paralympic Grudges Settled
Tokyo 2020 left many questions unanswered after shocking results saw new athletes emerge on Para Taekwondo's biggest stage. Istanbul 2021 offered some answers.
In the weekend's most anticipated Paralympic grudge match, four-time world champion Mehdi Pourrahnama (IRI) faced off against reigning World and Paralympic champion Juan Diego Garcia Lopez (MEX) in the -70 kg final.
In a match that had the entire arena buzzing, the two men that have combined to capture every major tournament since 2014 met in a tense final that saw Pourrahnama hand Garcia Lopez just his second loss in three years.
Showcasing the strategic side of the sport, two of the sport's most talented fighters were neck-and-neck into the final minute of the new single five-minute round format.
Coaches of both fighters saved their time outs for the final 30 seconds as the Pourrahnama nursed a 1-0 lead into the waning moments of the match. Landing a last second score, the 'Iranian Hurricane' managed to flip the Paralympic script by securing a tense 3-0 win to claim his fifth world title.
"I'm satisfied I got my revenge", an excited Pourrahnama told World Para Taekwondo after the match. "All the other athletes think [Garcia Lopez] is the best. I showed everyone that I may not be the best – but I'm not bad."
Pourrahnama wasn't the only athlete to claim a fifth world title.
Four-time world champion Bolor-Erdene Ganbat (MGL) had never dropped a world championship match and went to Tokyo 2020 as the definitive favourite. In the tournament's biggest shock, he failed to medal for the first time at a major event.
At Istanbul 2021, Ganbat showed why he's still the division's best.
After a dominant 15-0 opening match win, Ganbat used dazzling technique and heavy kicks to leave his next three opponents on the mat and unable to continue, including Paralympic champion Nathan Torquato (BRA).
"I am very happy to have participated in five world championships and to have become world champion five times", he told World Para Taekwondo after receiving his medal. "My main goal was to beat the Paralympic champion [Torquato] and I achieved my goal."
One of the biggest surprises of Tokyo 2020 was the emergence of Guljonoy Naimova (UZB), who shocked No. 1-ranked Amy Truesdale (GBR) on her way to Paralympic gold.
Naimova proved it was no fluke by handing the 2017 world champion and Para Taekwondo pioneer her second straight head-to-head defeat to win the +65 kg gold.
"I'm in shock", she told World Para Taekwondo after her win. "The excitement is higher at the worlds than at the Paralympic Games because of the pressure. No one expected me to win at Tokyo 2020, but here I was the target."
Cardoso, Yasur, Er Highlight New World Champions
Brazil's Silvana Cardoso announced her arrival at the top of the women's game with a dominant run to the -57 kg world title, outscoring her opponents 52-1 before edging hometown favourite Gamze Gurdal in a nervy 15-12 final to claim her first world title.
"My final was the toughest in the competition", she told World Para Taekwondo. "I had a strategy planned, but I had to change it in the middle of the fight, so that brought a little tension. But with my Paralympic experience, I was able to stay focused and win the victory.
She wore her lucky hat to the medal ceremony, the same that she wears on her ring walk and kisses before every major match.
"The hat I wear symbolises my origins, where I was born, the history of my people", she explained. "My strength comes from there. So, whenever I'm with it, I know my strength grows even more."
When Assaf Yasur claimed the gold in the new -58 kg division, he set two important records – he became the first athlete from Israel to win a world championship and he became the first athlete formerly classified as K43 to win gold in a division with K44 athletes.

Yasur, who trains with Israel's Olympic Taekwondo team, outlasted 2019 world championship bronze medalist Ali Can Ozcan 57-42 in the day's most entertaining and highest-scoring match. Within a single kick for much of the match until a break in the final 45 seconds, Yasur pulled away at the end to win by 15.
"Coach asked me 'Who wants it more?'", he told World Para Taekwondo. "You're faster than anyone, you're stronger than anyone. Don't stop attacking … if he kicks you, you kick more."
It's a remarkable achievement for Yasur who failed to qualify for the Paralympic Games and lost to Ozcan by 20 points in their previous fight.
The win was a testament of the effectiveness of the new 'Super' K44 classification that combines athletes formerly classified as K44, K43, and K42 into the same division. Yasur, formerly classified as K43, becomes the first athlete not under the former K44 class to win a world title.
"I think it's a great idea. I'm happy that it's mixed", he said after receiving his gold medal. "You need to win with what you got".
Likewise, Turkey's Secil Er captured her first world championship in the wide open -65 kg group.
Er had never won a fight at a world championship and had only one international medal to her name – an impressive bronze at the 2019 European championships where she topped two top five seeds before losing to soon-to-be Paralympic champion Lisa Gjessing (DEN).
It was expected that this would be the coming out party for Paralympic silver medalist Beth Munro (GBR), whose fairy tale 2021 has seen her come out of nowhere to become one of the sport's newest stars, but an unexpected late withdrawal means she'll have to wait until next year.
"Not the way I envisioned ending my whirlwind dreamlike year but it is what it is and nothing could be done", said a dejected Munro afterwards. "A setback is the foundation for a comeback and – mark my words – I will comeback in leaps and bound ready to storm 2022!"
Mukashev Highlights K41 Champions
It's been a long wait for Malik Mukashev's (KAZ) first world title.
Competing for years in the old K42 class against opponents with a significant limb advantage, he was reclassed to K41 in 2019.
In his first world championships as a K41 athlete, Mukashev edged Valerii Bezin (RTU) 41-39 to capture his first world title.
"I've been waiting for this moment for seven years", a beaming Mukashev told World Para Taekwondo. "K42 fighters always had an easier time blocking. Today, I just went into the final thinking 'I must win'."
Other K41 world champions include Seyedeh Nabavi (IRI) in -57 kg, Dejana Backo (SRB) in -47 kg, Rinat Iakupov (RTU) in -58 kg, Vladislav Krichfalushiy (RTU) in -63 kg, and Victor Alexandrov (RTU) in +80 kg.