Para Taekwondo's biggest stars shone brightly on the final day of the 2021 World Para Taekwondo Championships as Paralympic champion Guljonoy Naimova (UZB) wins her first world title and Paralympic silver medalist Mehdi Pourrahnama (IRI) gets past rival to win fifth world title
ISTANBUL, Turkey (12 December 2021) – Highly anticipated rivalry matches punctuated a day where the speed, strategy, and power of Para Taekwondo took centre stage on the final day of the 2021 World Para Taekwondo Championships in Istanbul, Turkey.
In a grudge match that had the entire arena buzzing, the two men that have combined captured every major tournament since 2014 met in the -70 kg final in a repeat of the Tokyo 2020 -75 kg final.
Mehdi Pourrahanama – the Iranian Hurricane – was able to turn the tables in a tense 3-0 fight to hand Paralympic champion Juan Diego Garcia Lopez (MEX) just his second loss in three years.
Up 1-0 with less than five seconds remaining in the fight, Pourrahnama landed the only scoring kick before the buzzer to cap a beautiful demonstration of Para Taekwondo at its most strategic.
"I'm satisfied I got my revenge – the Prince of Persia is back!", an excited Pourrahnama told World Para Taekwondo afterwards. "All the other athletes think that he's the best. I showed everyone that I may not be the best – but I'm not bad."
Naimova Adds Worlds Title to Paralympic Crown
In another hotly anticipated rematch, Paralympic champion Guljonoy Naimova (UZB) once again got the best of 2017 world champion Amy Truesdale (GBR) – although this time it was far closer.
Naimova bested Truesdale in dominant fashion at the Paralympic Games to announce her arrival among the elite in the division. The +65 kg final at the 2021 World Championships confirmed this as a rivalry worth watching.
Truesdale was able to get past 2019 world champion Debora Menezes (BRA) in a captivating semi-final to set-up the salivating rematch.
In a back-and-forth encounter that showcased the athleticism of the division's elite athletes, Naimova was able to pull ahead in the final minute to become Para Taekwondo's only reigning World and Paralympic champion.
"I'm in shock", Naimova told World Para Taekwondo after her win. "The excitement is higher at the worlds than at the Paralympic Games because of the pressure. No one expected me to win at Tokyo 2020, but here I was the target."
New Divisions, New Champions
The expansion from three to five weight categories meant there were more opportunities for more athletes to become world champions. It was perhaps no more evident than in the -65 kg category, which featured just one former world champion in Seyma Emeksiz Bacaksiz (TUR).
Paralympic silver medalist Beth Munro was the favourite coming into the weekend, but her unexpected withdrawal left the division wide open.

Secil Er (TUR) took advantage and vaulted herself to near the top of the new division's world rankings with a decisive 12-1 victory over Leylianne Ramos dos Santos (BRA) to capture her first world title.
Paralympic runner-up and 2015 world champion Ivan Mikulic (CRO) came up just short at his second straight tournament – and for the second straight time, he fell to an Iranian opponent.
Mikulic just missed out on Paralympic gold by falling to Asghar Azizi Aqdam 12-10 at Tokyo 2020. He was even closer in Istanbul, losing by Superiority after fighting to a draw with Hamed Haghshenas.
A perpetual 'bride's maid', Magomedzagir Isaldibirov finally 'tied the knot' by winning his first world championship.
Runner-up at the 2014, 2017, and 2019 world championships – and missing out on the Tokyo 2020 final by succumbing to a last-second strike in the semi-final – Isaldibirov can at last add a world championship to his impressive trophy case.
Isaldibirov got past a gallant effort by Joseph Lane (GBR) by pulling away late to win 10-2. It is the first world championship medal for Lane.
Mukashev Highlights K41 Winners
It's been a long time coming for Malik Mukashev's (KAZ) first world title.
Competing for years in the old K42 class against opponents with a significant limb advantage, he was reclassed to K41 in 2019.
"I've been waiting for this moment for seven years", a beaming Mukashev told World Para Taekwondo. "K42 fighters always had an easier time blocking. Today, I just went into the final thinking 'I must win'."
Other K41 champions include Seyedeh Nabavi (IRI) in -57 kg, Dejana Backo (SRB) in -47 kg, Rinat Iakupov (RTU) in -58 kg, Vladislav Krichfalushiy (RTU) in -63 kg, and Victor Alexandrov (RTU) in +80 kg.
Host Turkey Tops Medal Table
With a record 58 athletes competing, it's no surprise that host Turkey topped the 2021 World Para Taekwondo Championships medal table.
The hosts won 2 gold, 6 silver, and 6 bronze to take the overall title with 14 medals.
RTU finished in second place with 10 medals, including 4 gold. Brazil finished in third with 7 medals, highlighted by Silvana Cardoso's gold in -57 kg.
Pourrahnama was named Male MVP, while Er won Female MVP.
Team Niger was awarded the Active Participation Award after sending a record six athletes to Istanbul.
A highlight of the weekend was the appearance of Syrian refugee Ahmad Rafiq Aldaji, who competed in his first international tournament. In a competitive fight, he fell 8-4 to Paralympian Abulfaz Abuzarli (AZE) in the Round of 32.
The 2021 World Para Taekwondo Championships are a G-14 event, meaning world champions receive 140 points for the world rankings.
-- Lee Reaney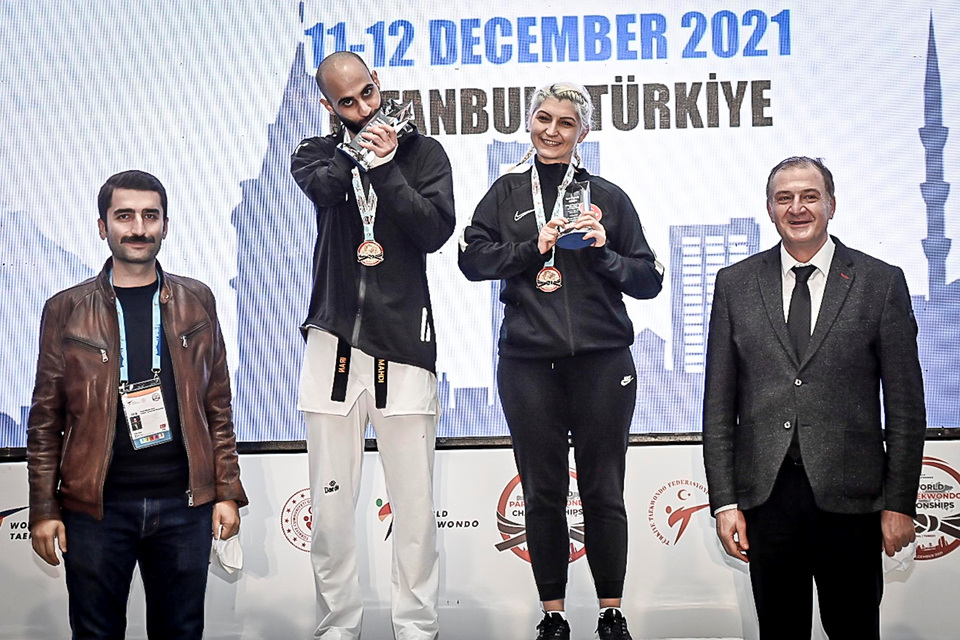 Click here to see the Day 2 Photos